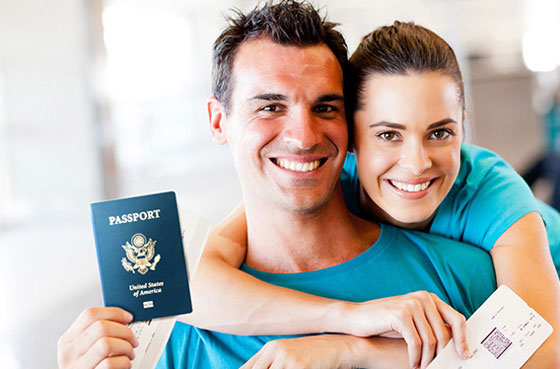 Need to expedite a passport application quickly? Whether you need to obtain a new passport, renew one that is about to expire or replace one that has already expired or been lost, it is possible for citizens of the United States to
get a passport as fast as the same day
if specific requirements are met.
Applicants who are not in a hurry can apply for routine processing in order to secure a passport. The State Department offers expedited service for those who need to travel within 30 days. Emergency passport service is available to Americans who require their travel document in less than 14 days or within 30 days if a visa is also needed. Choose how quickly you need a passport below for further instructions.
COVID-19 UPDATE:
Mailing delays are impacting passport processing. The Department of State's processing times begin when applications are received at a passport agency or center and not when you mail them or apply at a local acceptance facility.
Standard service may take between 8 and 11 weeks
. This timeframe does not include delivery time. Mailing times vary across the country.
Expedited service takes from 5 to 7 weeks exluding mailing times on the front and back end. Mailing delays may be significant so requesting 1-2-day mailing may greatly help.
Regional passport agencies are offering extremely limited in-person services if you need to travel internationally in the next 5 business days. Those with qualified life-or-death emergencies are prioritized.
Life-or-death emergencies are serious illnesses, injuries, or deaths in your immediate family (parent, legal guardian, child, spouse, sibling, and grandparent) that require you to travel outside the United States within 5 business days.
If you need to travel due to a qualified life-or-death emergency, please call the National Passport Information Center for an appointment:
Mondays through Fridays 8 AM to 5PM, call ET 1-877-487-2778 (TDD/TTY:1-888-874-7793) Outside of these hours, 202-647-4000
You can schedule your appointment up to 2 weeks before your international travel but the date of your appointment must be within 5 business days of your international travel. If you need a foreign visa, the date of your appointment must be within 10 business days of your international travel.
Rush My Passport has been obtaining expedited passport in 4.5 weeks. Apply online for expedited passport service.
Passport Renewal | Expedite Passport | Passport Information
Routine Passport Service
Standard processing of passport applications is
currently taking from 10 to 12 weeks
. Occasionally, the forms are processed faster but it can sometimes take longer, especially during peak travel periods or when additional documents are requested. Basically, there are three steps to obtaining a passport by routine processing. One, complete the appropriate application form. Two, gather the required supporting documents. Three, submit the application and documents together with payment for fees. Requests for a renewal, added visa pages, correction of errors and name changes can be sent by mail. Applications for a new passport, or the replacement of a lost, stolen or significantly damaged one must be submitted at a
passport office
. Choose the service you require from the menu to the left for a complete list of instructions, tips and a link to download the proper application form.
Expedited Passport Service
Expedited processing is an optional service available to those who cannot wait 10 to 12 weeks to get a passport. The estimated time to expedite an application by mail or through an application acceptance facility is 4 to 6 weeks. The steps for requesting faster service are the same as those for routine processing: complete application, gather supporting documents, sumbit form. The differences are that you need to
include evidence of your travel plans
and add $60 to your payment for the expedited service fee. Be aware that the address to which the application and supporting documents are sent to be expedited is different from the address for standard processing. The address is located on the form.
Additional steps to ensure your passport is expedited quickly:
Write the word "expedite" on the envelope.
Use an express delivery method that is traceable.
Add the overnight delivery fee to the payment.
Urgent Passport Expediting
The fastest way to get a passport expedited is to submit the application for to a
regional passport agency
for speedy processing. You can submit the application yourself or
authorize a third party
such as a
registered courier service
to submit it for you. Processing centers are located in major U.S. cities such as Boston, Chicago, DC, Detroit, Houston, Los Angeles, Miami, New York City and several
other locations
. The first step if you plan to submit the application yourself is to schedule an appointment through the Department of State's automated scheduling service. The faster you need to get your passport, the farther you live from a regional agency and the less time you have to personally commit to the application process, the more important it is to get an experienced expediter to apply on your behalf. Of the nearly 50 courier services in our directory, our highest recommend goes to
RushMyPassport.com
. Rush My Passport has more than a decade of experience helping American citizens expedite their passport applications in a hurry. They have served thousands of satisfied customers. Click the link below for the expedited passport service you need and complete the secure online form in just two minutes.
Click here for reliable expedited passport courier service
Top 5 Questions About Expedited Passport Couriers
Expedite Your Passport Now!