Utah Passport Acceptance Facility List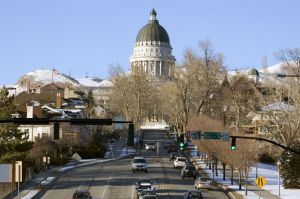 The Utah passport offices listed below are official locations where American citizens can apply for new passports. If no facility is found where you live, search in a nearby city or town. An appointment is often required. Please call before visiting. An authorized acceptance agent will place the passport application and supporting documents in a sealed envelope to be sent to a processing center.
Standard processing
takes up to 8 weeks. Expedited service is usually completed in 2-3 weeks. If you have urgent travel needs, you can schedule an appointment at the
Western Passport Center
in Tucson, Arizona or the
Colorado Passport Agency
in Aurora, Colorado. If you are unable to visit one of these processing centers, you can employ the services of a registered expediter to
get your passport in 24-48 hours
.
UPDATE:
High demand and mailing delays are impacting how long it takes to get a passport.
Standard service is currently taking between 10 and 13 weeks.
Expedited service is currently taking between 7 to 9 weeks.
NOTE: Processing times begin when applications are received at a passport agency or center. Requesting 1-2-day mailing service is recommended.
Need to get a passport faster?
| Facility | Address | City | State | ZIP | Phone |
| --- | --- | --- | --- | --- | --- |
| BEAVER COUNTY CLERK | 105 EAST CENTER STREET | BEAVER | UT | 84713 | 4354386463 |
| BLANDING POST OFFICE | 90 NORTH MAIN ST | BLANDING | UT | 84511 | 4356782627 |
| BOUNTIFUL POST OFFICE | 20 S. MAIN STREET | BOUNTIFUL | UT | 84010 | 8012925754 |
| BOX ELDER COUNTY CLERK | 1 SOUTH MAIN STREET | BRIGHAM CITY | UT | 84302 | 4357343393 |
| EMERY COUNTY CLERK - AUDITOR | 75 EAST MAIN STREET | CASTLE DALE | UT | 84513 | 4353813550 |
| CEDAR CITY POST OFFICE | 333 N. MAIN ST. | CEDAR CITY | UT | 84720 | 4355866701 |
| CITY OF CEDAR HILLS | 10246 N CANYON ROAD | CEDAR HILLS | UT | 84062 | 8017859668 |
| SUMMIT COUNTY CLERK | 60 N. MAIN STREET | COALVILLE | UT | 84017 | 4353363204 |
| DELTA POST OFFICE | 86 S. 300 E. | DELTA | UT | 84624 | 4358645158 |
| DRAPER CITY HALL | 1020 E. PIONEER RD. STE 10 | DRAPER | UT | 84020 | 8015766548 |
| DUCHESNE COUNTY CLERK | 734 N. CENTER ST. | DUCHESNE | UT | 84021 | 4357381100 |
| EPHRAIM POST OFFICE | 55 EAST 100 NORTH | EPHRAIM | UT | 84627 | 4352834189 |
| DAVIS COUNTY CLERK | 61 SOUTH MAIN ST | FARMINGTON | UT | 84025 | 8014513438 |
| MILLARD COUNTY CLERK | 765 S. HIGHWAY 99 | FILLMORE | UT | 84631 | 4357436223 |
| GARLAND | 11 N MAIN | GARLAND | UT | 84312 | 4352575890 |
| WASATCH COUNTY CLERK/AUDITOR | 25 N. MAIN ST. | HEBER CITY | UT | 84032 | 4356573190 |
| HERRIMAN CITY | 5355 WEST HERRIMAN MAIN STREET | HERRIMAN | UT | 84096 | 8014465323 |
| HUNTSVILLE MAIN POST OFFICE | 7785 E. 500 S. | HUNTSVILLE | UT | 84317 | 8017452567 |
| KANE COUNTY CLERK | 76 NORTH MAIN | KANAB | UT | 84741 | 4356442458 |
| LAYTON CITY | 437 N WASATCH DRIVE | LAYTON | UT | 84041 | 8013363820 |
| LAYTON POST OFFICE | 1123 N. FAIRFIELD RD. | LAYTON | UT | 84041 | 8015466072 |
| LEHI CITY HALL | 153 N 100 E | LEHI | UT | 84043 | 3852011000 |
| LEHI POST OFFICE | 333 E. MAIN ST. | LEHI | UT | 84043 | 8017661562 |
| WAYNE COUNTY COURT | 18 SOUTH MAIN STREET | LOA | UT | 84747 | 4358362765 |
| LOGAN MAIN POST OFFICE | 75 WEST 200 N | LOGAN | UT | 84321 | 4357520413 |
| UTAH STATE UNIVERSITY - CARD OFFICE | USU TAGGERT STUDENT CENTER | LOGAN | UT | 84322 | 4357973852 |
| DAGGETT COUNTY CLERK | 95 NORTH 1ST WEST | MANILA | UT | 84046 | 4357843154 |
| SANPETE COUNTY CLERK | 160 N MAIN | MANTI | UT | 84642 | 4358352131 |
| MOAB POST OFFICE | 50 E. 100 N. | MOAB | UT | 84532 | 4352597427 |
| SAN JUAN COUNTY CLERK | 117 SOUTH MAIN ST. | MONTICELLO | UT | 84535 | 4355873223 |
| MURRAY CITY HALL | 5025 S STATE ST. | MURRAY | UT | 84107 | 8012642660 |
| JUAB COUNTY CLERK - AUDITOR | 160 N. MAIN ST | NEPHI | UT | 84648 | 4356233410 |
| OGDEN MAIN POST OFFICE | 3680 PACIFIC AVE | OGDEN | UT | 84401 | 8014274527 |
| WEBER COUNTY CLERK/AUDITOR | 2380 WASHINGTON BLVD | OGDEN | UT | 84401 | 8013998400 |
| CITY OF OREM | 56 N. STATE ST. | OREM | UT | 84057 | 8012297275 |
| OREM MOUNTAIN SHADOWS POST OFFICE | 877 E. 1200 S. | OREM | UT | 84097 | 8018027141 |
| GARFIELD COUNTY COURT CLERK | 55 SOUTH MAIN ST. | PANGUITCH | UT | 84759 | 4356761100 |
| PARK CITY MAIN POST OFFICE | 2100 PARK AVENUE | PARK CITY | UT | 84060 | 4356558037 |
| IRON COUNTY CLERK | 68 SOUTH 100 EAST | PAROWAN | UT | 84761 | 4354778340 |
| CARBON COUNTY CLERK | 751 E 100 N | PRICE | UT | 84501 | 4356363200 |
| PRICE POST OFFICE | 95 S. CARBON AVENUE | PRICE | UT | 84501 | 4356371638 |
| PROVO CITY | 351 W. CENTER STREET | PROVO | UT | 84601 | 8018526000 |
| PROVO EAST BAY STATION | 936 S 250 E | PROVO | UT | 84606 | 8013562212 |
| UTAH COUNTY CLERK/AUDITOR | 111 S UNIVERSITY AVE | PROVO | UT | 84601 | 8018518108 |
| RICHFIELD POST OFFICE | 93 N. MAIN | RICHFIELD | UT | 84701 | 4358962078 |
| SEVIER COUNTY CLERK | 250 N. MAIN ST. | RICHFIELD | UT | 84701 | 4358930401 |
| SALT LAKE CITY MAIN POST OFFICE | 1760 WEST 2100 SOUTH | SALT LAKE CITY | UT | 84199 | 8019742332 |
| SALT LAKE CITY PUBLIC LIBRARY | 210 E 400 S | SALT LAKE CITY | UT | 84111 | 8013228142 |
| SALT LAKE COUNTY CLERK | 2001 S. STATE ST. | SALT LAKE CITY | UT | 84114 | 3854687300 |
| SANDY CITY HALL | 10000 CENTENNIAL PARKWAY | SANDY | UT | 84070 | 8015687118 |
| SANDY POST OFFICE | 8850 SOUTH 700 EAST | SANDY | UT | 84070 | 8015651946 |
| CITY OF SARATOGA SPRINGS | 1307 N COMMERCE DR. SUITE 200 | SARATOGA SPRINGS | UT | 84045 | 8017669793 |
| SOUTH OGDEN CITY HALL | 3950 ADAMS AVE | SOUTH OGDEN | UT | 84403 | 8016222700 |
| SPRINGVILLE CITY CIVIC CENTER | 110 SOUTH MAIN STREET | SPRINGVILLE | UT | 84663 | 8014892700 |
| ST GEORGE RED ROCKS POST OFFICE | 1150 E. RIVERSIDE DR. | ST. GEORGE | UT | 84790 | 4356882850 |
| WASHINGTON COUNTY CLERK | 197 EAST TABERNACLE | ST. GEORGE | UT | 84770 | 4356345712 |
| SYRACUSE CITY RECORDER | 1979 WEST 1900 S | SYRACUSE | UT | 84075 | 8018251477 |
| TOOELE COUNTY CLERK | 47 SOUTH MAIN ST | TOOELE | UT | 84074 | 4358433140 |
| UINTAH COUNTY CLERK - AUDITOR | 147 E. MAIN ST. | VERNAL | UT | 84078 | 4357815361 |
| VERNAL POST OFFICE | 67 N. 800 W. | VERNAL | UT | 84078 | 4357892393 |
| WEST JORDAN POST OFFICE | 7901 SOUTH 3200 WEST | WEST JORDAN | UT | 84088 | 8015663186 |
| CITY OF WEST JORDAN | 8000 SOUTH REDWOOD ROAD | WEST JORDAN CITY | UT | 84088 | 8015695033 |