Is a Passport Required to Visit...?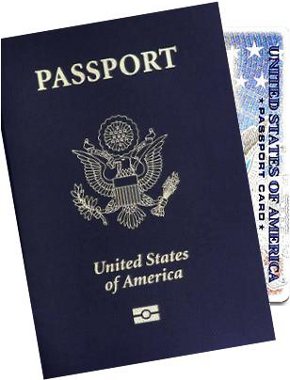 A valid passport is required to visit all foreign countries when traveling by air. This applies to adults and minors, including
infants
. Therefore, the only places to which American citizens can travel by air without a passport are destinations within the United States and U.S. territories. The latter is only true if the flight is direct and does not land in any foreign country. The
Western Hemisphere Travel Initiative
determined that one of the following documents must be presented when an American citizen returns the United States from Bermuda, Canada, the Caribbean and Mexico.
U.S. Passport Book or Passport Card
State Issued Enhanced Driver's License (when available)
Enhanced Tribal Cards (when available)
U.S. Military Identification with Military Travel Orders
U.S. Merchant Mariner Document when traveling in conjunction with official maritime business
Native American Tribal Photo Identification Card
Form I-872 American Indian Card
While U.S. citizens can re-enter the United States from the countries mentioned above with any of the documents on the list, Bermuda and some Caribbean countries do require a valid passport to enter. Minors under age 16 can visit Canada, Mexico and some Caribbean countries and return to the U.S. with only proof of citizenship such as a
birth certificate
and a photo ID. The only exception for both adults and minors are
closed-loop cruises
that begin and end at the same port. You may still be required to present a passport to enter the countries your cruise ship is visiting.
Contact your cruise line
to verify required travel documents.
Click here for expedited passport courier service
. Below are links to answers to frequently asked questions about travel document requirements for specific destinations. Visit the
passport FAQ
for more information.
Is a passport required to enter Costa Rica?
Question: Does a natural-born U.S. citizen need a passport to enter Costa Rica? What is the nearest office that can provide me with a passport?
Answer:...
Do I need a passport and visa to move to Germany?
Question: I have never had a passport. I am getting married to a U.S. citizen and relocating to Germany. What is required of me and my 16 year old ...
Click for expedited passport courier service as fast as the same day!
.
Expedite Your Passport Now!