Vermont Passport Acceptance Facility List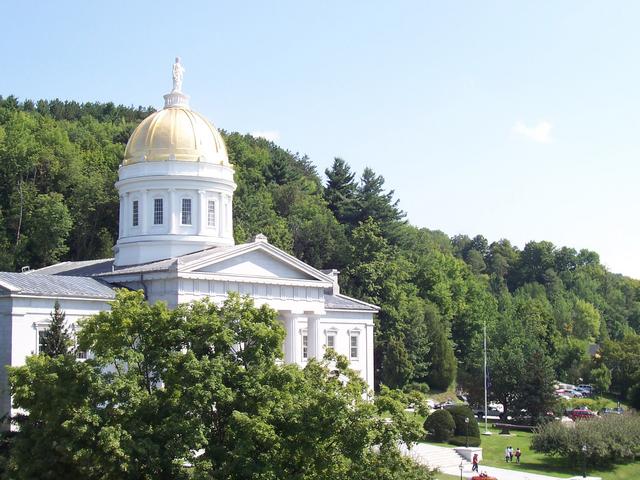 Locate the Vermont
passport acceptance facility
nearest you using the list below. There are numerous passport offices in as many as 14 counties. If you are unable to locate a facility in your city, please check a neigboring city. Many application acceptance facilities receive passport forms only a few hours a day and/or require applicants to schedule an appointment. Please call before visiting.
You should not sign the New Passport Application Form DS-11 until the agent asks you to. You have the choice of either routine service to get your travel document in four to six weeks or expedited processing if you need it in two to three weeks. If you need to get your passport faster, you have to either visit the Vermont Passport Center in St. Albans or submit the application through a registerd expediter such as Rush My Passport.
UPDATE:
High demand and mailing delays are impacting how long it takes to get a passport.
Standard service is currently taking between 8 and 11 weeks.
Expedited service is currently taking between 5 to 7 weeks.
NOTE: Processing times begin when applications are received at a passport agency or center. Requesting 1-2-day mailing service is recommended.
Need to get a passport faster?
| Facility | Address | City | State | ZIP | Phone |
| --- | --- | --- | --- | --- | --- |
| ALBURGH POST OFFICE | 12 SOUTH MAIN STREET | ALBURGH | VT | 05440 | 8027963489 |
| BARTON POST OFFICE | 405 MAIN STREET | BARTON | VT | 05822 | 8025256262 |
| BENNINGTON SUPERIOR COURT | 207 SOUTH ST | BENNINGTON | VT | 05201 | 8024472700 |
| BRADFORD POST OFFICE | 41 BARTON STREET | BRADFORD | VT | 05033 | 8022224414 |
| BRATTLEBORO POST OFFICE | 204 MAIN STREET | BRATTLEBORO | VT | 05301 | 8022544110 |
| BRIDGEWATER POST OFFICE | 102 MILL ROAD | BRIDGEWATER | VT | 05034 | 8026725166 |
| BROWNSVILLE POST OFFICE | 1269 ROUTE 44 | BROWNSVILLE | VT | 05037 | 8024845057 |
| BURLINGTON POST OFFICE | 11 ELMWOOD AVE | BURLINGTON | VT | 05401 | 8028636033 |
| CHITTENDEN SUPERIOR COURT | 175 MAIN STREET | BURLINGTON | VT | 05401 | 8029515106 |
| CHARLOTTE POST OFFICE | 161 FERRY RD | CHARLOTTE | VT | 05445 | 8024252200 |
| ORANGE COUNTY SUPERIOR COURT | 5 COURT STREET | CHELSEA | VT | 05038 | 8026854610 |
| CHESTER POST OFFICE | 203 SOUTH MAIN STREET | CHESTER | VT | 05143 | 8028753014 |
| COLCHESTER TOWN CLERK | 781 BLAKELY ROAD | COLCHESTER | VT | 05446 | 8022645520 |
| DANBY POST OFFICE | 214 N MAIN STREET | DANBY | VT | 05739 | 8022935105 |
| DERBY LINE POST OFFICE | 84 MAIN ST | DERBY LINE | VT | 05830 | 8028733332 |
| FAIRLEE POST OFFICE | 21 SCHOOL STREET | FAIRLEE | VT | 05045 | 8023334305 |
| HARDWICK POST OFFICE | 52 MILL ST | HARDWICK | VT | 05843 | 8024726022 |
| HARTLAND POST OFFICE | 159 US ROUTE 5 | HARTLAND | VT | 05048 | 8024362655 |
| LYNDONVILLE POST OFFICE | 1025 BROAD ST | LYNDONVILLE | VT | 05851 | 8026265421 |
| MANCHESTER POST OFFICE | 300 SEMINARY AVE | MANCHESTER | VT | 05254 | 8023621170 |
| ADDISON SUPERIOR COURT | 7 MAHADY COURT | MIDDLEBURY | VT | 05753 | 8023881966 |
| MIDDLEBURY POST OFFICE | 10 MAIN ST | MIDDLEBURY | VT | 05753 | 8023882681 |
| WASHINGTON COUNTY CLERK | 10 ELM STREET | MONTPELIER | VT | 05602 | 8028283075 |
| MORRISVILLE POST OFFICE | 16 PORTLAND STREET | MORRISVILLE | VT | 05661 | 8028883557 |
| NEWPORT POST OFFICE | 59 COVENTRY STREET | NEWPORT | VT | 05855 | 8023342420 |
| NORTH SPRINGFIELD POST OFFICE | 39 MAIN ST | NORTH SPRINGFIELD | VT | 05150 | 8028868161 |
| TOWN OF NORTHFIELD | 51 SOUTH MAIN STREET | NORTHFIELD | VT | 05663 | 8024859823 |
| PAWLET POST OFFICE | 5707 VT ROUTE 30 | PAWLET | VT | 05761 | 8023253065 |
| RANDOLPH POST OFFICE | 9 SALISBURY ST | RANDOLPH | VT | 05060 | 8027285444 |
| RICHFORD POST OFFICE | 80 MAIN ST | RICHFORD | VT | 05476 | 8028487742 |
| RUTLAND POST OFFICE | 173 WEST STREET | RUTLAND | VT | 05701 | 8027730301 |
| SHAFTSBURY POST OFFICE | 56 CHURCH STREET | SHAFTSBURY | VT | 05262 | 8024422142 |
| SHELBURNE POST OFFICE | 495 FALLS RD | SHELBURNE | VT | 05482 | 8029853615 |
| SHELBURNE TOWN CLERK | 5420 SHELBURNE ROAD | SHELBURNE | VT | 05482 | 8029855116 |
| SOUTH ROYALTON POST OFFICE | 239 CHELSEA STREET | SOUTH ROYALTON | VT | 05068 | 8027637330 |
| FRANKLIN COUNTY CLERK OF COURT | 17 CHURCH STREET | ST. ALBANS | VT | 05478 | 8025243863 |
| ST ALBANS POST OFFICE | 153 N. MAIN ST | ST. ALBANS | VT | 05478 | 8025246518 |
| STOWE TOWN CLERK | 67 MAIN STREET | STOWE | VT | 05672 | 8022536133 |
| SWANTON POST OFFICE | 21 GRAND AVE | SWANTON | VT | 05488 | 8028684188 |
| VERGENNES POST OFFICE | 9 N GREEN STREET | VERGENNES | VT | 05491 | 8028772681 |
| WATERBURY POST OFFICE | 47 N MAIN STREET | WATERBURY | VT | 05676 | 8022447318 |
| WEST DOVER POST OFFICE | 1A MOUNTAIN PARK PLAZA | WEST DOVER | VT | 05356 | 8024648677 |
| WHITE RIVER JUNCTION POST OFFICE | 195 SYKES MOUNTAIN AVE | WHITE RIVER JUNCTION | VT | 05001 | 8022963346 |
| WILLISTON TOWN CLERK | 7900 WILLISTON ROAD | WILLISTON | VT | 05495 | 8028785121 |