Turkmenistan Entry Requirements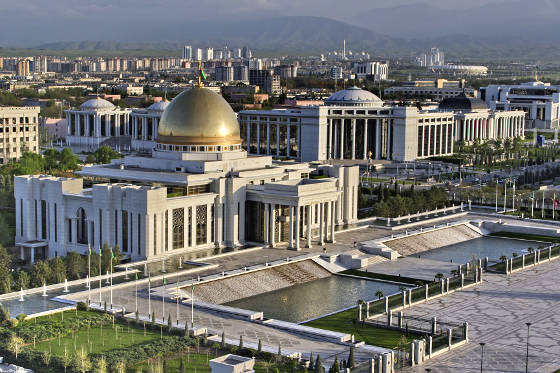 American citizens must have a valid passport with at least 6 months of remaining validity as well as a Turkmenistan visa and/or letter of invitation from the Government of Turkmenistan to enter and exit Turkmenistan.
Turkmenistan Visa Requirements
To apply for a visa, all U.S. citizens must complete an application and have a letter of invitation approved by the State Migration Service (SMS), formerly known as the State Service for the Registration of Foreigners (SSRF), in Ashgabat. An individual or organization in Turkmenistan must submit the letter of invitation on behalf of an American citizen to the SMS accompanied by a copy of the traveler's passport ID page.
The SMS requires at least 15 working days for approval. The U.S. Embassy in Ashgabat does not issue letters of invitation to citizens interested in private travel to Turkmenistan. Applications for a visa can be submitted to the Embassy of Turkmenistan in Washington, D.C., or directly to the SMS in Ashgabat.
According to local law, a traveler with a stamped and approved invitation letter may also obtain a visa at the Ashgabat International Airport upon arrival in Turkmenistan; however, some travelers have reported difficulties with airlines not boarding passengers who only have approved invitation letters in lieu of a visa for onward travel to Turkmenistan. Travelers are strongly recommended to obtain a visa before traveling.
The price for the visa will vary according to the intended length of stay. For an additional charge, the SMS can extend a visa in Ashgabat beyond its initial validity. Any traveler arriving without a visa or without the documents necessary to obtain a visa will be denied entry and may be held at the airport or border until the traveler has secured transportation out of Turkmenistan.
Responsibilities Upon Arrival in Turkmenistan
Upon arrival at an airport or border entry point, foreigners will be issued an immigration card by Turkmen authorities. All foreigners are required to carry this immigration card for the duration of their stay in Turkmenistan. Authorities will collect the immigration card upon departure.
In addition to the immigration requirements mentioned above, foreigners are subject to local registration requirements:
Americans who plan to stay more than three working days in Turkmenistan must register with the SMS. SMS offices are located in all of Turkmenistan's five major cities: Ashgabat, Dashoguz, Mary, Turkmenabat and Turkmenbashy.
Foreigners who plan to travel outside of the city in which they will register must inform the SMS in advance; otherwise travelers will face fines or deportation.
One day prior to their departure from Turkmenistan foreigners must return to an SMS office to register the departure. Foreigners should be registered and deregistered at the SMS in the city in which their sponsoring organization is located. Foreigners who fail to register their departure may be prevented by immigration authorities from leaving the country until they have done so.
Special Circumstances and Potential Problems
Transit visas - Based on past incidents, the Embassy discourages travelers from planning to use transit visas in lieu of obtaining tourist visas through a travel agency. The U.S. Embassy in Ashgabat is unable to intervene with Turkmenistani authorities regarding the admission of private travelers to Turkmenistan. Considering the approval rate for a Turkmen transit visa hovers around 50%, it is not recommended to rely on receiving one.
As a rule, travelers departing Turkmenistan must have a current valid visa or they will be denied exit until they have extended the validity of the visa through their departure date.
Restricted areas - U.S. citizens traveling in Turkmenistan should be aware that they need special permission from the SMS to travel to areas of the country that have been restricted by the Government of Turkmenistan, including almost all border areas.
Overstaying your Turkmenistan visa - The penalties for remaining in Turkmenistan with an expired visa or for failing to register with SMS include fines, arrest, and/or deportation. Foreigners who are deported for these violations may be prohibited from returning to Turkmenistan for up to five years. American citizens in Turkmenistan are strongly urged to ensure that their visas do not expire and that they register with SMS upon arrival and upon departure.
Travel agency-issued visas
- Visitors holding tourist visas organized by a travel agency must stay in hotels; other visitors may stay in private accommodations whose owner must register the visitor's presence. Visit the
Embassy of Turkmenistan web site
for the most current visa information.
Entering Turkmenistan via the Caspian Sea - Several popular travel guides discuss traveling by "ferry" across the Caspian Sea from Baku, Azerbaijan, to the port of Turkmenbashy in western Turkmenistan.
Some travelers have faced problems attempting to travel to Turkmenistan by boat. Travelers should be aware that these "ferries" are in fact cargo ships that take on some passengers incidental to their primary function. Passengers are generally not provided food or water on these ships, and sleeping and sanitary facilities are likely to be rudimentary.
Travelers should be aware that ships arriving at the port of Turkmenbashy often wait days offshore for outgoing ships to vacate the dock to allow incoming ships to disembark. Some travelers have spent more than a week offshore while their ship awaited permission to enter the port, and they have run out of stores of food and water, or had their Turkmen visas expire before they could be used.
For this and other reasons travelers, especially those who plan to enter Turkmenistan by boat, are discouraged from using transit visas to enter Turkmenistan.
Onward travel - If Turkmenistan is not your ultimate destination, plan on getting the appropriate visas for your next border crossing(s) ahead of time. Visa processing for neighboring countries can be extremely slow within Turkmenistan. Overstaying your visa because you are waiting for another to be processed is not a valid excuse.
Accepted payments for airfare
- At Ashgabat International Airport, most airlines do not accept payment for tickets by credit card, or in any currency other than US dollars or Turkmen manat. Travelers planning direct transit through Turkmenistan en route to another country should be aware that if they are stranded due to a missed connection, they will not be allowed to leave the arrival detention area until they are able to buy a ticket for an onward flight out of Turkmenistan. For this reason, the Embassy discourages travelers from planning to directly transit through Ashgabat International Airport. Click the link for
expedited Turkmenistan visa
processing.
Get your passport fast
.
Expedite Your Passport Now!