Travel to India
If you plan to travel to India, there are critical considerations you must be aware of to have a fun and safe trip. There are many tourist attractions and vacation destinations, but there are also plenty of pitfalls and dangers involved if you don't take the time to plan effectively.
India is an amazing place to travel - few destinations have as much rich culture, deep history, and natural beauty. There are many ancient, and sacred sites to visit as well as amazing architecture and modern marvels.
India has a very diverse population, geography and climate. It is the world's second most populous country, and the world's seventh largest country in terms of land area. There is a lot to see and do, so proper planning is essential!
Travel Document Requirements
A valid passport with at least six months of validity and at least two blank pages is one of the required travel documents to enter India. Regulations change occasionally so it is always good to verify the newest updates prior to your trip. Be sure to check out our complete guide to India's passport requirements.
A visa is also required documentation when traveling to India. Here is a list of requirements and step-by-step instructions for obtaining a visa to India.
Currency in India
India's currency is the rupee (INR).
Before you travel, you can acquire rupees at most banks, travel agencies, and even AAA. Upon arrival in India, you can acquire rupees at ATMs (the machines are plentiful in most populated areas) for fairly low exchange rates. Indian banks, hotels, and travel services are options as well, but their rates are often higher than the ATM fees and conversion rates charged by your American banks (just be sure to let your bank know you will be traveling so your card is not frozen!).
If you travel with US currency, be advised that any amount over $5,000 must be declared. You should also contact the Indian Embassy in Washington D.C. if you plan to travel with any large amount of currency.
It should also be noted that it India allows for up to 25,000 rupees to be brought into or out of the country without any formal declaration. Any higher amount must be declared.
Indian Customs Regulations
Indian customs regulations prohibit the import or export of the following items:
Illegal drugs
Counterfeit money and goods
Firearms and ammunition – (prior permission required)
Knives and deadly weapons
Pets and other live animals –(prior permission required)
Birds and bird products (e.g. eggs and feathers)
Pigs and pig meat products
Endangered plants of any kind
Plants and plant products – (prior permission required)
Radio transmitters
Satellite phones
Culturally important or valuable antiques
Pornographic material
It is essential that you do not attempt to cross into India with any of these items on your person or in your luggage. India takes these regulations very seriously and fines, arrests, and deportations are common.
Crime in India
India can be a dangerous place to visit, especially if you stray from the main tourist centers. Women, in particular, have been targeted increasingly over the past few years. Sexual harassment and sexual assault cases have risen significantly and pose the most serious threat to female foreigners.
However, India can be a safe place to visit if you take proper precautions:
Travel with a group
Enroll in the Safe Traveler Enrollment Program (STEP)
Keep friends and family posted about your itinerary and whereabouts
Plan to visit tourist-friendly locations instead of going adventuring "off-the-grid"
Keep a charged, GPS-enabled cell phone with you at all times
Dress modestly
Keep valuables and travel documents close to you or locked in a hotel safe
Do not accept free rides, food, or drinks
Consulate Access in India
There are four U.S. consulates in India. Each serves travelers visiting different states within the country.
The Consulate General in Mumbai
The Consulate General in Mumbai serves travelers visiting the
states of Goa, Gujarat, Chhatisgarh, Madhya Pradesh, Maharashtra,
Diu and Daman, and Dadra and Nagar Haveli.
Address:
C-49, G-Block, Bandra Kurla Complex
Bandra East, Mumbai 400051
India
Telephone: +(91) (22) 2672-4000
Emergency After-Hours Telephone: +(91) (22) 2672-4000 (NOTE: If you are calling from within India, but outside Mumbai, you must first dial 022.)
Fax: 91-(0)22-2672-4786
Email: mumbaiacs@state.gov
The United States Consulate General in Kolkata
The United States Consulate General in Kolkata serves travelers visiting the states of Bihar, West Bengal, Jharkhand, Nagaland,
Mizoram, Manipur, Meghalaya, Arunachal Pradesh, Sikkim, Tripura
and Assam.
Address:
5/1 Ho Chi Minh Sarani
Kolkata - 700 071,
West Bengal, India
Telephone: +(91) (33) 3984-2400
Emergency After-Hours Telephone: +(91) 99030 42956 or
+(91) (33) 3984-2400 then dial "0"
Fax: +(91) (33) 2282-2335
Email: kolkataACS@state.gov
The Consulate General in Chennai
The Consulate General in Chennai serves travelers visiting the states of Tamil Nadu, Karnataka, Kerala, and the Union Territories of
Andaman and Nicobar Islands, Pondicherry and Lakshwadeep
Islands.
Address:
220 Anna Salai at Gemini Circle
Chennai, India 600006
Telephone: +(91) (44) 2857-4000
Emergency After-Hours Telephone: (0) 44-2857-4000. Ask for
American Citizen Services.
(NOTE: Within India, but outside Chennai, first
dial 044. From the United States, first dial 011-(91) (44) )
Fax: +(91) (044) 2811-202
Email: chennaics@state.gov
The Consulate General in Hyderabad
The Consulate General in Hyderabad serves travelers visiting the states of Andhra Pradesh, Telangana, and Odisha.
Website: U.S. Consulate General Hyderabad
Address:
Paigah Palace
1-8-323, Chiran Fort Lane
Begumpet, Secunderabad 500 003
Hyderabad, India
Telephone: +(91) (40) 4033-8300
Emergency After-Hours Telephone: 4033-8300, and ask for
American Citizen Services.
(NOTE: If calling from within India, but outside Hyderabad, first dial 040. From the United States, first dial 011-(91) (40) .)
Fax: 4033-8306
Email: hydacs@state.gov
Restricted Areas in India
Certain parts of India are designated as "restricted areas" by the Indian Government, and require special advance permission to visit. These areas include:
The state of Mizoram,
The state of Manipur,
The state of Arunachal Pradesh,
The state of Nagaland,
The state of Sikkim,
Portions of the state of Himachal Pradesh near the Chinese border,
Portions of the state of Uttarakhand (Uttaranchal) near the Chinese border,
Portions of the state of Rajasthan near the Pakistani border,
Portions of the state of Jammu & Kashmir near the Line of Control with Pakistan,
The Andaman & Nicobar Islands,
The Union Territory of the Laccadives Islands (Lakshadweep), and
The Tibetan colony in Mundgod, Karnataka.
Dual Nationality
There is no such thing as dual nationality in India. Instead India has its "Overseas Citizens of India" (OCI) program, which does not grant Indian citizenship but works just like a U.S. "green card." The program allows properly credentialed U.S. citizens to travel to and from India indefinitely, work in India, study in India, and own property in India (there are exceptions for certain agricultural and plantation lands). So while a U.S. citizen with an OCI card is entitled to many of the same working privileges as an Indian citizen, they remain a citizen of the United States.
Health and Medical Issues when Traveling to India
As with any overseas trip, be sure to secure adequate medical insurance coverage before you travel. Do not assume your American policy will cover you abroad.
It is also recommended that you update your vaccinations prior to traveling to India. The most essential of which are:
Rabies
Influenza
Tuberculosis
Malaria
While visiting India, you can greatly reduce your likelihood of becoming ill by avoid eating street food or drinking tap water.
When you travel matters as well. Dengue fever is a mosquito-bourne illness that is a persistent risk macros all of India. July to December tends to be the most active transmission period, but September and October tend to be the worst. Wearing long-sleeved shirts and mosquito repellent are critical precautions to take.
It is also worth noting that medical tourism is a growing trend in India. People from all over the world flock to Indian medical centers to experience what they believe to be exceptional care from some of the world's leading doctors at affordable rates.
That said, the quality of medical care varies greatly due to factors such as geography (rural areas are severely lacking adequate medical access in most cases), and the type of treatment required. The U.S. Department of State claims, "Medical care in the major population centers approaches and occasionally meets Western standards."
India's Geography
India has three major geographical regions that make it an ideal country to visit for those looking for some environmental diversity. The great Himalayas of the north protect the country from the chilling winds of China. They offer spectacular scenic views as well as some of the most challenging climbs and hikes for outdoor adventurers.
The great plains of central mainland are fed by some of world's most prominent rivers. The Ganges runs across the country providing food and crucial irrigation to almost the entire country. For visitors, the Ganges provides some legendary challenge white water rafters.
The Deccan plateau of the South and the Indian Ocean. It covers over 160,000 square miles and is 43% of India's total landmass.
Top Areas of Interest in India
India is home to countless unique wonders that cannot be seen or enjoyed anywhere else in the world.
Historically, India is one of the richest country in the world. Its Indus Valley was home to the oldest civilization of the world - dating back to almost 3000 BC.
Religious Temples
India has also given birth to several of the worlds largest religions - Hinduism, Buddhism, Sikhism, and Jainism. As such there are numerous shrines, monuments, and temples strewn across the vast country. While tourists are not permitted into some of these sites (either in part or in their entirety), there are many of these breathtaking spiritual sites that are open to to world's public.
When visiting one of these sites, be sure to be polite and observe the local customs. In many cases, there are expectations for both attire and procedures that must be strictly adhered to in order to avoid being offensive.
Taj Mahal

The Taj Mahal is the embodiment of love. Built by the great Mughal ruler Shahjahan for his departed wife Mumtazmahal, it has found its place as one of the seven wonders of the modern world.
The site is open to visitors from 30 minutes prior to sunrise and 30 minutes prior to sunset. It is also open from 8:30 p.m. to 12:30 a.m. on the night of the full moon. Tickets must be purchased from the Ministry of Culture website.
Expert travelers recommend planning a trip to the Taj Mahal between November and February to avoid both the rainy season and unbearable heat waves.
Delhi
Delhi is the political capital of India. It is also one of the country's most historic cities. Visiting the bustling streets, tourists can visit local bazaars, take in exciting festival celebrations, eat at exceptional restaurants, and view astounding architectural marvels. That said, be prepared for litter and signs of poverty. These are commonplace in India's capital and can be a bit striking to outsiders.
Among the most significant historical destinations in Delhi is the Red fort. Built by the same architect as the Taj Mahal, the Red Fort was created when Mughal emperor Shah Jahan moved the capital to Delhi in 1638.
As the capital, Delhi is a crucial hub for transportation, education, and the Indian economy. Within the city limits there are some of the most important government buildings, business headquarters, and scholarly universities in the country. If you have business in India, odds are you will wind up in Delhi at some point.
Mumbai (formerly Bombay)
If Delhi is India's political capital, then the island city of Mumbai can be easily labeled as the business capital. Home to Dalal Street (think India's version of Wall Street) Mumbai is the witness to the countries economic ups and downs. It is also a popular destination for those seeking some of the best eateries and night life in India.
Culturally, Mumbai is more diverse than other parts of India. As a business epicenter, the city is host to a constant blend of various religions and nationalities. It is also home to some of the most awe-inspiring temples, palaces, and monuments. Some are remnants of British colonial rule, while others are popular cultural heritage sites spanning many of the diverse religions practiced in India.
Mumbai is also home to Bollywood (the Indian film industry). Tours of Film City (in the western suburb of Goregaon) are available.
Hotels in India
With India being such a major tourist destination, availability of hotels is not much of a problem. However, every tourist in India - local or foreign - would do well to plan a trip in advance to find a hotel that best suits his or her needs.
There are a number of questions to be answered before finding the right choice of hotel for your India trip:
What are your individual interests and needs?
Are you seeking relaxation, adventure, or both?
Are creature comforts essential or do you prefer the seclusion of a log cabin in the woods
Would you prefer five-star luxury or old-world charm?
The most important consideration when choosing your hotel is budget. Are you prepared to spend a premium or are you simply looking to experience India on a shoestring?
While planning your trip to India, consider the optimal location for your hotel. For instance, if you have a specific interest in India, say a wildlife reserve, it makes sense to stay as close to it as possible rather than book a hotel that requires you to spend time and energy commuting.
The available hotel options in India are as diverse as India itself. Depending upon your needs and wants, there will certainly be multiple options for you to consider.
Five Star Hotels in India
Often owned by prestigious names in the Indian Hotel industry such as the Taj or Oberoi, these offer the ultimate in terms of comfort and excellence in service. While most of the important chains do have hotels in major Indian destinations, hospitality here does come at a price.
Heritage Hotels in India
These were originally former palaces or mansions belonging to India's erstwhile princes or nobility that have now been converted into hotels. For a price, tourists can experience a slice of the history and romance of India's former royalty. Rajasthan, Mysore, Hyderabad are some of the Indian states where heritage hotels are located.
Eco-friendly Hotels in India
These hotels offer you a close communion with nature during your stay. Most of them are located in scenic locations - around forest reserves, hill stations or ecologically sensitive zones. While many such hotels in India are committed to the preservation of natural resources, others simply use eco-friendly language and labels a sales gimmick.
Wellness Centers or Spas in India
India is home to the holistic science of Ayurveda. As such, there are dedicated Ayurveda hotels that provide guests with massages, detoxification and fitness routines to rejuvenate the body and soul. Kerala, Karnataka, Himachal Pradesh, Rishikesh and Rajasthan are some of the most popular medical tourism locations in India.
Budget Hotels in India
While many budget hotels do offer decent accommodation and excellent food, the same cannot be said for all. Again while some have pleasant surroundings set in prime locales, others maybe no better than congested motels or hostels.
India's Festivals and Holidays
To enjoy your experience to the fullest and take in as much culture as possible, you may consider visiting India during the celebration of Diwali. This is an amazing festival and national holiday that lasts from mid-October to mid-November. Keep in mind that just about every popular tourist destination in the country will be more crowded, but there will certainly be a lot of celebrating and unique sights to take in. If you prefer a less crowded vacation, visit at another time of year.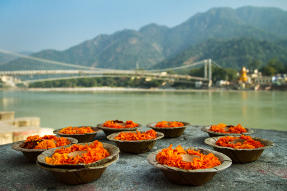 India is certainly one of the most culturally diverse countries that you will ever visit. There are numerous religions practices within India's borders including Christianity, Islam, Sikhism, Buddhism, and Hinduism. Because of this diversity, the list of observed religious holidays is quite long.
Certain regions of India have a more dominant religion, so look this up before you travel so that you know what kind of holidays to expect. India has three official national holidays observed all over the country as well as some religious holidays which are nationally observed. Be aware, no alcohol is sold on these days.
Republic Day (January 26)
India celebrates that on this day in 1950 the Constitution of India came into place. This replaced the Government of India Act. The largest celebration on this day is hosted in the capital city New Delhi, in front of the president of India at the Rajpath.
Independence Day (August 15)
This day commemorates India's independence from Britain which took place officially on the 15th of August in 1947. Once again, main celebrations are held at New Delhi where the national flag is hoisted at the Red Fort by the Prime Minister. All over the country, flags are raised and the flag's colors are worn. Many parades and events are performed.
Gandhi Jayanti (October 2)
This day is celebrated as Mahatma Gandhi's birthday, who is considered India's "Father of the Nation". It is also observed internationally as the day of non-violence. Tributes and prayer services are held all over India but most noticeably at Gandhi's memorial, Rajghat situated in New Delhi.
Notionally Observed Religious Holidays in India
Below is a list of national religious holidays and festivals celebrated in India:
Nag Panchami (Hindu): As part of their worship of cobras, Hindu married women visit their premarital family home to bring siblings together to celebrate the well-being of the family.
Dussehra (Hindu): A festival dedicated to worshiping Durga, a Hindi deity
Diwali (Hindu): One of the most iconic Hindu festivals also known as the Festival of Lights. Clay lamps filled with oil are lit to symbolize good over evil and firecrackers are let off. Families gather sharing snacks and sweets.
Christmas day (Christian): The commemoration of the birth of Jesus
Day of Ashura (Islamic): The climax of the mourning of Muharram marks the anniversary of the death of the Prophet Muhammad's grandson in the Battle of Karbala.
Mawlid (Islamic): Celebrates the birthday of Prophet Muhammad
Eid ul-Fitr (Islamic): Marks the end of the Ramadan fast and is also known as the Sweet festival
Eid al-Adha (Islamic): The honoring of Prophet Abraham who was willing to sacrifice his son on God's command as well as his son's willingness to be sacrificed (NOTE: This holiday is also referred to as Feast of the Sacrifice)
It is very important that you be aware of the different holidays in India so that you can plan your trip appropriately - whether you want to participate in the different activities and festivals or avoid the hustle and bustle altogether.
More India Travel Information