Passport Depot Service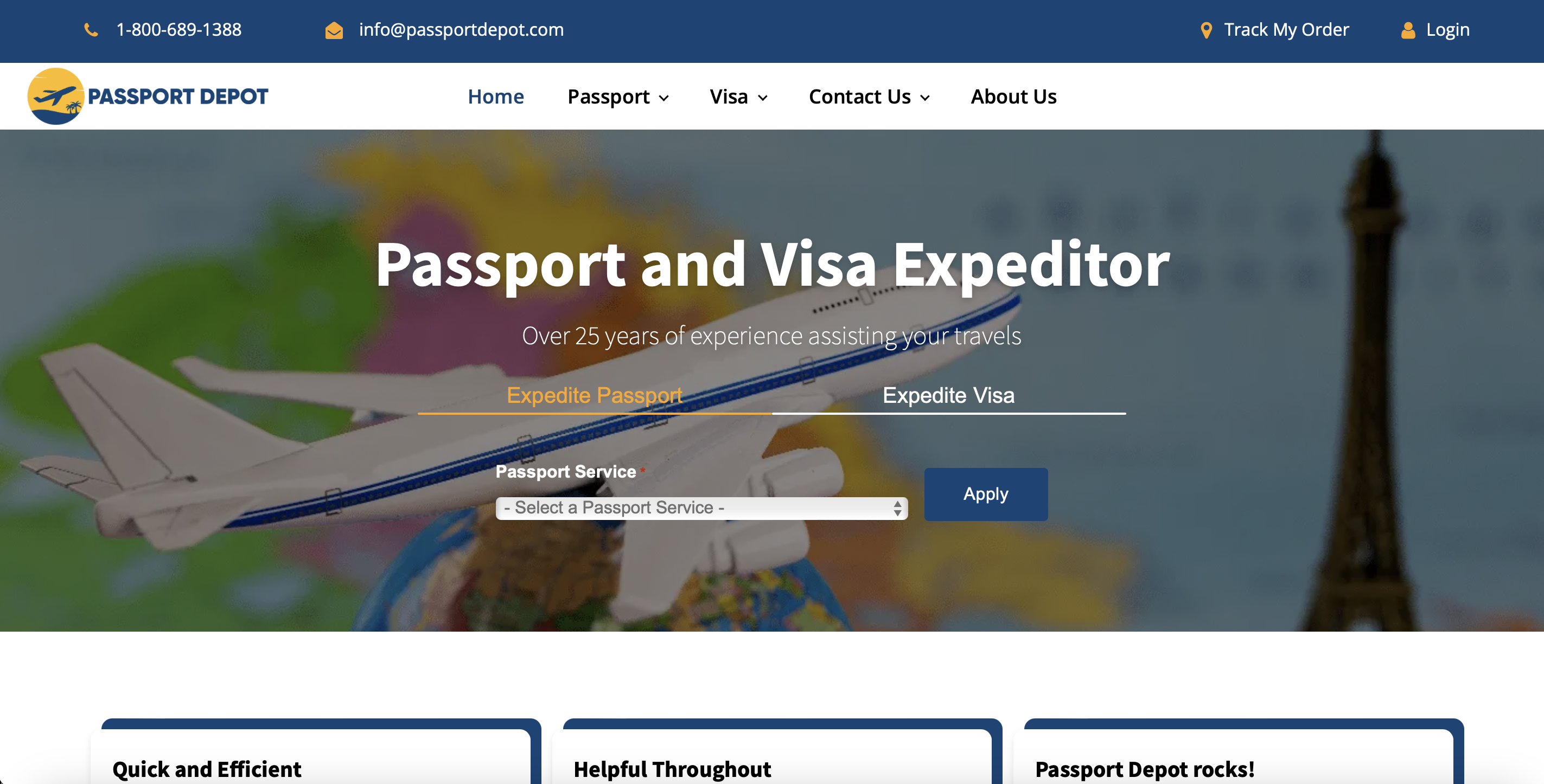 Passport Depot is a privately-owned travel document expediting company based in San Francisco. Their staff works with regional passport agencies and many foreign embassies and consulates to secure United States passports or travel visas as fast as one day.
They are knowledgeable in providing detailed information about the application process. Passport Depot has been in business since 1998 and is experienced in acquiring many types of passports or travel visas.
While the company is not currently listed with the Better Business Bureau it has many good reviews on Yelp.
Passport Services Offered
Passport Depot offers a full range of passport expediting services. These include:
New Passport
Passport Renewal
Lost or Stolen Passport
Child Passport
Name Change
Mutilated Passport
Second Passport
Extend Validity
Each of these services is offered with a choice of three different processing speeds:
Urgent (1-3 days)
Quick (4-9 days)
Standard (10+ days)
Passport Expediting Fees
Passport Depot does not post current rates on their website. You must call to find out how much their services cost. It is safe to assume that the faster the service speed, the more expensive the fees will be.
They do, however, list the associated government and return shipping fees that can be expected. Be aware that these prices do not include the service fees.
Visa Services Offered
Passport Depot offers visa expediting services to several popular destinations. These include:
Brazil
China
Egypt
India
Jordan
Kenya
Korea
Pakistan
Russia
Vietnam
Visa Processing Fees
Passport Depot does post their service fees for visa processing. These fees start at $59 but vary depending on destination and type of visa. Similarly, the consular fees vary as well.
All visa services also require an additional $24.95 return shipping fee.
Forms of Payment
Passport Depot accepts multiple forms of payment:
Company Check
Cashier's Check
Money Order
Credit Card
Contact Information
Our highest recommendation goes to Rush My Passport.
Top 5 Questions About Expedited Passport Couriers