Important Holidays in India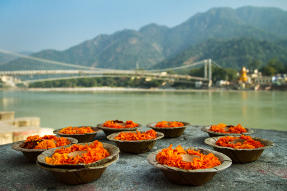 India is certainly one of the most culturally diverse countries that you will ever visit. There are various religions followed within India including Christianity, Islam and Hinduism. Because of this diversity, the list of religious holidays observed is quite long.
Certain regions of India have a more dominant religion, so look this up before you travel so that you know what kind of holidays to expect. India has three official national holidays observed all over the country as well as some religious holidays which are nationally observed. On these days, no alcohol is sold.
Republic Day (26 Jan)
India celebrates that on this day in 1950 the Constitution of India came into place. This replaced the Government of India Act. The largest celebration on this day is hosted in the capital city New Delhi, in front of the president of India at the Rajpath.
Independence Day (15 Aug)
This day commemorates India's independence from Britain which took place officially on the 15th of August in 1947. Once again, main celebrations are held at New Delhi where the national flag is hoisted at the Red Fort by the Prime Minister. All over the country, flags are raised and the flag's colors are worn. Many parades and events are performed.
Ghandi Jayanti (2 Oct)
This day is celebrated as Mahatma Ghandi's birthday, who is considered India's "Father of the Nation". It is also observed internationally as the day of non-violence. Tributes and prayer services are held all over India but most noticeably at Ghandi's memorial, Rajghat situated in New Delhi.
Religious holidays celebrated by all of India
Below is a list of religious holidays and festivals celebrated by the whole of India:
Nag Panchami (Hindu): Hindus worship cobras and married women visit their premarital family home. This is meant to bring siblings together to celebrate the well-being of the family.
Dussehra (Hindu): A festival dedicated to worshiping Durga, a Hindi deity.
Diwali (Hindu): One of the most iconic Hindu festivals also known as the Festival of Lights. Clay lamps filled with oil are lit to symbolize good over evil and firecrackers are let off. Families gather sharing snacks and sweets.
Christmas day (Christian): The commemoration of the birth of Jesus
Day of Ashura (Islamic): The climax of the mourning of Muharram. It marks the anniversary of the death of the Prophet Muhammad's grandson in the Battle of Karbala.
Mawlid (Islamic): Celebrates the birthday of Prophet Muhammad
Eid ul-Fitr (Islamic): Marks the end of the Ramadan fast and is also known as the Sweet festival
Eid al-Adha (Islamic): The honoring of Prophet Abraham who was willing to sacrifice his son on God's command as well as his son's willingness to be sacrificed. Also known as Feast of the Sacrifice.
It is very important that you be aware of the different holidays in India so that you can plan your trip appropriately, whether you want to participate in the different activities and festivals or avoid the hustle and bustle altogether.
More India Travel Information
Expedite Your Passport Now!
Click to Call for Expedited Service!