List of Expedited Passport Courier Services in Atlanta, Georgia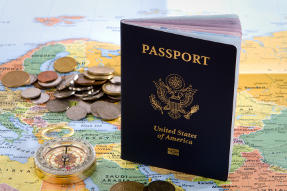 You can get an expedited passport in Atlanta in 2 to 3 weeks when you submit your application at one of the Atlanta passport offices. The majority of application acceptance facilities require an appointment. Please call before visiting.
UPDATE:
High demand and mailing delays are impacting how long it takes to get a passport.
Standard service is currently taking between 7 and 10 weeks.
Expedited service is currently taking between 3 to 5 weeks.
NOTE: Processing times begin when applications are received at a passport agency or center. Requesting 1-2-day mailing service is recommended.
Need to get a passport faster?
Getting a passport expedited in less than two weeks requires you to
schedule an appointment
at the
regional agency
or, if no opening is available before your departure date, employ the services of an authorized expediting service. Passport expediting courier services that attend residents of Atlanta are listed below.
Rush My Passport
3355 Lenox Road
Suite 750
Atlanta, GA 30326
(770) 709-3268
G3 Visas & Passports
3355 Lenox Road
Suite 750
Atlanta, GA 30326
(855) 201-2993
Roswell Passport & Visa Service
7878 Roswell Road
Suite M
Sandy Springs, GA 30350
(770) 594-2913
The Passport Office
One West Court Square
Suite 708
Decatur, GA 30030
(404) 889-8670
Travel Visa Pro
(833) 887-8472
Visa Supply
333 Sandy Springs Circle
Suite 109
Atlanta, GA 30328
(888) 439-1331
Our highest recommendation goes to Rush My Passport.
Top 5 Questions About Expedited Passport Couriers
Click for reliable expedited passport courier service.