Cambodia Entry Requirements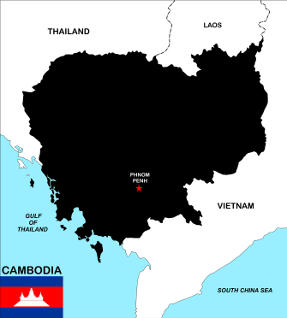 Cambodia requires U.S. citizens entering the country to have a valid passport with at least 6 months of validity remaining past the date of entry and at least one blank page for each entry stamp.
Visitors to Cambodia must also have the appropriate visa. Tourist and business visas are valid for one month beginning with the date of entry into Cambodia.
Types of visas in Cambodia
Cambodia offers online visa processing at
http://www.evisa.gov.kh
. The application process only takes a few minutes and the total cost (including processing fee) is under $40. Processing time is advertised as up to three business days, but in most cases, visas are emailed in less than 24 hours.
Traditional visas are also available. Travelers can elect to apply in person at the Cambodian Embassy located at 4530 16th Street NW, Washington, DC 20011 or employ the services of a visa expediting courier service such as Rush My Passport.
Tourists and business visas are also available from the airports in Phnom Penh, Siem Reap, and the country's major border crossings. Any method of obtaining a Cambodian visa requires two passport-sized photograph and a passport that is valid for a minimum of six months beyond the date of entry into Cambodia.
Potential Issues
While entering Cambodia as a U.S. citizen is fairly straightforward, there are several potential hurdles.
Not all ports of entry to Cambodia accept e-visas
The ones that do not, however, do accept applications for visas on-arrival.
Currently, the following ports accept e-visas as entry documents (e-visas are considered acceptable documentation from all ports of exit):
Phnom Penh International Airport - Cambodia
Siem Reap International Airport - Cambodia
Preah Sihanouk International Airport - Cambodia
Cham Yeam (Koh Kong) - Thailand
Poi Pet (Banteay Meanchey) - Thailand
Bavet (Svay Rieng) - Vietnam
Tropaeng Kreal Border Post (Stung Treng) - Laos
Cambodia issues fines for overstaying your visa.
The charge is USD $10.00 per day for overstays. A tourist visa may be extended for 30 days only. Beyond that, penalties escalate to significantly higher fines, deportation, and potentially imprisonment. Applications for extension are done at the Immigration Department in front of the Phnom Penh Airport.
Regulations change in times of crisis
During the COVID-19 pandemic, Cambodia (like many countries) issued new regulations regarding medical screenings, medical insurance requirements, and quarantine procedures. While this is only a temporary measure, it is indicitive of how current events can affect entry requirements. As such, be sure to visit the U.S. Department of State's Cambodia International Travel Information page and enroll in the S.T.E.P. program as part of your travel preparations.
Further inquiries about specific circumstances not outlined here may be made at the nearest embassy or consulate of Cambodia or visit the
Embassy of the Kingdom of Cambodia web site
for the most current visa information.
Click here to expedite your Cambodia visa.
Expedite Your Passport Now!