Cambodia Entry Requirements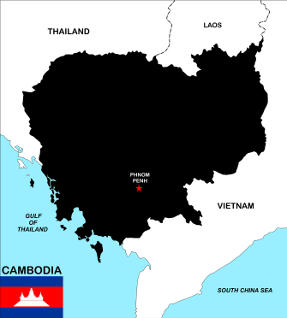 A valid passport and a Cambodian visa are required. Passports need to have at least 6 months validity beyond one's entry into Cambodia. Tourist and business visas are valid for one month beginning with the date of entry into Cambodia. Cambodia offers online visa processing at
http://www.evisa.gov.kh
. You may also apply in person at the Cambodian Embassy located at 4530 16th Street NW, Washington, DC 20011. An alternative is to employ the services of a visa expediting courier service such as
Travel Visa Pro
.
Tourists and business visas are also available from the airports in Phnom Penh, Siem Reap, and the country's major border crossings. Any method of obtaining a Cambodian visa requires a passport-sized photograph, a passport that is valid for a minimum of six months beyond the date of entry into Cambodia, and a self-addressed prepaid return envelope.. Travelers should note that Cambodia issues fines for overstaying your visa. The charge is USD $10.00 per day for overstays. A tourist visa may be extended for 30 days only; applications for extension are done at the Immigration Department in front of the Phnom Penh Airport. Overseas inquiries may be made at the nearest embassy or consulate of Cambodia or visit the
Embassy of the Kingdom of Cambodia web site
for the most current visa information.
Click here to expedite your Cambodian visa
.
Get your passport fast
.
Expedite Your Passport Now!
IMPORTANT:
The foreign entry requirements listed here were obtained from foreign embassies or consulates. This information is subject to change. Verify the data with the consular officials of the countries you plan to visit well in advance. For further information, see our
embassy list
.