All American Passport Service

All American Passports is a privately-owned U.S. passport expediting service. Their multilingual staff works closely with many of the world's agencies to bring you the National US Passport Agency, and various foreign embassies and consulates to secure US passports and travel visas in as little as 24 hours in most cases. AllAmericanPassports.com is operated by
Priority Passport
, aka Passport123. This company has a
reliability rating of "B-"
by the BBB as well as a
1-star TrustLink rating
. For an A-rated expediting service, we recommend this
emergency passport expediter
.
Passport Services Offered
New Passport
Passport Renewal
Lost or Stolen Passport
Child Passport
Name Change
Mutilated Passport
Second Passport
US Passport Processing Fees
Emergency:
1 to 2 business days - $299.00 (+ Government Fee)
Priority:
3 to 4 business days - $199.00 (+ Government Fee)
Rush:
5 to 7 business days- $149.00 (+ Government Fee)
Standard:
8 to 14 business days - $99.00 (+ Government Fee)
Travel Visa Processing
yes
Visa Fees
Starting from $65.
Other Services
no
Tracking
All American Passports offers online tracking of passport applications.
Applications Downloadable From Site
yes
Payment Forms
Cash
Company Check
Money order
Guarantee
All American Passports states no guarantee on their website.
Contact
Web Site
All American Passports
Phone
Toll Free: (866) 610-3464
Fax
Fax: (415) 704-3411
Mail
All American Passports
14100 Palmetto Frontage Rd.
Miami Lakes, FL 33016
E-mail
infoATallamericanpassports.com
Click here to expedite your passport
Expedite Your Passport Now!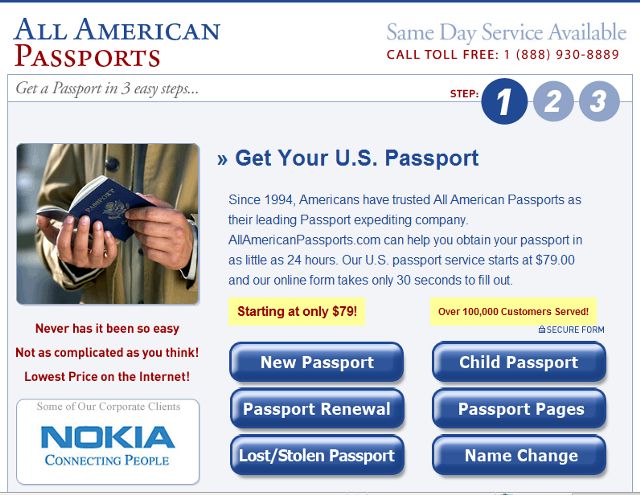 BBB Report for Passport 123
|
Reviews of AllAmericanPassports.com
|
About Us for AllAmericanPassports.com