How to Add Pages to Passport
IMPORTANT:
Effective January 1, 2016, The U.S. Department of State no longer issues additional visa pages. This service has been discontinued to enhance the security of U.S. Passports and to adhere to international passport standards. Applicants in need of additional pages in their valid passports must apply for a passport renewal by mail or, in the case of a passport issued to a minor, obtain a new passport. Frequent travelers can apply for 52-page passports instead of the regular 24 pages for no additional cost.
Running out of passport pages? Need to get some added to your passport? You can apply to have more pages added to your passport if you have less than 2 to 4 visa pages remaining in your passport book. It is important to have sufficient pages in your travel document since many countries require one, two or more pages before they will stamp a visa in a passport.The process is really very easy to complete.
Steps to Add Pages to a Passport
Step 1: Complete Application Form
Step 2: Gather Supporting Documents
Step 3: Package and Send

1
Complete Application Form DS-4085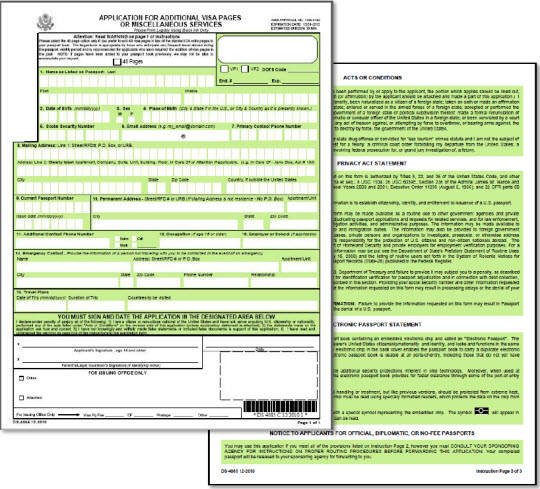 The form that you need to complete is
Form DS-4085: Application for Additional Visa Pages
. The application is only one page and has a burden of 20 minutes although you will probably finish much more quickly. Be sure to fill out the form in black ink and write as legibly as possible. The first thing that you will notice is that you have the option to request 48 additional pages rather than the normal 24 pages. If you travel frequently and still have quite a bit of time before your passport expires, this is definitely the option you want to choose. Information requested on the form includes your full name, date of birth, place of birth, gender, social security number, email address, primary phone number, mailing address, permanent address, passport number, emergency contact, occupation, employer and travel plans. While the estimated burden on the application states 20 minutes, you will probably complete it in less time.
2
Gather Supporting Documents
There are only two items you need to send with the application. One is your current passport that you want to add the pages to. The other is payment for the fee. Currently, the fee for adding pages to a passport is $82. This only covers routine service which takes up to 6 weeks to complete. If you want to expedite the process and get the passport faster, you have to add another $60 to the total. Note, you cannot apply to have pages added to a
significantly damaged passport
. Normal wear and tear are acceptable. Tears, holes, water damage and the like, especially on the cover and/or information page require you to visit an application acceptance facility in order to apply for a new passport.
3
Package and Send
Place the completed application form, valid passport and payment for the fee in an envelope. We recommend you use a protective package such as a Tyvek envelope. Mail the package to one of the addresses below based on how quickly you want to receive your travel document. You can add another $20.66 to the payment if you want the new passport sent to you by overnight delivery.
Routine Processing of Application
National Passport Processing Center
Post Office Box 90106
Philadelphia, PA 19190-0106
Expedited Passport Service
National Passport Processing Center
Post Office Box 90906
Philadelphia, PA 19190-0906
Click for expedited passport courier service as fast as the same day!
.
Expedite Your Passport Now!
Click to Call for Expedited Service!