What Is the Mobile Passport App?
Are you an American citizen who travels out of the country frequently? Do you dread the extensive lines at customs? Do you stand for hours in a crowded airport line, fiddling with your passport in your hands? It can be extremely aggravating. Even if you don't travel often, everyone should know that there is a new and improved, faster way to reenter the United States without all the stress and agony. With all the technology that is in the world today, it's no surprise that there is now a
Mobile Passport app
. Better yet, it's totally free for iPhone and Android devices. It does provide some of the benefits of the
Global Entry Program
but it does help you get out of the airport more quickly. If you can take a picture of yourself and answer a few basic questions, you can use this tech-savvy government-approved app. Once you get the Mobile Passport app, you'll be instructed to enter your personal information in the application and set up a profile. This app does not totally rule out old fashioned passports, because you still need a passport and ID on you and a passport number to use the app. This application is truly amazing, because you can just skip that hectic line with hundreds of people and go straight to the Mobile Passport line and scan your phone. The Mobile Passport connects the technology industry and the government as one to provide faster service at your fingertips. The Mobile Passport application was developed by
Airside Mobile
and sponsored by the Airports Council International-North America and authorized by
US Customs and Border Protection (CBP)
. The app is very secure as well. The information that you enter in the app is reviewed securely by the CBP. The application also gives you a choice of saving your passport data on your phone or having your information completely erased from the system after your travels. The app encrypts your data and saves it on your phone. The data is also shielded by a four-digit code you can pick yourself. Are you interested yet? It only takes a few clicks to go ahead and find the Mobile Passport in the App store. I am going to give you a little walk through of what it's like after you have downloaded the app and opened it up.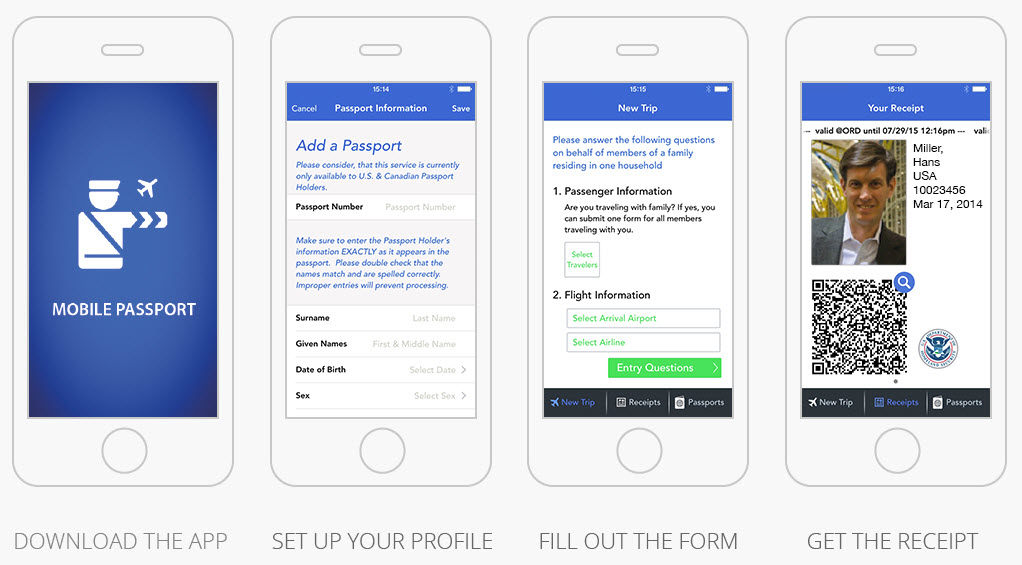 First off, they will ask you to insert your real passport details, again you do need a passport in the first place to use the app. You have an option of typing them or even scanning your physical passport with your phone. Then, will ask for a photo, so go ahead and take a professional-looking selfie. If you have family going along with you on the trip, you can add their passports to the app too. After that, in the app, select "New Trip" and then you will be required to answer ONLY FOUR questions. It is remarkable how easy it is, you don't have to fill out any forms on paper, just answer a few YES or NO questions. You can do this on airplane mode on your phone if you have to. When you have internet connection, you press "Submit" and then you will receive a digital receipt with a QR code. This ticket is what I call the golden ticket, the ticket that brings you to a line with little to no wait. When you arrive at the airport and enter the border control zone, you should glance around and find the Mobile Passport Control lane. When you get up to the scanner, you should hand over your passport to a customs officer. Have the Mobile Passport app handy, then place your phone screen under the scanner. They will ask you some questions, and then send you right to the luggage carousel. The app will be scanned once more, and then you are all done! At this point you should realize how much time you have saved and you will be very pleased. The Mobile Passport originally launched in 2014. It has been used hundreds of thousands of times. The application currently is available in 20 of the busiest airports and is continuously being expanded to new locations. Following is a list of places where you can already use the app.
It does not work at land or sea ports yet, either. As the app grows and improves, maybe someday it will be at every airport, and make traveling everywhere around the world easier, faster and more tech-savvy than ever. In conclusion, the
Mobile Passport Control app
was an excellent idea that came to life with help of the government and Mobile app developers. Everyday our lives our changing because of the world of technology. It is astounding to witness technology altering the way we travel. We wonder if, in the future, moving through customs with such ease will be possible no matter the destination. This application may be just the tip of the iceberg of many more brilliant app ideas that can make our travel experiences far more enjoyable. If you are going on a trip soon, be sure to make use of this handy resource. So pack your bags, plan your trip, and download the Mobile Passport app. Remember, you can download the app for free from the
Google Play Store
and
Apple App Store
.
Click for expedited passport courier service in 24 to 48 hours!
.
Expedite Your Passport Now!