Travel to Turkey
Planning a trip to Turkey must include several key considerations. Not only do you need to be sure you have a valid passport and proper Turkish visa, but you must also plan ahead for a variety of potential safety and health concerns. That said, with the proper preparations, a trip Turkey can be one of the most enriching and incredible international trips of your lifetime.
Above all, Turkey is a country of contrasts, offering many different things to travelers from all manner of backgrounds. It's a sun and sand destination; a cultural gem with an abundance of ancient history; a place of spectacular scenery and natural beauty, yet home to one of the world's largest cities; and it's a country with some of the friendliest locals you're ever likely to meet. No matter what combination of the aforementioned qualities intrigue you, Turkey will not disappoint!
Required Travel Documents
Traveling to Turkey requires both a valid U.S. passport and an appropriate Turkish visa. Securing these documents as far advance of your travels is the best practice, however, there are options for expediting passports and rushed visas available.
Passport Requirements for Traveling to Turkey
Before departing for Turkey, you must be sure to have a U.S. passport with six months of validity remaining beyond your scheduled date of entry. Your passport booklet must have at least one blank page to accommodate both the entry and exit stamps.
In a hurry? Visit our most recommended service for passport expediting in 24 to 48 hours.
Turkish Visas
While the Turkish Ministry of Foreign Affairs once allowed visitors to apply for and acquire visas on arrival at airports, this is no longer the practice. Visitors must apply for visas well in advance. Turkey's e-visa application system is the preferred method.
Travel and business visas for visits lasting 90 days or less within a six-month period are available through both the online application portal apply and at Turkish Embassies and Consulates.
Multiple entry e-visas - valid for 180 days - can be bought for USD $50. On the other hand, a tourist or visa applicant may be granted either a single entry or multiple entry visa if they apply at the Turkish Embassy or Consulate. For more, consult our Turkish Visa Information guide.
Travel to Turkey - Back to Top
Currency in Turkey
The Turkish lira is the official currency of Turkey. It is customary to see it abbreviated as either TL or TRY.
Turkish lira is printed in denominations of 200, 100, 50, 20, 10, and 5. Bills can be distinguished by color, but the 5 lira and 50 lira are very close in appearance.
Turkey mints coins (kurus) as well. These operate like cents in the United states with denominations of 5, 10, 24, and 50. There is also a 1 lira coin - the largest face value of any Turkish coin.
Currency conversion to Turkish lira is typically offered with better rates in Turkey than outside of the country. Apart from dedicated currency exchange shops, most banks and travel agencies in Turkey will allow you to convert your U.S. dollars at fair rates. ATMs can be utilized as well (NOTE: Be sure to notify your bank before traveling to avoid having your account frozen for security reasons).
Many tourist centers in Turkey will also accept other currencies, but know that you are likely to be given unfavorable conversion rates. You are better off using Turkish lira whenever possible.
While there are no currency restrictions for entry into Turkey, there is a maximum of 25,000 Turkish lira or 10,000 euros (ore equivalent) when exiting the country. If you need to move large sums of money before departure, consider taking advantage of a foreign exchange (FOREX) company's services before you leave.
Travel to Turkey - Back to Top
Turkish Laws and Regulations
You are always subject to local laws when traveling abroad. Turkey, in particular has several important regulations that the United States Department of State advises that all travelers should be aware of:
Do not insult the state - It is illegal to show disrespect to the name or image of Mustafa Kemal Atatürk, or to insult the Turkish Government, flag, President, or security forces. This includes social media. Before traveling to Turkey, erase any sensitive photos, comments, or other materials from your social media pages, cameras, laptops, and other electronic devices that could be considered controversial or provocative.
Do not use, possess, or distribute illegal drugs - Turkish law enforcement is very aggressive in combating illegal drugs. Penalties for possession, use, or trafficking of illegal drugs are very strict, and include heavy fines and jail sentences between four and 20 years.
Do not purchase or transport undocumented cultural artifacts - Turkish law has a broad definition of "antiquities" and makes it a crime to remove any from the country. If you buy antiquities, use authorized dealers and get museum certificates for each item. Failure to have a receipt and certificate at departure can result in arrest, and jail time. Contact the Embassy of the Republic of Turkey in Washington for specific information regarding customs requirements relating to antiquities and cultural items.
Do not buy counterfeit goods - While these items are widely available, they are both illegal to bring back into the United States and to purchase locally.
As with any incidents while traveling abroad, be sure to ask officials to notify the U.S. Embassy immediately - particularly if you are arrested or detained for any reason.
Travel to Turkey - Back to Top
Crime in Turkey
Most crime travelers will encounter in Turkey falls under the categories of theft and pickpocketing. Assaults occur, but typically are in response to insulting speech or allowing one's self to be led somewhere by a stranger. Respecting local customs, avoiding putting trust in strangers, and maintaining a quiet, polite manner will go a long way in keeping you safe while in Turkey.
That said, women, in particular, should exercise caution while in Turkey. Sexual assaults against U.S. citizens have been reported - particularly while traveling alone and/or while visiting spas or hamams.
Lesbian, gay, bisexual, transgender, and intersex (LGBTI) travelers are also at increased risk for harassment. While not explicitly outlawed, LGBTI individuals do not enjoy any special anti-discrimination protection under Turkish law. Quite the contrary, vague morality clauses in local laws can, in many cases, lead to increased harassment and abuse.
While most of Turkey is relatively safe for travelers willing to keep their wits about them, the situation can change the closer you get to the Syrian and Iraqi borders. Kidnapping and terrorist threats for both locals and tourists aloke rise significantly in these areas.
Travel to Turkey - Back to Top
Embassy and Consulate Access in Turkey
All U.S. citizens abroad must be aware of their nearest U.S. Embassy or Consulate. There is a U.S. Embassy located in the Turkish city of Ankra as well two other U.S. Consulates spread across the country.
U.S. Embassy Ankara
U.S. Consulate General Istanbul
Address:
Istinye Mahallesi, Üç Şehitler Sokak No.2
Istinye 3446
Istanbul, Turkey
Telephone:+(90) (212) 335-9000
Emergency After-Hours Telephone:+(90) (212) 335-9000
Fax:+(90) (212) 335-9102
Web Contact Link: Contact American Citizen Services Istanbul
U.S. Consulate Adana
Address:
Girne Bulvari No. 212,
Güzelevler Mahallesi, Yüregir
Adana, Turkey
Telephone:+(90) (322) 455-4100
Emergency After-Hours Telephone:+(90) (322) 455-4100
Fax:+(90)(322) 455-4141
Web Contact Link: Contact American Citizen Services Adana
U.S. Consular Agent - Izmir

Emergency After-Hours Telephone: +(90) (312) 455-5555
Email: Izmir(AT)state.gov

Travel to Turkey - Back to Top
Dual Nationality
Turkey does allow for dual citizenship. Typically, acquiring Turkish citizenship requires proof of at least one parent being a Turkish citizen. That said, an investment program has been established that allows non Turkish descendents to attain citizenship through either a $250,000 (US) real estate investment or a $500,000 (US) investment in other financial assets.
It is worth noting that dual-nationals that find themselves under arrest or in any other type of criminal jeopardy should make it a point to request contact with the U.S. Embassy. Turkish officials will not initiate this contact automatically - whether you have dual citizenship or not.
Travel to Turkey - Back to Top
Health and Medical Issues when Traveling to Turkey
As with any overseas trip, be sure to secure adequate medical insurance coverage before you travel. Do not assume your American policy will cover you abroad.
It is also recommended that you update your vaccinations prior to traveling to India. The most critical of which are:
Rabies
Influenza
Tuberculosis
Malaria
Medical care provided in Turkish hospitals varies depending upon where you are in the country. There are several newer, private hospitals in Ankara, Antalya, Izmir and Istanbul - all equipped with modern equipment, U.S.-trained specialists, and international accreditation. Regardless, even the newest facilities may be unable to treat certain serious conditions. Health care standards decrease substantially the farther you travel from the major cities.
Travel to Turkey - Back to Top
Top Destinations: 5 Cities in Turkey to Visit
Turkey is home to hundreds of towns and cities. Some quite small, while others are among the largest cities in the world. Each one has something different to offer, but if you're looking for five of the most popular, here's a diverse selection of cities each offering different attractions and experiences.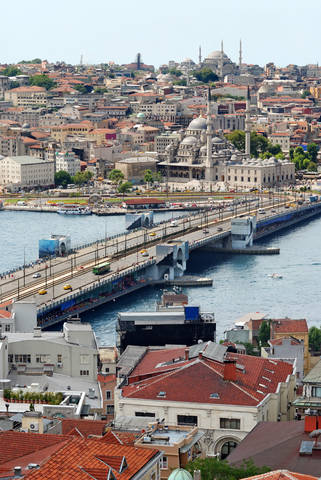 Istanbul
Turkey's largest city is also its most popular. Istanbul attracts tourists from all over the world for its great varieties of architecture, culture and heritage. However, these attractions stand alongside some of the most modern buildings and facilities in Europe.
Istanbul is located in the northwest of Turkey and is set across the Bosphorus, the stretch of water that connects the Black Sea to the Marmaris. The western side of the city is in Europe, while the eastern side is Asia, resulting in an eclectic blend of Asian and European cultures.
Istanbul has so many different sights to see: on the historic peninsula you'll find the most iconic images of the city; the Blue Mosque, Aya Sofya, the Grand Bazaar, and Topkapi Palace. Across the Golden Horn is the popular Galata Tower, and heading up from here you'll arrive at the city's entertainment district, centered around Istiklal Avenue and Taksim.
Ankara
Ankara is the capital of Turkey and its second largest city. It is also home to the U.S. Embassy in Turkey. Ankara doesn't offer quite the same tourist appeal as Istanbul, but there are certainly plenty of sights and experiences to behold..
Located in western Turkey, Ankara took over the honor as the Turkish capital following the fall of the Ottoman Empire in 1923. The city's ancient roots stretch back much farther with thousands of years of history to share. Much like Istanbul, visitors will notice a broad mix, of ancient landmarks, historical buildings, and modern skyscrapers.
Must-see sights include Ataturk's mausoleum, Atakule Tower, the old city and citadel, Roman temples and baths, the Column of Julian, expansive mosques, and interesting museums.
Antalya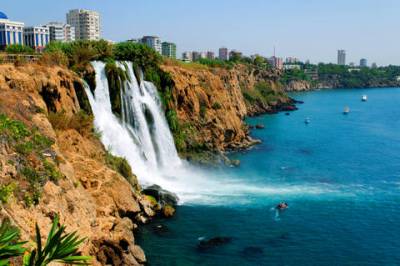 Antalya is far more popular with international visitors. This is in large part to its location. Situated right on the Mediterranean coast of southern Turkey, this ancient city and is very popular today because of its combination of history, culture, great beaches, and exceptional weather.
The old city, known as Kaleici, has many historical sites, and has a great atmosphere for wandering around. There are many waterside hotels and restaurants to enjoy. On the outskirts of the city visitors can find some wonderful beaches.
Fethiye
The city of Fethiye is much smaller than Antalya, but it is almost as popular. Like most cities in Turkey, it offers an intriguing mix of old and new. Fethiye is situated along the Aegean coast and offers excellent seaside beaches.
For cultural tourists, Fethiye is well known for its tombs. Carved right into the hillsides, visitors can visit these spetuacular sites including the most famous of them, the Tomb of Amyntas.
A little way along the coast from the city of Fethiye is Turkey's best known beach, at Oludeniz. The spectacular scenery and the Blue Lagoon rivals any beach in the Caribbean, making this one of the country's top tourist destinations. Oludeniz is also world famous for its paragliding. The beach is flanked by high mountains just above the coastline that give adventure-seekers the chance to soar over some of the world's most beautiful scenery.
Marmaris
Marmaris is located on the Aegean coast in the south west of Turkey in an area known as the Turkish Riviera. While Marmaris also has historical roots, this town is better known as a full blown tourist resort. It is a very popular destination for Europeans seeking a vacation of sun and sand.
Although it is probably the most vibrant Turkish destination for nightlife, Marmaris is still very much a family-friendly resort town. There are two water parks where you can take the children for a fun filled day of sliding and swimming, while the beaches surrounding the town are perfect for swimming and diving. Boat cruises are prevalent from here (and affordable too), and the town is close enough for day trips to some of Turkey's major historical sites including the spectacular Ephesus.
Travel to Turkey - Back to Top
Historical & Cultural Tourist Attractions in Istanbul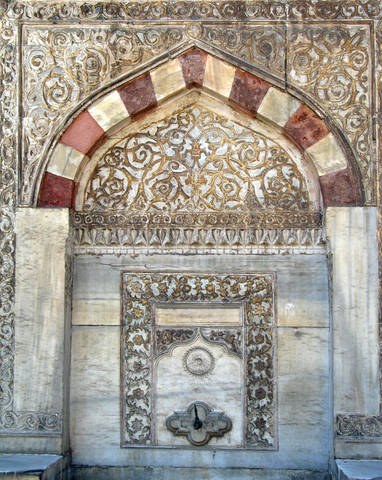 Turkey has so many wonderful destinations to explore but by far the most popular destination for international tourists is Istanbul, the country's largest city. Over 8 million tourists come to Istanbul every year and it's easy to see why: Istanbul is an exceptional city, unique and like no other in the world, and whether you enjoy the cityscape or not, this is a city that has to be experienced at least once in your life!
But why is Istanbul such a magical city? Maybe it's the fabulous variety that you can experience here. The is especially appealing if you enjoy ancient history, but this isn't the only reason why people come; Istanbul has a very modern side, too (much to the surprise of many visitors). Away from the historic peninsula there's a vibrant, modern and cosmopolitan face to this city that includes tall, modern buildings and the largest shopping mall in Europe. Despite Istanbul's vast size and population there are still places that you can get away from the hustle and bustle, too - whether it's cruising down the Bosphorus or taking the ferry to the Princes' Islands.
Historic Istanbul
Many of Istanbul's visitors will come first and foremost to experience the historical side of the city.
Try to imagine Istanbul in the year 660BC when the city was first established as Byzantium by ancient Greeks. Other civilizations came and went too, but most significant were the Romans and then the Ottomans, the latter of whom came in 1453 and had the largest influence on the area of the city now known as the Sultanahmet (or historic) peninsula.
For history lovers this is where you will concentrate most of your time because it's home to many of the defining images of Istanbul: Aya Sofya, the Blue Mosque, Topkapi Palace, and the Grand Bazaar, are all located here, and there are remnants of Roman times too.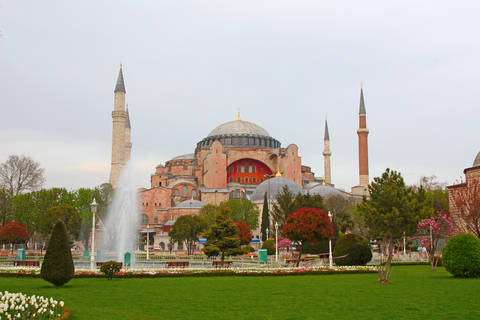 Aya Sofya (also known as Hagia Sophia) offers more than 1,400 years of history. It served as a cathedral and was the largest in the world for almost 1,000 years, then as a mosque, and now as a museum. Its vast size is awe inspiring especially considering it was built in just five years, between the years 532 and 537.
Just across a beautiful square of greenery and fountains is another vast landmark of Istanbul, the Blue Mosque. Officially named the Sultan Ahmet Mosque it is around 400 years old and is still used today as one of 3,000 working mosques in the city. Non-Muslims are allowed to enter the mosque outside of prayer times, provided you dress appropriately, and a tour of the building and huge inner courtyard is highly recommended.
Topkapi Palace sits on the tip of this historic peninsula and like the other two major landmarks in this part of Istanbul, the palace is vast too! It was built from 1459 and served as the home of the Ottoman sultans for an amazing 400 years. Today it is preserved as an important piece of history and its hundreds of rooms and courtyards can be toured.
Though there are numerous other attractions in the historic heart of Istanbul, the Grand Bazaar is the most popular. It is set a little up the hill from the three landmarks mentioned above, and can be reached on foot or by using the tram. The Grand Bazaar really presents the best opportunity to step back in time with its 61 covered "streets" and thousands of stores, it hasn't changed much at all since it was first built over 500 years ago. Whether you want to shop for souvenirs, designer clothes and accessories, Turkish rugs, porcelain, or anything else for that matter, you can find them all here, in one of the largest and oldest covered markets in the world!
Enjoying the Bosphorus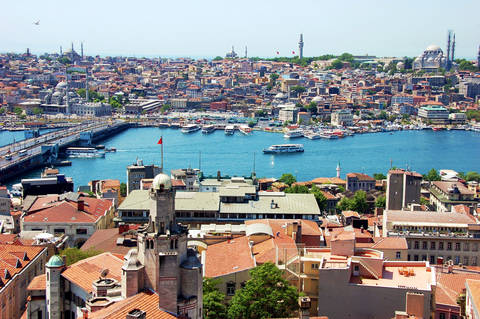 The Bosphorus, also known as the Istanbul Strait, helps create Istanbul's magical setting and forms the divide between Europe and Asia. There are two impressive bridges spanning this divide and ferries dart back and forth between the continents. The ferries are a very reasonable form of travel and can be used to go up and down the Bosphorus too, to a certain extent, or there are specific boat cruise companies who provide tours with live commentaries.
Ferries also operate to the Princes' Islands and if you want to enjoy an escape from the city for a day, this is the place to come. Situated in the Sea of Marmara, life here heralds back to days gone by; there are no motor vehicles, only horse and carts to get you around, so this really is a peaceful place if you can try to ignore the fact that hundreds of tourists like yourself have come to relax and enjoy the peace and quiet too!
Travel to Turkey - Back to Top
Turkey's Climate and the Best Times to Visit
We usually think of Turkey as being a hot and dry country with scorching summer temperatures and mild winters. While this is true in some parts of the country Turkey is so large that the climate really can vary from one end to the other. Summers are generally hot, particularly along the south western coast where you'll enjoy a typical Mediterranean climate. This means hot and dry weather in the summer, and usually mild and wet weather in the winter.
If you're visiting Istanbul, in the northwest of Turkey, things can be quite different. Summers are still usually hot and quite humid, while winters can actually see a fair amount of snowfall.
The interior of Turkey features mountains and the high elevations of the Anatolian Plateau, which cause a continental climate with vast differences between summer and winter.
So, all in all, the ideal time to travel depends on where you're planning to visit. That said, to avoid the hottest seasons, avoid Istanbul and the Aegean coast in the height of summer; opt for May, June, or September in Istanbul; or May, September or October on the Aegean.
Travel to Turkey - Back to Top
Cuisine of Turkey
Across the country there are many regional specialties when it comes to food. As a result, you'll find meat and vegetables may be cooked differently from one region to the next. In general though, Turkish cuisine is a mouth watering mixture of meats, vegetables and sweet dishes. If your travels bring you nearer to the coast, then the fish and seafood is highly recommended.
The name Kabob (or "kebab" locally) applies to all manner of meat dishes, not just the skewered meat that's popular in North America, so there are many different variations to try. Make sure you also try some "meze" (pronounced "mehzay") which is a selection of appetizers including different types of salads and vegetables that are always savory.
Turkey is well known for its sweet dishes too, with popular treats including delicious "baklava", and Turkish delight (called "lokum" in Turkey), and if you visit a pastane (Turkish for patisserie) you'll be greeted by hundreds of different varieties of sweets and pastries that are hard to resist!
Travel to Turkey - Back to Top
5 Popular Events and Festivals in Turkey
Turkey presents numerous different festivals and events across the year, each and every year, from the arts and music, to sport and recreation, and they're held all over the country. With so many to choose from where will you go? Well, here are five very different festivals to try to give you a taste of Turkey!
Camel Wrestling Festival, Near Ephesus, January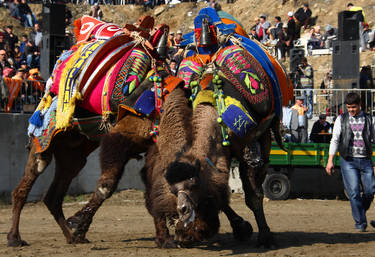 Turkey is famous for it's oil wrestling, but it also is home to camel wrestling! Admittedly the camels don't usually get to the same level of wrestling as oil slicked men do, but camel wrestling is more for the entertainment value than anything else.
Camel wrestling isn't quite as widespread across Turkey as it used to be, and is now confined mainly to the Aegean region of the country, along the west and south west coast. Each January close by to Ephesus, one of Turkey's most famous archaeological attractions, a camel wrestling festival takes place. Basically a couple of male camels, known as bulls, have the chance to fight over a lovely female camel, known as a cow. Often they don't really fight, but when they chase each other around and head towards the spectators it can be quite amusing!
Open Door Architecture Festival, Istanbul - May or June
If you're visiting Istanbul in May (which by the way is a lovely time to go!), you should definitely take advantage of the Open Door Architecture Festival that takes place every year. Istanbul is full of the most fabulous architecture, but much of it is usually behind closed doors and inaccessible to the public. During the open door festival however, some of those usually closed doors are opened and you can get to see inside architecturally and historically important buildings.
Open door buildings usually include the Ortakoy Mosque which is set right on the Bosphorus and was built between 1854 and 1856. This mosque is a great example of Ottoman architecture.
Istanbul Music Festival, Istanbul - June/July
The Istanbul Music Festival is one of the city's longest running festivals and the most popular, with visitors from around the world. It celebrates its 43rd year in 2016 and features plenty of classical music as well as opera, ballet and traditional Turkish music. The festival takes spans a number of venues across the city, and often coincides with other theatrical and music events, so there's usually more than one thing going on at a time. In fact, many other cultural festivals in Istanbul span most of the summer That means even if you visit in July, you'll still be able to experience an event.
Kas Lycia Festival, Kas - June
The three day Kas Lycia Festival is held in the town of Kas in the south of Turkey, on the Mediterranean coast. Kas is a popular tourist destination throughout the summer anyway, but this festival towards the beginning of the busy summer season is a must visit for families interested in seeing more of Turkey's culture and heritage.
You can see local and international folk dances in addition to opera performance, ballet and art exhibitions around the town, and combine this with days on the beach, at the water park, or shopping for souvenirs.
Oil Wrestling Championship, Edirne - June/July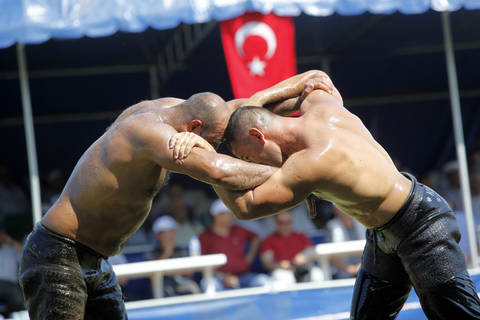 You may find this hard to believe but oil wrestling is actually one of the national sports of Turkey! Every year, numerous oil wrestling competitions take place all over the country and each one is very popular, attracting hundreds of competitors and thousands of spectators, but the most famous and revered one takes place in the city of Edirne, right in the far west of Turkey on the border with Greece. This particular tournament is called the Kirkpinar and it's steeped in history having been held here since the year 1346!
Oil wrestling is a knock-out tournament whereby men dress in short black leather pants and douse themselves in olive oil. They then wrestle, aiming to get their opponent onto the ground and held in position.
As well as the wrestling, which is quite a sight, other festivities occur such as music, dancing and fabulous food, so this festival really is a great introduction to Turkish culture!
Travel to Turkey - Back to Top
Turkey Facts: Everything You Wanted to Know About Turkey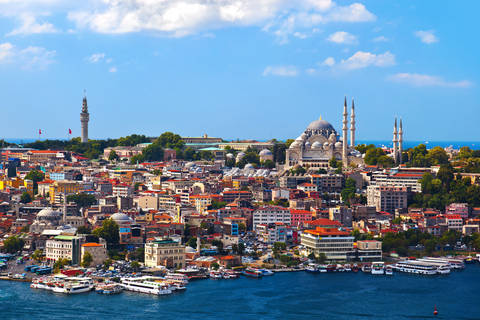 If you've never been to Turkey before, the chances are you will have preconceived ideas of what the country is like. Some of these may be true, but many won't, as Turkey is really a surprising country with many different facets to explore. Turkey offers great variety, but one thing you'll find, no matter where you go, is its people are extremely friendly and welcoming, happy to lend a hand if you need one, and always interested to hear where you've come from and where you're going!
While Istanbul has been the capital of several empires, it is not the current capital of the Republic of Turkey as the city of Ankara was chosen for this honor when the Republic was formed in 1923.

Turkish is the official language of Turkey and it's renowned as a difficult language to pick up! However, in many of the tourist areas hotel staff and restaurant servers will know a limited amount of English anyway, but if you can learn a few Turkish words and phrases the locals will really appreciate your efforts!

The Turkish Lira is the official currency of Turkey. As with most currency, the exchange rate fluctuates quite a bit so it is important to check right before your departure date. Credit cards are widely accepted in many stores and restaurants of major towns and tourist areas, and it's easy to change money from US dollars to Lira at the plentiful bureau de change offices.

In Turkey they have 220V electricity and a European style plug. Unless you're in a particularly rural area, the supply of electricity is very reliable, so don't worry about outages. Do bring a travel adapter like the top-rated Universal World Wide Travel Charger Adapter Plug with you though, and bear in mind that not all electronics will work without a transformer.
Turkey is the 37th largest country in the world with a total area of 302,535 square miles. That means it's larger than any of the US states, except for Alaska!
Turkey has over 74 million residents and this means there are more people living here than in the states of California and Texas put together.
Istanbul is by far the largest city in Turkey, and one of the largest in the world. In fact, approximately 18% of the population of the whole of Turkey lives within the Istanbul Metropolitan Area.
Turkey is neither Asian nor European, it's both!
The Republic of Turkey was formed in 1923 and its first president was the founder of the Republic, Mustafa Kemal Ataturk. October 29 is celebrated each year as Republic Day.
Turkey has a vast coastline that sits on four different seas: The Black Sea in the north, the Sea of Marmara in the north west, the Aegean Sea in the west, and the Mediterranean Sea in the south.
The tallest mountain in Turkey is Mount Ararat, situated on the borders with Iran. It stands 16,854 feet and is said to be the point at which Noah's Ark landed.
Around 96% of the Turkish population identify themselves as Muslim, yet Turkey is a secular state with no official religion. This makes it one of the most liberal Islamic countries in the world.
There are around 80,000 mosques in Turkey and if you're anywhere near one you'll be treated to the "call to prayer" ("Ezan" in Turkish) over a loudspeaker five times a day.
Turkey has hundreds of ancient sites, but among these Ephesus is probably the most spectacular and hence popular. It was established in ancient Greek times and later used and developed by the Romans. Its most photographed ruin is the Library of Celsus.
The ancient theater in Ephesus is massive, and is believed to have been the largest outdoor theater in the ancient world, seating 44,000 people.
Pamukkale is another popular tourist destination of Turkey, and a World Heritage Site. Its travertine terraces and hot springs have been attracting tourists for hundreds of years.
Turkey features many beautiful beaches but none more so beautiful than at Oludeniz where the turquoise blue waters and soft sand rival any beach in the Caribbean.
Oludeniz is also famous as a destination for paragliding and is considered to be one of the best places in the world to do this. The Babadag Mountains above the village are very high, and the views as you glide down are out of this world!
Travel to Turkey - Back to Top
Turkey Travel Resources