Get Ready to Travel to Brazil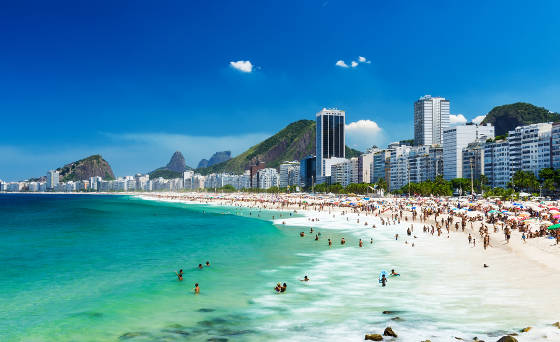 If you plan to travel to Brazil, the following articles will help you better understand the country and the many wonderful attractions it offers tourists.
Ten Magical Places of Brazil
Brazil is a country that is full of life and full of color. Because of its heritage and culture, it has also become one of the most popular tourist destinations in the world. This country has become a popular honeymooner's choice because of the variety of sights and sounds that Brazil can give to any tourist, and here are the ten must-go-to places if you are traveling to Brazil.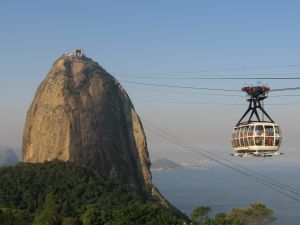 1. Christ the Redeemer (Cristo Redentor)
Anybody who wants to go to Brazil should visit the famous statue of Christ the Redeemer. This is a famous landmark in Brazil, and anybody can enjoy the magnificent sight this can give them, including a view of the equally famour Sugarloaf Mountain. Along the way, one can always enjoy nature such as the diverse flowers and butterflies.
2. Iguazu Falls
If you want nature at its best, then go bike riding along Iguazu Falls! This is a magical place to behold as it is always a beauty to see a permanently shining rainbow through the falls' mist. This is also a great way to see Brazil's wildlife.
3. Amazon.
Nothing beats exploring the Amazon jungle. There is so much to see in this wilderness that any other country will pale in comparison. Here, you will get to see animals native to Brazil as well as the huge diversity of its trees and flowers, truly a magnificent sight to behold.
What better way to see Rio de Janeiro than to hang-glide and enjoy a bird's eye view of this great place from above. From a peak in Pedra Bonita in Gavea, you get to soar above the wonderful place and see the forests below. After you are done hang-gliding, you can visit Sco Conrado's equally beautiful beaches.
5. Pantanal
The Pantanal is a great place to visit if you want to see a plethora of sea life. Take a horse-riding tour of the area to see more of its creatures. Or, you can always explore the area on your own.
6. Aquario Natural
This is a great place to visit if you want to go snorkeling. Here, you will see a vast variety of wonderful and vibrant tropical fishes. You can also visit Rio Sucuri where you will surely be captivated by the wonderful sight of its waters and the clear skies.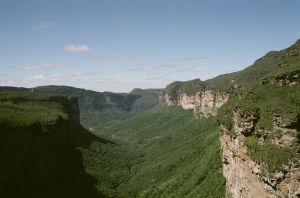 7. Chapada Diamantina
If you love hiking or mountain bike riding, this great place is a must for you to visit. Here you can ride or hike along its wonderful trails and seenature at its best with its beautifully-colored birds. Trekking and bike riding is not the only activity here as you can also visit caverns and wonderful waterfalls orr maybe even set up camp for the night to visit the grotto.
8. Rio Novo
The best way to explore this magical place in Brazil is by rafting. Here you get to enjoy some peace and tranquility as you drift along its waters, or you can bring a book to read as you leisurely travel along Rio Novo. If you are lucky enough, you can catch glimpses of its creatures like species of deer and wolf.
9. Ubatuba
If you want to see more of Brazil's sea life and creatures, one of the most wonderful places to visit is the Ubatuba. With its beautiful and clear beaches, this has become a popular destination for water-loving tourists. Go scuba diving around the tiny islands that can be found in its coasts.
10. Ouro Preto
To see more of Brazilian culture, walk along the cobblestone streets of this town. Here you will see Baroque churches, beautiful old fountains, ruins, and mansions.
Top 7 Brazil Attractions
Attracted by the white sandy beaches of Rio de Janeiro, over 5 million tourists visit Brazil annually. To see all of the wonders of Brazil would take many years. Since you probably only have a couple of weeks or so, here is a list of the top 7 Brazil attractions.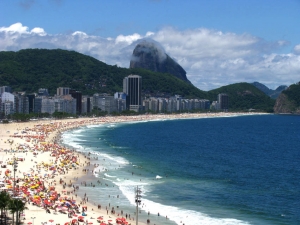 Copacabana Beach
City: Rio de Janeiro
Copacabana is famous world-wide. It used to be a small fishing village, but now is built up with skyscrapers, fancy restaurants, and upscale hotels. The stunning Brazilian beach is bounded on both sides by historic forts, one built in 1914 and one in 1779. The FIFA Beach Soccer World Cup is hosted at Copacabana Beach during most recent years. It was also the site of the largest concert in history. Rod Stewart performed there on New Year's Eve, 1994 to a crowd of 3.5 million.
Christ the Redeemer Statue
City: Rio de Janeiro
One of the seven New Wonders of the Modern World, the massive Christ the Redeemer Statue sits atop Corcovado Mountain. You can ride a miniature train from the Cosme Vehlo District to the base of the statue. The train ride itself is a scenic trek through the Atlantic Forest. From the statue, you see a breathtaking panorama view of all of Rio de Janeiro.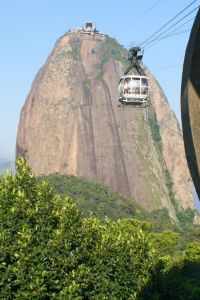 Sugar Loaf Mountain
City: Rio de Janeiro
Sugar Loaf Mountain offers another stunning view of Rio de Janeiro and all of Copacabana Beach. To reach the peak, you must ride a cable car. Halfway to the peak, you can stop at the Morro da Urca and eat at a restaurant.
Lençóis Maranhenses National Park
State: Maranhão
This spectacular national park is a series of sparkling white sand dunes. They become flooded during the first part of the year, and many beautiful lagoons are formed. You can see these lagoons from June to September, when they start evaporating.

Iguaçu Falls
State: Paraná
Located in Southern Brazil, Iguaçu Falls is a nearly two-mile-long series of waterfalls that stand 24 stories high. Iguassu Falls is in full force during the rainy season (December through February). If you would like to visit during the warmest weather, the best months are from April through July. A good compromise is to visit in March, August, or September.
Humpback Whale Spotting
State: Bahia
From July through November, you can see humpback whales off the coast of Bahia. They are seeking warmer waters for mating season. Some of these whales can weigh up to 40 tons. Whale watching tours are plentiful. While you are in the region, you can also go diving among some of the most beautiful coral reefs in the world.
Pantanal Wildlife Center
State: Mato Grosso do Sul
Pantanal Wildlife Center is located in western Brazil and is one of the most fantastic wildlife-viewing areas in the world. Bird-watchers will be especially delighted. You can possibly view jaguars at close range. Monkees, giant otters, large lizards, crocodiles, and dozens of other majestic animals can be seen while on a boat tour. Tapiers, the largest land animals in South America (600 pounds!) can be observed from a wilderness tower. Avariety of tours are offered here, up to seven days in length.
While the 7 best Brazil attractions listed above do not include many of the incredible sights to see, they are definitely some of the best. Whether you visit one or all of them, these attractions are sure to create a desire in you to return to see more of Brazil.
Tropical Islands in Brazil
Brazil is known worldwide for it's beaches and for its tropical climate, making it the perfect combination to attract millions of tourists throughout the year. It's very coherent to affirm that nature benefited a lot the Brazilian lands with beautiful scenery and crystalline waters. Formation of islands and archipelagos that enchant even the oldest local.
We highlighted in this article the main touristic islands that can be found in this country.
Fernando de Noronho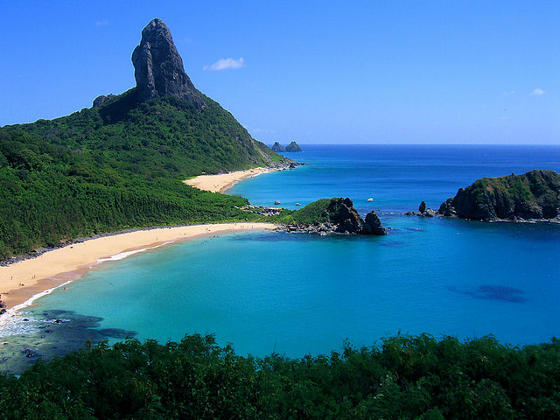 The archipelago of Fernando de Noronha, in the state of Pernambuco, is one of the best destinations in Brazil. Whoever has been to this paradise knows how beautiful this place is. The waters limpid as an oasis to who wants to refresh themselves and stay closer to the impressive nature.
It's the most populated archipelago in the country, according to the IBGE, with approximately 3.000 habitants. With a sometimes troubled history, Fernarndo de Noronha was the stage of many Dutch and French invasions, Portuguese occupations and also the government prison in the time that the military was in power. Another interesting fact is that it was a United States military base in the Second World War.
The beached of the archipelago are divided in two parts, the ones that are in Brazil and the ones that are around the African continent. They are classified as Inside Sea and Outside Sea, respectively.
Knowing Fernando de Noronha is a unique experience, because the beauty of the islands of this archipelago is found in few places of this world. It has environmental protection and is absolutely a great place to visit of you intent to travel to Brazil.
Places to stay on Fernando de Noronha - best deals and customer reviews at TripAdvisor
Florianópolis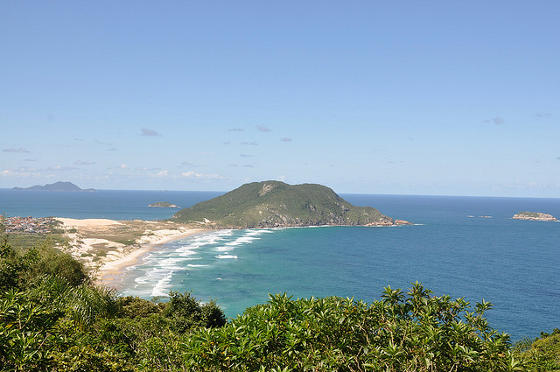 This is a capital-island of the state of Santa Catarina, in southern Brazil. One of the most beautiful, calm and different places of this country. The beaches have white sand, crystalline water and a marvelous surrounding scenery. Making it's visitors believe that they're in a paradise.
It's not just the coast that this island has as one of its main attractions. In Florianopolis there are many historical and cultural touristic points, such as museums and theaters. The best of Floripa, how the capital is affectionately called, is a junction between the climate of a big city and the tranquility of an island.
Places to stay in Florianópolis - best deals and customer reviews at TripAdvisor
Ilha de Trindade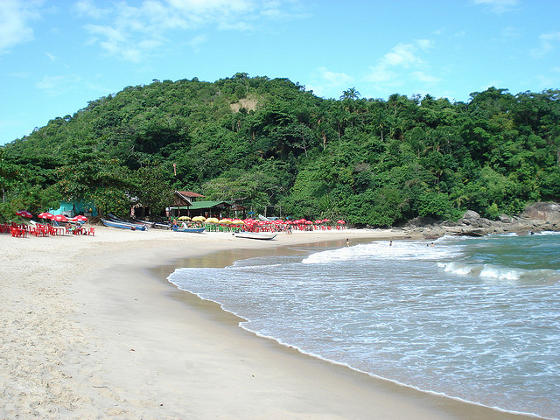 © Marilane Borges ~ CCBY
Located in the city of Paraty, Rio de Janeiro, the Ilha de Trindade is one of the most special locations inside the Brazilian territory.
With a group of over 50 beautiful islands and hardly changed by humans because of the hard access. This is one of the reasons that makes this place so outstanding in a country like Brazil.
The trails that can get to amazing places such as some natural pools and the waterfalls, that need much more than words to describe them accurately, especially in the Pedra que Engole waterfall.
Places to stay in Paraty - best deals and customer reviews at TripAdvisor
Ilha de Itaparica
The Ilha de Itaparica, in Bahia, has a set of attractions that make it's culture something diversified and of it's own.
In the island it's common to see crafts and other artistic representations of the people that live there. Together with the remarkable architecture of the place and it's natural beauty, we have a stunning result.
It's qualities are so important that preservation measures are taken to enable us to appreciate this natural wonder in perfect conditions.
As it was said before, the Brazilian touristic islands are countless and getting to know them personally is well worth it.
Backpacking in Brazil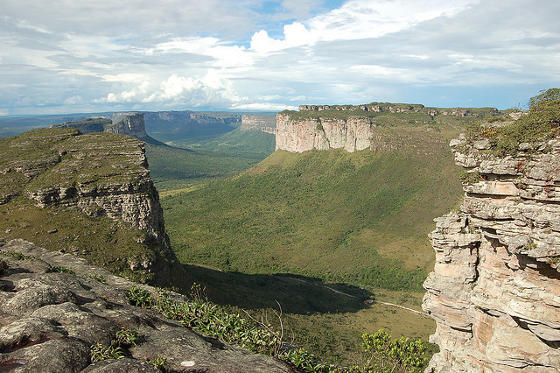 This is Brasil, a country with a singular culture and totally differentiated from the whole world, especially for being a mixture. And a mixture of the good ones. This makes this country one of the best to get your backpack, friends and get on the road with only one goal in mind: adventure. Although every adventure needs precautions or it'll turn into a tragic adventure. So pay attention to this article and inform yourself well before you go backpacking in Brazil.
Making Your Route
Generally, anyone who embarks on this type of trip is searching for special destinations and not just conventional ones. They are either looking for a lot of nature and adrenaline or just a calm, peaceful place where they can spend time in thoughtful reflection as they take in the changing scenery. A perfect example of a place that can provide both of these is
Chapada dos guimarães
, one of the Brazilian cities that attract tourists in search of a mystical factor that is believed to exist in such places.
Another such destination is Chapada Diamantina in the state of Bahia. Many backpackers choose to trek up and down the coastline visiting some of the best beaches in Brazil. Others make it their goal to visit smaller towns in the interior of the country. Those more adventurous might choose an adventure through the Amazon jungle. What matters is that your route consists of places that you really want to see.
When planning your route, a series of observations must be made. Details such as transportation, the characteristics of the place you're going to, how much you're going to spend each day and how much time you're going to spend in each place are important. It's advisable that you do a lot of research about the place you wish to visit, that way you can better enjoy your chosen destination. Another important point is that all the legal procedures must be ready three months before you begin the trip. In this category are travel documents such as
tourist visas
and any vaccines that might be required of people who want to go backpacking in certain regions of Brazil.
What You'll Need
There are different types of backpacks that are prepared specially for a determined type of task, such as hiking, walks, trails with bikes, etc. So, based on this principle, they are classified by their carrying capacity, measured in liters. Therefore, think well about the activities you'll be doing and choose the best indicated backpack for each one, so as not to have any troubles.
The backpack's material is a very important point. It's necessary that it is waterproof; this will prevent many problems. It must be resistant enough to handle the wear and tear of a backpacking trip and very malleable, in order to provide a better mobility for whoever is using the backpack. Actually, having mobility is something relevant when choosing a backpack. Opting for something that is narrower than your shoulders and doesn't surpass the height of your head can bring more comfort when moving around. This lessens the frequency of mobility issues because of practical side pockets. Always buy the best model you possibly can because the backpack is the main item. In this case, comfort and utility should have priority over price although you do want to
get a good deal on your backpack
.
For the shoes, it is advised to pick a good quality pair that is both comfortable and durable. You'll be using your feet a lot on this trip so take care of them and worry about saving money on less important items. Lastly, take repellent, sunblock and any medication that you might need. You can pick up a small first-aid kit relatively cheap at any local pharmacy.
Final Tips
According to a news release by the Tourism Ministry, research done by the Hostelling International about which would be the best hostel in Brasil in the last year. The Pipa Hostel in the Rio Grande do Norte state was chosen.
Visit Trip Advisor for customer reviews of the Pipa Hostel
.
The same Tourism Ministry asked the Fundação Instituto de Pesquisas Econômicas for research about the touristic demands in Brazil. One of the results showed a greater interest by foreigners about backpacking in Brazilian land and stays in hostels. This just shows how much this option can be rewarding.
The last tip is, aside from basics, plan as little as possible. This will open new doors for you while travelin and allow you to encounter something fantastic that wasn't in your route. This was the last tip but there still is one that has to be given: enjoy! If you go by yourself, don't be apprehensive because there will be opportunity to find out more about yourself and this will be a life-changing experience.
Now face Brazil with a backpack on your shoulders. Enjoy these beautiful lands!
Brazil Entry Requirement Information
Brazil Entry Requirements
List of documents that are required in order to receive permission to enter Brazil.
Brazil Travel Visa
Step-by-step instruction on how to apply for visa to Brazil for tourism, work, study or business. Download applications and discover fees for each type of Brazil visa.
Brazilian Consulates in the U.S.List of consulates to submit applications for entry visas for tourist and business travel.
Get Brazil Visa Fast
Apply online to get your Brazil visa quickly and avoid the hassle of waiting and wondering if it will arrive on time. No need to travel to a consulate when an expediter can do it for you.
Brazil Travel Articles
Best Beaches in Brazil
List of the best beaches in Brazil. Get descriptions and locations and check out the beauty of these Brazil beach pictures.
Historic Landmarks of Brazil
Brazil has a wealth of historic landmarks starting with the Christ the Redeemer Statue in Rio de Janeiro. There are many historic cities like Ouro Preto, São João del-Rei and Congonhas in Minas Gerais. Learn about these and more.
5 of the Best Tourist Cities in Brazil
Plan your travel to Brazil with general information and insightful articles. Find interesting facts and useful travel tips for Brazil travelers.
Top 5 Natural Attractions of Brazil
Discover 5 spectacular natural attractions in Brazil. If you love nature and are planning to travel to Brazil, you will want to see these sites.
Brazil's Five Regions
Discover aspects of Brazil's five regions - North, Northeast, Central West, Southeast and South - and what attractions each one offer those who travel there.
Fun Facts about Brazil
Use Brazil travel guide information about climate, culture, destinations and attractions to assist you in planning a memorable vacation to Brazil.
Fun Things to Do in Fortaleza
The world-famous beaches, breathtaking architecture, and vibrant night-life of Fortaleza all come together to make this a surefire place for a great vacation!
The Government of Brazil
Learn about the structure and functions of Brazil's federal republic govenrment.
Religion in Brazil
Learn the major religions and religious influences of Brazil.
Holidays in BrazilCommemorative dates and special holidays to consider when planning your trip to this South American country.
Click here to expedite your Brazilian visa
Brazil Travel Resources
Get reliable expedited Brazil visa service
Brazilian Portuguese - The Ultimate Course (Level 1)