Important Holidays in Brazil 2021
As a traveler to Brazil, you would do good to know the various national holidays which are celebrated in the country. Brazil has strong Christian roots so many of their holidays follow in the same vein as western holidays do. However, Brazil also has some holidays which are highly unique to this specific country. Being such a large country, some towns and regions celebrate their own individual holidays as well. Check out the list of popular national holidays.
New Year's Eve and New Year's Day / Véspera do Ano Novo e Ano Novo (31 Dec and 1 Jan)
Brazilians use New Year's Eve and New Year's Day as an excuse to celebrate the start of a new Gregorian calendar and reflect upon the year that has passed. New Year's Eve is natively referred to as Ano Nove or Revillion and is celebrated in its largest form in Rio where party people gather on Copacabana beach and in bars and night clubs. Brazilians follow some strange traditions during this period such as lighting candles on the beach, throwing white flowers into the ocean and jumping over 7 waves for good luck.
Carnival (approximately a month before Easter)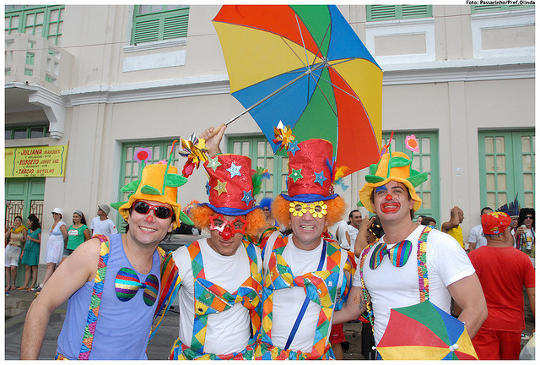 This festival has become synonymous with Brazil and is celebrated all over the country. Rio is the best place to be during Carnival, as it is celebrated on a much more grandiose scale than anywhere else. This festival takes place over 5 days, of which all days are not national holidays but rather days of observance. However, Shrove Tuesday (one of the last days of Carnival) is considered a national holiday. During this period, the whole of Brazil goes into festival mode.
Christian (Catholic) Holidays
All Christian holidays are celebrated in Brazil as national holidays.
These include the following:
Good Friday / Sexta-feira da Paixão (varying dates)
Easter / Páscoa (varying dates)
Corpus Christi: honors the holy Eucharist (varying dates)
All Souls Day / Dia dos Finados(2 Nov)
Christmas Day / Natal (25 Dec)
Tiradentes Day (21 April)
This date is the anniversary of the death in 1972 of the martyr Tiradentes, who formed the revolutionary movement, which strived for establishing Brazil as an independent country. When Tiradente was found out, he was arrested and hung.
Labor Day / Dia do Trabalhador (1 May)
Known as May Day in many other parts of the world, Labor Day, celebrates the achievements of the general labor force of the country.
Independence Day / Dia da Independência (7 Sept)
As the name indicates, this day celebrates Brazil's Declaration of Independence from Portugal on 7 September 1822.
Our Lady of Aparecida / Nossa Senhora da Aparecida e Children's Day / Dia da Criança (12 Oct)
This is a twofold national holiday on which both the patron saint of Brazil, Virgin Mary, and the children of the country are celebrated.
Republic Day / Dia da República (15 Nov)
This is the commemoration of the end of the Brazilian Empire and the beginning of the Republic of Brazil which took place on 15 November 1889. On this day, a military group overthrew the emperor Pedro II and declared Brazil a republic.
These are some of the most popular national holidays in the country of Brazil. While there are many others, these are the ones that are universally celebrated by nearly all Brazilians.
Brazil Travel Resources