CIBT Passport Service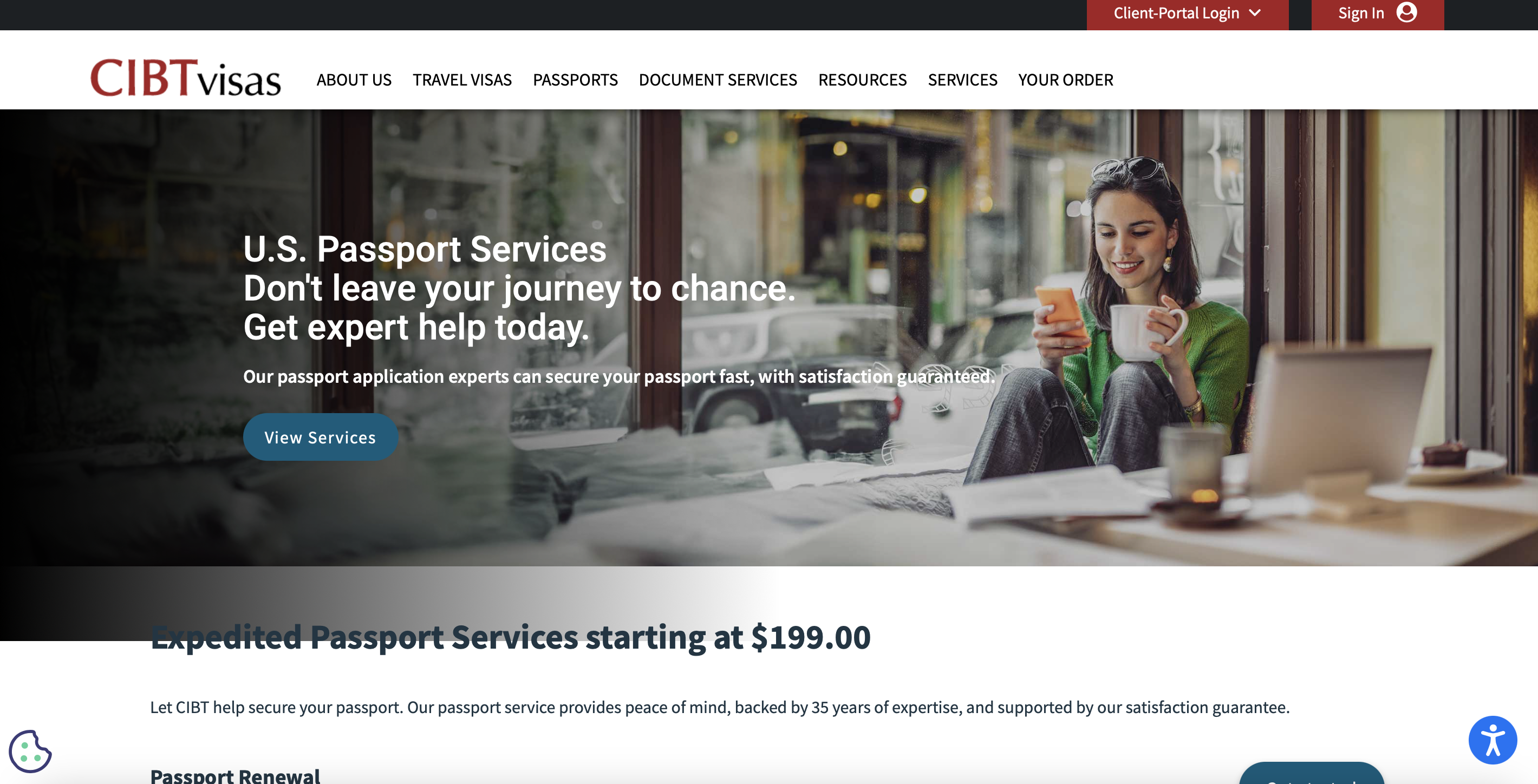 CIBT Inc.
is a leading travel document expediting service that has been around for more than 50 years. CIBT has offices in major U.S. cities as well as locations in Canada, Australia and several European countries. Besides visas and passports, CIBT can obtain birth, marriage or divorce certificates, authenticate business-related documents and translate documents for most languages. The majority of Fortune 500 companies, USTOA tour operators and cruise lines operating in the U.S. are clients of CIBT. The company has more than 700 travel visa and passport specialists in over 30 offices in 11 countries. While CIBT is a large company that has existed for many years, it is important that you carefully read the information below and check out the reviews so that you can choose the best passport expediting courier service for your travel document needs.
Passport Services Offered
New Passport
Passport Renewal
Lost or Stolen Passport
Damaged Passport
Child Passport
Name Change
Second Passport
Extension of Limited Passport
First Time Passport Card
Foreign National Passport
Other CIBT services
International Driving Permits
Travel Visas
Russia Business Invitations
Russian Tourist Visa Support Letter
Document Authentications
Birth Certificates
Marriage & Divorce Certificates
Document Translation
Other Related Documents
Service fees
Emergency (1-3 business days) - $269
Rush (4-10 business days) - $159
Standard (11 business days or longer) - $179
Order Tracking
CIBT offers an online status check for clients.Tracking may be done by entering either your order number/online order code and last name or date of birth and last name.
Contact Information
Location
Street Address
City
State
ZIP
Phone
CIBT Atlanta
5775 Glenridge Drive, Building B, Suite 320
Atlanta
GA
30328
(800)929-2428
CIBT Chicago
111 East Wacker Drive Suite 512
Chicago
IL
60601
(800)929-2428

CIBT Houston
2 Greenway Plaza, Suite 200
Houston
TX
77046
(800)929-2428
CIBT Los Angeles
5757 Wilshire Boulevard Suite 570
Los Angeles
CA
90036
(800)929-2428
CIBT Miami
169 E. Flagler Street Suite 1522
Miami
FL
33131
(800)929-2428
CIBT New York
60 East 42nd Street, Suite 106-107 Lobby
New York
NY
10165
(800)929-2428
CIBT San Francisco
555 Montgomery Street, Ste 700
San Francisco
CA
94111
(800)929-2428
CIBT Washington
4301 Connecticut Ave N.W., Ste 250
Washington
DC
20008
(800)929-2428
CIBT, Inc. Corporate
1600 International Drive Suite 600
McLean
VA
22102
(800)361-6385
(703)903-1400
Our highest recommendation goes to Rush My Passport.
Top 5 Questions About Expedited Passport Couriers