Protecting Your Passport When You Travel Abroad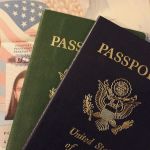 When the 2015 Henley Visa Restrictions Index came out, the United States passport was in a three-way tie for the second most valuable passport in the world. The way this is arrived at is by the number of countries that allow a citizen entry without requiring a visa, in other words, which countries' citizens enjoy the most freedom of travel. The United States ranks #2 with Finland and Sweden whose citizens can freely travel to 172 countries in the world without a visa. Germany and the United Kingdom (Great Britain) tied at the #1 rank. The American passport ranked #1 with four other countries in 2014. Statistics are interesting and some conclusions can be drawn like where a country falls on the list may be an indicator of their international relationships with other countries, for example. What it means to the US traveler, however, is that the passport you carry is desirable in many parts of the world. Being aware of this one fact is the first step in protecting it. Before you leave home, you should scan the first page of your passport, the page with your photo and the number, and attach it to an e-mail to yourself. This way,
if your passport is lost or stolen while you're traveling
, all the information will be available to you from any computer with Internet access. After you report your passport missing, you can get a new passport from the
American Embassy
in the country you're visiting. Make a legible color copy of your passport before you leave home. Carry the passport copy on you with the same care as the original. Keep the original and the copy in separate places on your person, maybe a money belt and a
backpack
, for instance. When you arrive at your destination, put your original passport in a secure, locked location. Most countries require you to carry your passport with you at all times, but authorities generally accept the copy. Carry your tourist card too, if one is required.
More Passport Information
How to Apply for Expedited Passport Courier Service
Information about using a registered courier service to expedite a passport application when visiting a regional agency is not an option.
Passport Renewal FAQ
Answers to frequently asked questions about renewing United States passports for both minors and adults.
Make Your Own Passport Photos
Use the online Passport Photo Wizard tool to make your own passport photos in minutes. Save money and time.
How to Expedite a Passport Renewal Video
Watch step-by-step instructional passport videos of how to renew a passport in 3 steps.
Emergency Passport Renewal
How to get an emergency passport renewal in the U.S. or abroad. Discover the steps to renew your passport the same day.
How to Renew a U.S. Passport Fast
Learn to expedite passport renewals as quickly as the same day. Where and how to renew passport in a hurry.
Click for expedited passport courier service in 24 to 48 hours!
.
Expedite Your Passport Now!