Travel to Russia
If you plan to travel to Russia, you need to do your research. There is so much to see and do that it is often hard to decide what tours to take and which sites to leave out. The first step, however, is to know the entry requirements. You must have a current, valid passport and a Russia visa.
Click here to get your Russian travel visa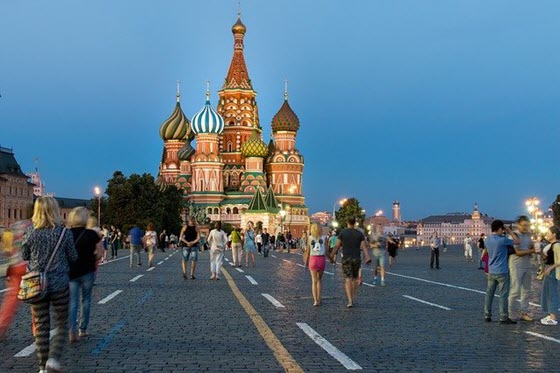 Moscow
Moscow is the largest city (population 12.1 million) and is the capital of the Federation. Moscow continues to be the center of Russian Government and is increasingly important as an economic and business center. Its cultural tradition is rich, and there are many museums devoted to art, literature, music, dance, history, and science. It has hundreds of churches and dozens of notable cathedrals; it has become Russia's principal magnet for foreign investment and business presence.
Intriguing, beautiful, unusual, abounding in history, art, culture and architecture, Moscow is indeed a city to not only see but experience. Here are some of the popular tourist attractions in Moscow, Russia.
Red Square (Krasnaya ploshchad), Moscow, Central Russia
Red Square, situated between the Kremlin, Lenin's Mausoleum, Saint Basil's Cathedral, and the GUM department store, is not only an area surrounded by history but a historical landmark itself. Red Square, surprisingly, does not get its name from the link between Russia and communism, or from the red bricks surrounding the square, but rather gets its name from the Russian word krasnaya which can mean either "red" or "beautiful."
This name was originally applied to St Basil's Cathedral, but moved towards the square in the 15th century, when the square was created (replacing old wooden houses that were in the area.)
Since its creation, it has been a central landmark in Russian history. Red Square started as Moscow's primary marketplace, but its purpose has also been for public ceremonies -- the coronation of Russia's Tsars, the Soviet address point, the Soviet Military Parades (notably, Victory Parade in 1945 when the Nazi's were defeated,) concerts for groups such as Pink Floyd or Paul McCartney, and many other substantial events.
Moscow Kremlin (Moskovsky Kreml), Moscow, Central Russia
The Moscow Kremlin is what most people think of when they think of Russia. The Kremlin is actually a series of citadels, four cathedrals, four palaces and the Kremlin towers with the Kremlin walls. It's buildings are unmatched in beauty and originality.
The buildings of the Kremlin are elaborate, beautiful, and incredibly unique. The rich history that each building represents cannot be understated, and the designs of the buildings themselves are simply magnificent.
St Basil's Cathedral is beautiful, elegant, colorful and unique. There is no other place, or cathedral, that looks like it in the world. It is located on the South East of Red Square, and was built between 1555 and 1561. The Cathedral is often confused for the Moscow Kremlin, but it is not part of the Kremlin.
St. Petersburg
Petersburg, established in 1703 by Peter the Great as the capital of the Russian Empire, was called Petrograd during World War I and Leningrad after 1924. In 1991, as the result of a city referendum, it was renamed St. Petersburg. Under the Tsars, the city was Russia's cultural, intellectual, commercial, financial, and industrial center.
After the capital was moved back to Moscow in 1918, the city's political significance declined, but it remained a cultural, scientific, and military-industrial center. The Hermitage is one of the world's great fine arts museums. Finally, Vladivostok, located in the Russian Far East, is becoming an important center for trade with the Pacific Rim countries.
St. Petersburg is well known for its architecture and history, grandeur and beauty. Here are some of the popular tourist attractions in St. Petersburg, Russia.
Peterhof Palace and Garden (Petrodvorets)
Originally built as a formal garden for the Tsar Peter the Great, the Petrodvorets are gardens of both historical significance and elegance. The gardens still have more than 80 of the original marble statues and sculptures, and also houses Peter's Summer Palace, containing many of the Tsar's own artifacts. The beautiful fountains in the gardens (Grand Cascade and Samson Fountain) cannot be understated. The gardens themselves are unbelievable in size and beauty, with fountains, cascades, and gardens that are simply breathtaking. This is Russia so beautiful and so unusual, grand in every way.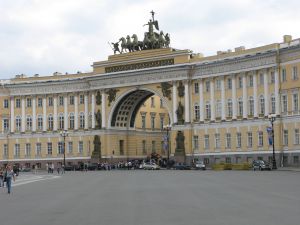 State Hermitage Museum and Winter Palace, St. Petersburg
Along the banks of the River Neva, lies the State Hermitage in St Petersburg. This includes the Winter Palace, the residence of Russian Tsars built in 1754-1762. The State Hermitage actually consists of six beautiful buildings, also including the Menshikov Palace and the Repository. Each building is beautiful and unique in its own way. The Hermitage Art Museum contains over 2.7 million exhibits of art, including some of the world's greatest.
Travel in Russia - Understanding the Taxi System
Privyet! Da! Nyet! Dasvidanya! You've decided on a trip to Russia and these are the four words you will learn first in preparation - hello, yes, no, goodbye! Understanding how to get around using the infamous Russian taxi system is a bit more complex.
A trip to Russia can be a bit intimidating at first. The culture is very different from what you might be used to at home. For instance, a person walking around smiling very friendly will be met with scowls because to do so is a sign of being a fraudster. Considering how much politicians tend to smile, the Russians might be on to something here.
Regardless, it is vital that you understand, as Dorthy might say, that you are not in Kansas anymore. Your time in Russia will be different. Instead of comparing it to home, try to take it in and enjoy it. I've been to Russia a few times and had more than just a good time.
Another element of Russia that can be confusing is the taxi system. In major cities like St. Petersburg or Moscow, it works just the way you are used to. There are cars with "taxi" signs. You wave at them and they ignore you as the pass by. Occasionally, they might suffer the foolish tourist, but only if hard up on money. In short, they act like taxi drivers in any major city.
Once you get out of the major cities, the taxi service becomes all encompassing. In fact, it may be one of the largest forms of business in the country. How so? Well, there are no formal taxis per se. Instead, practically every vehicle is a taxi. You simply stand on the side of the road with your hand out and a meaningful look. If someone is looking for a few rubles to help with gas, they'll pull over. You then tell them where you want to go and they agree or not.
This informal taxi process really has no limits other than what the driver is willing to do. After imbibing in a few adult beverages [vodka] one evening, I and a friend were able to negotiate a $50 fee with a driver to take us to the next city beyond the one we were in. I did not realize that the next city was 14 hours away. A few more adult beverages and it really didn't matter. Regardless, this was all accomplished by renting a ride off the side of the road.
If you get outside of a major city in Russia, don't bother hunting for a taxi. Throw out your hand, give them the "I need a ride" look and the world is your oyster. Okay, Russia is your oyster, but you get my drift.
Rick Chapo writes about travel destinations for NomadJournals.com - makers of the top travel journals with cases on the market.
U.S. Embassy of Russia
Bolshoy Deviatinsky Pereulok No. 8
Moscow 121099, Russian Federation
Tel: +7 (495) 728-5000, fax: 728-5090
(Moscow is 8 hours ahead of Washington)
Web site: http://ru.usembassy.gov/embassy-consulates/moscow
U.S. Consulates in Russia

Vladivostok
32 Pushkinskaya St.
Vladivostok 690001
Russian Federation
Tel. 7 (4232) 30 00 70. Fax 7 (4232) 49 93 72.
E-mail: vladcons@state.gov
Web site: http://ru.usembassy.gov/embassy-consulates/vladivostok
Yekaterinburg
15 Gogol Street,
Yekaterinburg, 620151
Russia
Tel. +7 (343) 379-3001 and +7 (343) 379-4760 fax: +7 (343) 379-4515. After-hours emergencies within Yekaterinburg: 8 (917) 569 3549.
Web site: http://ru.usembassy.gov/embassy-consulates/yekaterinburg
Transportation in Russia
Air Travel Within Russia.
After extensive joint reviews with the State Civil Aviation Authority (SCAA), the U.S. Federal Aviation Administration (FAA) has concluded under its International Aviation (IASA) Program that the SCAA oversees and licenses Russia's air carriers in accordance with international safety oversight provisions.
For further information, travelers may contact the Department of Transportation within the U.S. at 1-800-322-7873, or at http://www.faa.gov/avr/iasa/. Travelers should note that air travel within Russia, particularly in remote regions, can be unreliable at times. Small local airlines do not have advance reservation systems but sell tickets for cash at the airport. Flights often get cancelled if more than 30% of the seats remain unsold.
Overland Travel in Russia.
When traveling by train or automobile in Russia, it is advisable to bring food and water with you. You cannot rely on the availability or quality of these goods throughout the region. When traveling overland between Central European countries and Russia, be sure that you have visas for all countries through which you will pass.
For example, you will need a Belarusian transit visa if you take the train from Warsaw, Poland to Vilnius, Lithuania because the train passes through Grodno, Belarus. Most transit problems can be avoided if you research your routes well.
Car Travel in Russia
Driving conditions in Russia and the region are drastically different from those in Western Europe. In some areas, roads are practically non-existent. Throughout the region, service stations are few and far between and the lines are often quite long for the scarce amount of available fuel.
Avoid excessive speed and, if at all possible, do not drive at night. Loose livestock can appear at any time. Construction sites or stranded vehicles are often unmarked by flares or other warning signals. Sometimes cars have only one headlight. Many cars lack brake lights. Bicycles seldom have lights or reflectors. This makes for very dangerous driving conditions at night. Be prepared for sudden stops at any time.
Russia Travel Resources
Click here to get your Russian travel visa fast.
Learn some basic Russian before you take your trip.
Plan ahead and sign up for the most popular Russia tours.