South Korea Entry Requirements

Traveling to South Korea? Click here to expedited your visa to South Korea
A passport is required. U.S. passport holders must have a valid U.S. passport and a visa or an approved Korea Electronic Travel Authorization (K-ETA) to enter Korea. Most U.S. passport holders traveling to Korea for tourism or business purposes for less than 90 days can obtain a K-ETA.
Apply at the K-ETA website for 10,000KRW. The fee is non-refundable even if the application is denied. Travelers must apply for the K-ETA at least 24 hours prior to boarding a flight or ship bound for Korea. A visa required for all other purposes, including employment, teaching English, and for stays longer than 90 days.
To stay beyond the period of stay authorized upon entry, visitors need to apply for an extension with Korean Immigration. Individuals who overstay their authorized time without an extension are subject to fines that must be settled before they can depart the country.
Changes of status from one type of visa to another (from tourism to teaching, for example) are normally not granted in the Republic of Korea and must be obtained at a Korean embassy or consulate in another country after leaving Korea.
U.S. citizens must submit to biometric data collecting when they enter the ROK. Immigration officials will take index fingerprints and digital face photographs during passport inspection. Officials with government agencies or international organizations, and children under 17 years of age, are except from data collecting.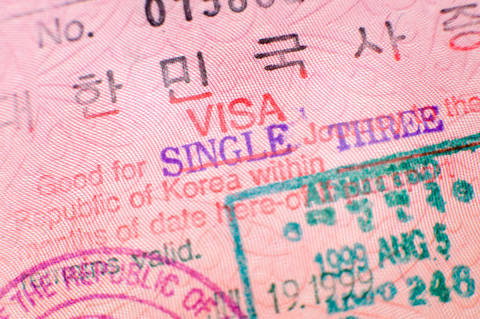 Active-duty U.S. military personnel with the U.S. Forces Korea are allowed to enter the Republic of Korea under the Status of Forces Agreement (SOFA). They must have the correct Department of Defense (DOD) identification and travel orders to be admitted. Every civilian accompanying the force (including DOD civilian employees, invited contractors, and family members) must have a valid passport and obtain an A-3 SOFA visa in advance.
Active duty military personnel should obtain a tourist passport prior to leaving the U.S. to accommodate off-duty travel elsewhere in Asia. DOD travelers should consult the DOD Foreign Clearance Guide before leaving the United States. Members of the Department of Defense with U.S. Embassy assignments must enter with diplomatic or official passports and the correct visas.
DOD personnel on official business must have DOD APACS country clearance, while non-DOD members on official business must have clearance from the State Department's eCC system. Active duty service personnel may enter the Republic of Korea on leave with DOD identification and orders.
Exit permits are not required to leave Korea. However, if a parent requests through the Korea Immigration Service that a travel restriction be placed on a child, the child is likely to be prevented from departing Korea.
Certain visas types including those granted to teachers and entertainment workers require negative HIV/AIDS test results. Republic of Korea immigration law also states that immigration officials may deny entry to individuals suspected of having communicable diseases.
For the most current visa information, contact the Consular Section of the Embassy of the Republic of Korea at 2320 Massachusetts Avenue N.W., Washington, D.C. 20008, telephone (202) 939-5660. Republic of Korea consulates are also located in Atlanta, Boston, Chicago, Guam, Honolulu, Houston, Los Angeles, New York City, San Francisco, and Seattle.
Get reliable expedited Korea visa courier service
.
Click here to expedite a South Korea visa
.
Expedite Your Passport Now!