Russian Student Visa Information
In order to study in Russia, foreign students must follow a series of very strict protocols and fulfill a number of requirements. The ultimate goal is to obtain a Russian student visa.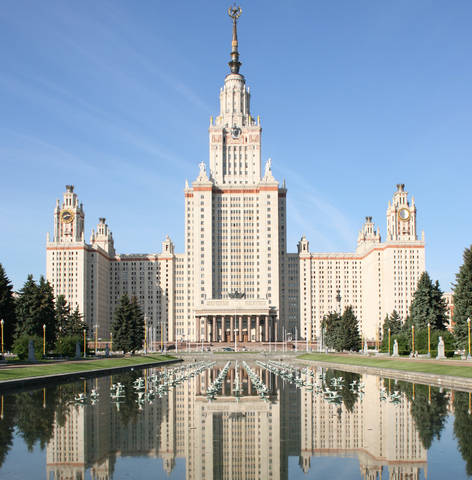 The process for obtaining a Russian student visa is fairly straightforward as it follows many of the conventions of
other Russian entry visas
.
Russian student visa applicants must provide:
A valid, U.S. Passport

Minimum validity of at least 6 months beyond the visa expiration date
Two blank passport pages

One professional 35 mm X 45 mm photo
Completed visa application form
Payment for fees
An Invitation to Russia from a host person or educational institution
The application process can be started up to 45 days prior to a student's expected arrival in Russia. It is advisable to start the process as early as possible to allow for any delays or holdups. In some cases, a perfectly valid application can take up to 5 weeks to process, so there may be very little wiggle room between getting documentation in order and the anticipated start of a course or semester.
In some specific cases, a humanitarian visa can be obtained in lieu of a student visa. These tend to pertain to specific types of research, seminars, and fellowships associated with postdoctoral work.
Frequently Asked Questions about Russia Student Visas
What is the process for minors applying for a visa?
For people under the age of 18 who intend to study in Russia, acquiring a student visa begins by following the processes outlined in the student visa application. An applicant already must a passport (with the appropriate amount of remaining pages and months of validity).
They must also obtain a power-of-attorney (written in Russia) stating a permission to travel to and stay in Russia. This document must be specific about whether the minor is traveling alone, with their parents, or under the watch of specific adults other than their parents. This document must be presented upon arrival in Russia so that the entry to Russia is deemed legal and legitimate.
How long is a Russian student visa good for?
A Russian student visa allows entry into the country and allows for an initial stay of up to 3 months. This can be extended if approved by the Russia Embassy or Consulate.
In the event that an extension is requested or required, the hosting Russian school is the one accountable for procuring the visa extension in a timely manner.
How is a Russian student visa different from other types of Russian visas?
A Russian student visa is a type of residential visa. While it does not allow for holders to conduct business or seek employment, it does allow them to establish a temporary residence in Russia while they study.
One of the most unique features of this type of visa is that it doesn't automatically include an exit permit. The permission for departure from Russia requires a separate application to proper Russian authorities by the hosting Russian educational institution.
How can a person apply for an exit visa?
An exit visa is a type of visa granted to travelers who intends to leave the country prior to the expiration of their entry visa. The request for an extension of stay or exit visa should be processed through the applicant's sponsor.
If visitors fail to apply for any of the two kinds of visas prior to the expiration, the Russian Consulate typically allows foreigners to stay for approximately 20 additional days (at the discretion of the Russian Embassy or Consulate) in order to process their exit visa.
During this time, visitors are accountable for any of their expenses. However, being a foreigner in Russia with an expired visa makes many aspects of daily life particularly challenging. Securing lodging, accessing funds, and other necessary aspects of daily life become instantly more difficult. Furthermore, the U.S. Embassy and/or Consulate has limited authority to intervene in the said situation. As a result, Russian visa holders are encouraged to be contentious about their length of stay as well as ensuring proper entry and exit visa applications are processed in advance whenever possible.
Can students work a job while in Russia with a student visa?
The quick answer is no. However, full-time, adult (18+ years old) students at state-accredited universities can apply for a work permit that allows them to work in a specific field or profession within the proximity of their host city or educational institution. Working without one of these permits can result in detention, fines, or even deportation.
What will be done if a person loses their passport during a stay in Russia?
In the event that a person losses their passport due to accident or theft, they must immediately report this situation and replace the said document at the respective Embassy or Consulate.
Next, they must coordinate to their visa sponsor in order to obtain a new visa to be placed on the passport. This process can be sped up if the foreigner has a photocopy of their original visa. This proof does not qualify as an acceptable replacement, but it can make it easier and faster to obtain a replacement.
What is the fee for a Russian Student visa?
All visas (single, double and multiple entries) to Russia cost $160.
Expedite Your Visa Now!