How to Get a Passport Record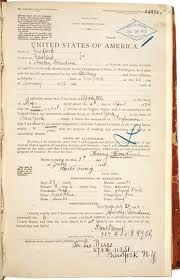 A passport record provides information concerning application forms, United States citizenship evidence and other supporting documents submitted in order to obtain U.S. passports. Any record of international travel such as travel visas, exit and entry stamps or resident permits is not included in passport records since these are entered into the passport book after its issuance. The steps that are required to get a passport record depend on the date that the passport was issued.
Passport Records for Issuances from 1925 to the Present
Submitting a Request for Your Own Record/Minor Children/with Authorization
The Privacy Act of 1974, (5 USC 552(a)) allows you to obtain copies of records in your own name and the records of your minor children. This is also applicable to incompetent persons for whom you are authorized to act as a guardian as well as any person who has properly authorized you to obtain his/her passport records. To request these records, you need to submit a typed or clearly printed
notarized
request that includes:
Your full name at birth and any subsequent name changes and/or the full name of your minor child or children, if you are requesting their records; if you are using an authorization, you need to provide your full name as well
Legal authorization or evidence of parental relationship or evidence of guardianship, whichever is applicable
Date and place of birth of the individual whose records you are requesting
Your current mailing address;
Your current daytime telephone number;
Your current e-mail address, if available;
The dates or estimated dates the passport(s) were issued;
Passport numbers or any other information that will help locate the records; and
A copy of requester's valid Federal or State issued photo identification (e.g., driver's license)
There are no fees to request a regular copy of passport records, for your minor children or persons whom you are authorized to represent.
Certified Passport Records
You can get certified copies of passport records The certification fee is $50.00 which can be paid by check or money order payable to "Department of State". Mail your request for a certified copy and payment for such to the following address:
U.S. Department of State
Office of Law Enforcement Liaison
44132 Mercure Cir
P.O. Box 1227
Sterling, VA 20166

Requests Submitted for a Third-Party
If you want to get a passport record for someone other than those listed above, this is considered a third-party or FOIA request. Under the Freedom of Information Act, you may request for passport records of an individual without their express authorization. You may send such request to the same address provided above.
Passport Records for Issuances Prior to 1925
The National Archives and Records Administration maintain records for passports issued prior to 1925. You may write to them at the following address:
National Archives and Records Administration
Archives 1
Reference Branch
8th & Pennsylvania Ave. NW
Washington, DC 20408

Telephone: 1-866-325-7208 or 202-357-5411
Email: inquireATnara.gov
Click for expedited passport courier service in 24 to 48 hours!
.
Expedite Your Passport Now!