Nepal Visa Information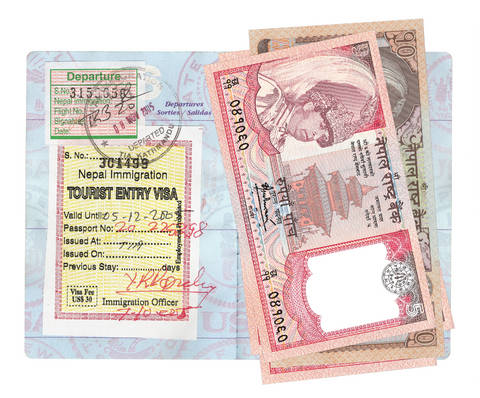 A Nepal visa in a valid passport is required of all U.S. citizens who plan to visit the country. Tourists can apply for their visas from a Nepalese embassy or consulate before traveling, or purchase a fifteen-day multiple-entry tourist visa, a one-month multiple-entry tourist visa, or a three-month multiple-entry tourist visa upon arrival at Tribhuvan International Airport in Kathmandu and at many land border points of entry. You can apply online to expedite a visa to Nepal if you are in a hurry and prefer obtaining a visa prior to departing the United States.
The land border points of entry where tourists may obtain
visas on arrival
include: Kakarvitta, Jhapa District (Eastern Nepal), Birgunj, Parsa District (Central Nepal), Kodari, Sindhupalchowk District (Northern Border– for group tourists only), Belahia, Bhairahawa (Rupandehi District, Western Nepal), Jamunaha, Nepalgunj (Banke District, Mid-Western Nepal), Mohana, Dhangadhi (Kailali District, Far Western Nepal) and Gadda Chauki, Mahendranagar (Kanchanpur District, Far Western Nepal). Be aware that it may take several hours for your visa to be issued.
Upon departure from Tribhuvan International Airport, all foreigners must pay an airport exit tax, regardless of the length of their stay. Tourists may stay in Nepal no longer than 150 days in any given calendar year.
Nepal Visa Requirements
Independent of the type of visa you request, the Nepal Embassy and Consulates require the following:
A passport with a validity of 6 months from the date of entry;
Tickets and documents to prove your return or onward travel;
One passport-size photos (2"x2");
Completed Nepal visa application form;
Visa fee (money order in person, money order by mail);
A self-addressed prepaid return envelope with postage (FedEx, US Express Mail or US Certified Mail).
Travel visas for Nepal are affixed in your passport on the pages specifically marked for them. Countries require that visa stamps be placed on those pages that do not contain any other stamps. For this reason, you are required to submit a passort with at least one blank visa page.
Nepal Visa Application Form
Click to download the Nepal Visa Form
The Visa Application is in .pdf format. You will need the free Adobe Acrobat Reader to open and print the document. You probably have it on your computer but if you don't, you can get it here.
Nepal Travel Information
Travelers occasionally report immigration difficulties with Chinese authorities when crossing the Nepal-China border overland in either direction. Chinese authorities often require American and other foreign tourists to organize "group" tours through established travel agencies as a pre-requisite for obtaining visas and entry permits into Tibet. U.S. citizens planning to travel to Tibet from Nepal may contact the U.S. Embassy in Kathmandu for current information on the status of the border-crossing points. Travelers may also wish to check with the Embassy of the People's Republic of China in Nepal for current regulations on entry into Tibet.
Nepal Country Information
Formal Name: Kingdom of Nepal
Short Form: Nepal
Term for Citizens: Nepalese
Capital: Kathmandu
Date of Independence: 1768, when a number of independent hill states were unified by Prithvi Narayan Shah as the Kingdom of Gorkha.
National Holiday: December 28, birthday of King Birendra Bir Bikram Shah Dev.
Nepal Visa Service Online
If you don't live in or near any of the cities where a Nepalese embassy or consulate located, you might want to authorize a travel visa expediting service to obtain the visa for you. They will verify your visa application before it is ever sent, thereby avoiding unnecessary delays or rejections. They will also personally walk your application through each step guaranteeing timely and efficient processing of your visa application.
Click here expedited Nepal visa service.
More Nepal Travel Information
Get expedited Nepal Visa courier service!