Myanmar (Burma) Visa Information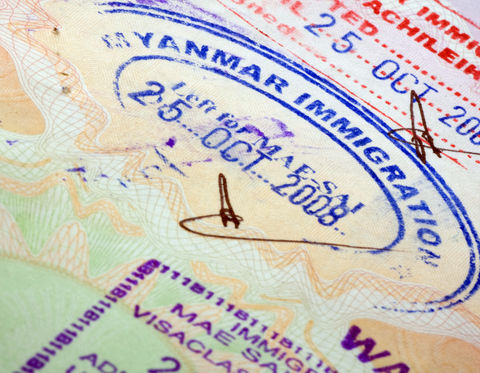 To enter Myanmar (Burma), a traveler must obtain a Myanmar visa prior to departure using the e-visa portal provided by The Republic of the Union of Myanmar's Ministry of Labour, Immigration and Population.
A travel visa is always needed for a non-citizen to enter the country as a tourist, student, business delegate, employee, or permanent resident. That said obtaining a visa does not fully assure the holder that he will be able to enter the country. That privilege rests entirely on the decision of immigration officials in Myanmar.
There is a visas-on-arrival program, however the requirements vary based upon the type of visa requested. For instance, particular forms of business and transit-related travel include significantly more requirements than a tourist visa.
Myanmar announced that "all unused e-Visas which were issued during the period, from 2nd January 2020 to 21st March 2020 will be extended for (90) days from the date of removal of travel restrictions to Myanmar." Due to the COVID-19 pandemic, new applications were suspended from March 20, 2020 through at least February 28, 2021.
Myanmar Tourist Visas
Tourists are allowed to stay for 28 days with no extensions. Tourist visa is valid for 3 months and is not refundable or renewable. The normal processing of tourist visa takes approximately 6 business days.
Myanmar's eVisa program allows tourism and business visitors to apply for a visa online rather than going to the embassy or consulate.
Once you are approved for the visa, the visa needs to be used within three months.
Under ordinary circumstances, to be eligible for a Myanmar tourist visa, a visitor must meet several requirements:
A valid U.S. passport with at least 6 months of validity remaining from date of entry
A fully completed Myanmar evisa tourist visa application form.

NOTE: You can use this site to apply yourself or you can go through a visa expediter and get your Myanmar visa in a hurry.
Two recent passport-sized (4cm x 6cm) photos
Proof of flight itinerary or airline tickets to and from Myanmar
A visa processing fee of $50 (payable by Visa, MasterCard, JCB, American Express, or Alipay) or $56 for the "Tourist Visa Express" option

Myanmar Business Visas
Obtaining a Myanmar business visa is more complicated than a tourist visa.
Applicants must:
Have a valid passport not expiring for at least 6 months from the date of entry into Myanmar.
Bring two recent (4cm x 6cm) color photos taken within the past six months.
A fully completed Myanmar evisa application form
or complete a visa-on arrival form which will be processed at your port of entry.

NOTE: You can streamline these processes by using a visa expediter and get your Myanmar visa in a hurry.
Provide a letter of invitation from the sponsoring company in the event of first trip of business study. (Stay cannot be extended.)
Supply copies of company registration/business license/ evidence of permission to do business issued by the ministries concerned together with the application if the applicant is working in Myanmar.
Fully mention the name of the factory, location, the sponsor and the position/rank if the applicant is doing business with business visa.
Produce letter of invitation by the ministries concerned if the applicant is going to attend meetings, workshops, events and ceremonies.
Agree to stay at the hotels, motels and guest houses holding legal licenses issued by Myanmar Government, and factories and workshops legally permitted as well as human dwellings; and exactly mention the address the applicant will stay at.
A visa processing fee of $70 (payable by Visa, MasterCard, JCB, American Express, or Alipay)
Visa holder is allowed to stay for 70 days. Business visas are eligible for extensions, but only in certain instances approved by the Myanmar Ministry of Labor.
A Multiple Journey Entry Business Visa (MJEV) is available as well (for an additional fee), but it requires special permission from the embassy. The shortest duration version of this special business visa is valid for 3 months and cannot be renewed. There are also MJEVs valid for 6 months and 1 year, which can be obtained for additional fees. Processing time can take up to 6 business days.
Myanmar Meditation Visas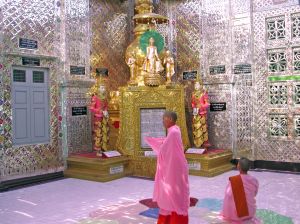 If you want to visit Myanmar to attend a meditation center, a Myanmar meditation visa must be obtained.
This visa request might take longer to process than the other forms of visa. Applicants must apply for a Myanmar Religious Visa 3 months in advance to obtain the approval from the Ministry of Religious Affairs.
This religious visa is valid for 70 days and is eligible for extension. Under normal circumstances, the validity is for 3 months from the date of issue.
To request this type of specialty visa, applicants must:
Complete the Myanmar religious visa form
Include 2 passport-sized photos
Complete the Work History form
Supply a letter addressed to the Ambassador (originals only - photocopies are not accepted)
Submit their original passport (photocopies are not accepted)
Provide a self-addressed, postage-paid return envelope
Pay a fee of $50 with a money order or cashier's check made payable to the Embassy of the Union of Myanmar.

Multiple entry religious/meditation visas are also available for $150 (3 months), $300 (6 months) and $450 (1 year).
Click the link to
apply for your Myanmar Visa online
.
Expedite Your Visa Now!