Moscow, Russia
Moscow is the largest city (population 12.1 million) and is the capital of the Federation. Moscow continues to be the center of Russian Government and is increasingly important as an economic and business center. Its cultural tradition is rich, and there are many museums devoted to art, literature, music, dance, history, and science. It has hundreds of churches and dozens of notable cathedrals; it has become Russia's principal magnet for foreign investment and business presence.
Moscow -- the capital of Russia. A popular world tourist destination. Intriguing, beautiful, unusual, abounding in history, art, culture and architecture, it is indeed a city to not only see but experience. Here are some of the popular tourist attractions in Moscow, Russia.
Red Square (Krasnaya ploshchad), Moscow, Central Russia
Red Square, situated between the Kremlin, Lenin's Mausoleum, Saint Basil's Cathedral, and the GUM department store, is not only an area surrounded by history but a historical landmark itself. Red Square, surprisingly, does not get its name from the link between Russia and communism, or from the red bricks surrounding the square, but rather gets its name from the Russian word krasnaya which can mean either "red" or "beautiful." This name was originally applied to St Basil's Cathedral, but moved towards the square in the 15th century, when the square was created (replacing old wooden houses that were in the area.) Since its creation, it has been a central landmark in Russian history. Red Square started as Moscow's primary marketplace, but its purpose has also been for public ceremonies -- the coronation of Russia's Tsars, the Soviet address point, the Soviet Military Parades (notably, Victory Parade in 1945 when the Nazi's were defeated,) concerts for groups such as Pink Floyd or Paul McCartney, and many other substantial events.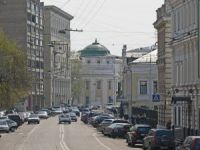 Moscow Kremlin (Moskovsky Kreml), Moscow, Central Russia
The Moscow Kremlin is what most people think of when they think of Russia. The Kremlin is actually a series of citadels, four cathedrals, four palaces and the Kremlin towers with the Kremlin walls. It's buildings are unmatched in beauty and originality. The buildings of the Kremlin are elaborate, beautiful, and incredibly unique. The rich history that each building represents cannot be understated, and the designs of the buildings themselves are simply magnificent. St Basil's Cathedral is beautiful, elegant, colorful and unique. There is no other place, or cathedral, that looks like it in the world. It is located on the South East of Red Square, and was built between 1555 and 1561. The Cathedral is often confused for the Moscow Kremlin, but it is not part of the Kremlin. Plan ahead and sign up for the
most popular Russia tours
.
Expedite Your Passport Now!