Mexico Travel Information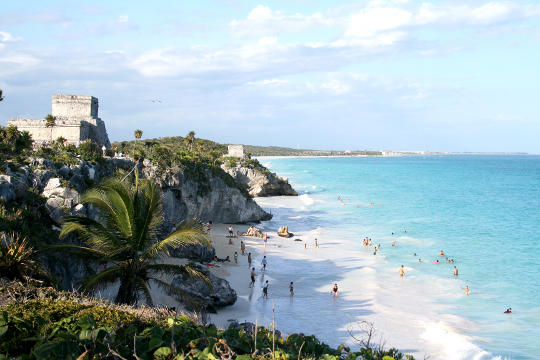 Following is a list of websites about Mexico and other useful travel information to help you plan your
trip to Mexico
. We have selected some of the best and most informative sites related to travel documents, health issues, tourist attractions and safety concerns while others provide destination information and tips on cultural interaction and saving money when traveling to Mexico. If you know of a useful resource, please include it in the comments at the end of the page.
Travel Documents Required
U.S. Passport Service Guide Mexico Entry Requirements
Foreign entry requirements for travel to Mexico plus step-by-step instructions for obtain a passport which is now required for all U.S. citizens traveling to Mexico.
Mexico Tourist Attractions
Hundreds of Popular Tour Attractions in Mexico
Choose from a wide variety of the best tour attractions in Los Cabos, Mexico City, Acapulco, Puerto Vallarta, Cancun or Cozumel.
Learn Spanish
FREE Spanish Lessons
Fun, interactive lessons you can use to quickly learn commonly used Spanish words and phrases. Get more out of your travel experience through more effective communication with the locals by learning these Spanish phrases.
Visitor Information
Visit Mexico
This is the official website of Ministry of Tourism of the Government of Mexico. Detailed information about the country of Mexico divided into Regions, Destinations, Activities, Themes and Experiences.
Facts about Mexico
CIA World Fact Book - Mexico
A general overview of Mexico plus more specific information about geography, government, people, economy, transportation, communications and more published by the CIA.
Travel Health
Health Information for Travelers to Mexico
CDC provides health information for travelers to Mexico. Tips on preparing for travel to Mexico as well as how to prevent contracting diseases that are found there.
Travel Registration
Smart Traveler Enrollment Program (STEP)
Travel registration is a free service provided by the U.S. Government to U.S. citizens who are traveling to, or living in, a foreign country. Registration allows you to record information about your upcoming trip abroad that the Department of State can use to assist you in case of an emergency.
Travel Security
TSA - Transportation Security Administration
On this page of the TSA website, you will learn What to Know before You Go. This includes things like how to get through the security check line faster, the 3-1-1 rule for liquids, acceptable identification at the checkpoint and prohibited items.
Travel Savings
Popular Mexican Tours
Want to learn how to snorkel? Got the itch for an ancient Mayan adventure? Want to learn how to cook new, exotic cuisine? Maybe you just need a few days of pampering and privacy at the spa. You can select from these as well as a variety of other affordable excursions, experiences, and lessons to book before you depart to reserve your spot and save big!
Click for reliable expedited passport courier service!.
Top 5 Questions About Expedited Passport Couriers