Best Luggage for International Travelers: Top Picks & Reviews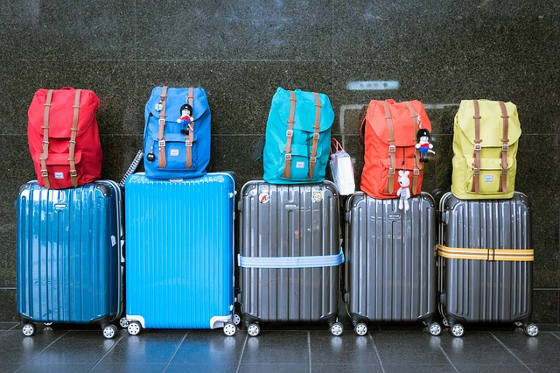 Choosing the right luggage is crucial for a comfortable and stress-free travel experience. The right luggage can make all the difference in the world, whether you're traveling for business or pleasure. Rather than overloading bags bulging at the seams, consider investing in high-quality, top-rated, best luggage options from upscale to budget-friendly, we'll help you find the best luggage for your international travel needs.
Buyer's Guide
When choosing the best luggage for international travel, here are some factors to consider:
Size: Consider the lengths of your trips and airline restrictions when selecting the size of your luggage. If you typically take off for weeks at a time, be sure to find luggage with maximum capacity for ample storage. If you typically take short trips, an expandable carry-on is enough. If you travel for business, you'll need enough room for business attire.
Features: Think about the features that you'll find helpful while traveling like spinner wheels, a pocket for your cell phone or laptop, expandable storage, or a TSA lock. Look for luggage that is suitable for your travel needs.
Weight: Consider the weight of the luggage itself, as well as the weight of your belongings. Many airlines have strict weight limits for checked and carry-on luggage, so it's important to choose a lightweight suitcase that won't add too much extra weight to your baggage allowance.
Durability: Choose luggage that is strong and durable-especially if you travel often. Look for phrases like "scratch-resistant," "tilt-resistant/shock-absorbing wheels," and "hard shell/ hardside exterior" to ensure that you're purchasing luggage that can withstand the battering of baggage handling.
Warranty: Look for luggage that comes with a warranty or guarantee. This will give you peace of mind knowing that your investment is protected in case of any defects or issues.
Material: Find luggage made of high-quality materials Hardside, softside, hardshell-there are a variety of exteriors to choose from, so make sure that you read the description and the reviews so that you have a good idea of how that material will hold up over time.
Style: Choose luggage that reflects your personal style and preferences. Whether you prefer classic leather luggage or modern hard-shell suitcases, there are plenty of options available to suit your taste. Also, choose a color that is easily recognizable to you. Maybe navy blue and black are hard for you to discern, then choose a brighter color.
Top Luggage Brands
You want to be sure you're getting the most bang for your buck when purchasing luggage. You're looking for quality pieces that fit your budget. Any web search will bombard you with luggage brands, so how do you know which brands are reliable? We've cultivated a list of luggage brands that claim quality and value with plenty of stellar reviews to back up their claims.
This mid-range brand offers a variety of luggage types: carry-on, check-in, softside, hardside, and sets as well as bags, backpacks, weekenders, and business bags all with a Limited Lifetime Coverage plus trusted companion promise, which covers the cost of repair for damage from airline or other common carriers for the period the product is owned by the original purchaser or gift recipient. Applicable with purchase after registration.
Travelpro's Platinum Elite Luggage is a favorite of many travelers. An Amazon's Choice for being highly rated and well-priced, this luggage comes in various types and sizes: carry-on (19 in., 20 in., or 21 in.), checked medium (25 in.), and checked large (29 in.), and comes in 6 colors to choose from.
Features: Travelpro's Platinum Elite luggage is expandable, has a softside exterior, precise control with 8 self-aligning spinner wheels, a tapered expansion design to keep the center of gravity low and help reduce tipping while also providing up to 2" additional packing capacity, an integrated TSA-approved lock, and a special coating that resists stains and abrasions.
Pros: Customers applaud the durability, size, maneuverability, weight, and appearance of Travelpro's Platinum Elite luggage.
"Excellent quality overall. Wheels and handle operate smoothly, stitching and zippers are sturdy, excellent materials overall. I might not buy another carry-on in my life."
"My last travel pros lasted 25 years and I'm sure these will as well. Hi[gh] quality material. Be sure to register and keep your warranty info as you can actually repair these (I replaced my wheels in the last one after 15 years)."
Cons: A few customers had issues with the zipper pulling/breaking off and a few reviewers found the luggage to be very expensive.
Features: Travelpro's Crew Versapack Luggage is expandable; has a softside exterior; an exterior power bank pocket that provides FAA-compliant power connected to an external USB Port; an exterior padded pocket that fits laptops up to 15.6 in.; a cushioned, low-profile top and side carry handles along with a bottom handle cup that provides comfortable carrying options; precise control and effortless roll; telescoping handle that adjusts to multiple heights while minimizing wobble; self-aligning magnetic wheels; a coating that resists stains and abrasions; and a removable, TSA-compliant toiletries bag.
Pros: Customers appreciate the size, sturdiness, smoothness, appearance, value, and performance of Travelpro's Crew Versapack Luggage.
"Well made, great capacity. Not the cheapest carry-on, but well worth the price. Used for a week-long trip to the UK and it was perfect."
"This bag comes with a higher price tag than other carry-on sized luggage but you definitely get what you pay for. This bag has now come with me to 4 countries and 2 states and I love it. I was able to pack 8 days' worth of clothes and toiletries. The included plastic bag for toiletries fits perfectly in the upper outside pocket for easy access through security and customs. The wheels and casters are high quality and roll seamlessly. The handle is comfortable to grip and the telescoping function of it has multiple heights. The bag is durable and well-built and I see it lasting me through many more travels."
Cons: Some customers have had issues with the stability of the luggage, noting that it tends to tip over when heavier items are placed at the top of the luggage or if it holds too much weight.
A budget-friendly brand with plenty of luggage options to choose from: hardshell, softshell, and hardside individual pieces and sets. All luggage comes with a 2-year Global Warranty, which covers all manufacturing and mechanical defects, excluding any damage caused by misuse, neglect, accidents, abrasions, exposure to extreme temperatures or chemicals as well as normal wear and tear.
Coolife's Luggage Expandable Suitcase is highly recommended for luggage by Coolife. Rated Amazon's Choice for customer ratings and price, this suitcase comes in 5 stylish colors to choose from. It can be purchased individually in sizes small (20 in.), medium (24 in.), large (28 in.), or as part of a 5-piece luggage set.
Features: Coolife's Luggage Expandable Suitcase has an ABS + PC hard plastic shell exterior, a TSA lock, spinner wheels, an adjustable 3-level aluminum telescoping handle, and is expandable to 15% of the scalable space.
Pros: Customers are pleased with its light weight, ease of rolling, size, appearance, and overall value.
"As a frequent traveler always on the lookout for durable and convenient luggage solutions, I recently had the pleasure of trying out the Coolife Luggage with wheels. This luggage stands out not only for its sleek design but also for the outstanding performance of its wheels that truly deliver on their promise of hassle-free travel."
"In my experience using the Coolife Luggage, it has shown resilience against the wear and tear of travel. The wheels have maintained their performance, even after rolling over various surfaces and enduring different weather conditions. The robust build of the luggage overall inspires confidence that it can withstand the rigors of frequent travel."
Cons:We found very few negative reviews for this luggage; however, reviewers noted normal wear and tear does show after use.
Features: Coolife's Luggage 3- or 4-Piece Sets have multidirectional, smooth, and silent spinner wheels; hardshell exteriors; TSA-accepted locks; lightweight, durable ABS material; and ergonomic aluminum telescoping handles.
Pros: Customers are satisfied with the quality, appearance, maneuverability, value, weight, size, and ease of packing Coolife's Luggage Coolife's Luggage 3- or 4-Piece Set.
"These suitcases are perfect! They hold so much, are very sturdy, and lock. We used them on our recent cruise and were so easy to maneuver and store."
"I love this luggage! I wanted to wait until after our international trip to review so I could give a fair assessment. Of course the outside got a little scratched, but that's to be expected with everything luggage goes through at the airport. I love having the different size options. I used the largest one for my checked bag and the smallest for my carry on. The medium one would be great for a shorter trip! The wheels functioned perfectly-no issues there at all. My only concern was that because I packed by bags rather full, the zipper was starting to bulge at the bottom of the largest suitcase. Otherwise, no complaints!"
Cons: A few reviews note scratches and scrapes after regular use.
An award-winning luggage brand, Briggs & Riley is an upscale choice for your luggage needs offering a wide variety of bags and cases to select from: carry-on, checked, backpacks, tote bags, duffles, and weekenders, Briggs & Riley offers high-quality travel essentials. Briggs & Riley is the only luggage company that offers an unconditional lifetime guarantee no matter the damage; all luggage is guaranteed repair free of charge without proof of purchase.
Briggs & Riley Essential is Amazon's Choice for luggage by Briggs & Riley. Highly rated and well-priced, this luggage comes in an assortment of sizes: underseat cabin bag (16 in.), compact carry-on (19 in.), global carry-on (21 in.), essential carry-on (22 in.), medium expandable (26 in.), large expandable (29 in.), and extra large expandable (31 in.) and comes in 4 classic colors.
Features: The Briggs & Riley Essential boasts optimal capacity, one-touch CX expansion, a tri-fold garment folder, a power pocket to store battery and cell phone, a hide-away ID tag and SpeedThru pocket, and shock-absorbing wheels.
Pros: Customers appreciate the quality, storage space, appearance, and expansion of Briggs & Riley Essential luggage.
"This is the 2nd Briggs & Riley spinner I have purchased. I had the older model of these which did a huge number of trips being a very regular international traveler. Love this bag. It outlived all my Rimowa bags. It's very tough and can take a lot of punishment. The wheels have lasted without any issues over about 10 years and probably 100+ trips. I really like the internal expansion system which easily adds a lot of capacity. Like the warranty too which gives peace of mind. Great buy and worth the price."
"The only carry-on that keeps all my clothes organized and remains lightweight! Classic style, ease of transport, and quality production!"
Cons: Some reviewers noted that the wheels do not always roll straight and tend to shift to odd angles. Other reviewers felt that the luggage was too expensive.
Features: The Briggs & Riley Sympatico is expandable for up to 22% more space, has a hardside exterior, a garment compression panel to minimize wrinkles, a power pocket for a pass-through USB cord and cell phone storage, an aluminum telescoping handle with ergonomic grip, a tilt-resistant wheelbase, and spinner wheels.
Pros: Customers are pleased with the quality, performance, appearance, space, expansion, lightweight, and ease of rolling the Briggs & Riley Sympatico.
"I travel extensively and have used Briggs and Riley luggage for years now. The quality and durability of their baseline series is unmatched and all of my pieces have held up to whatever the airlines and my travel throw at them. I've never had a hardside piece before but it's clear that B&R used the same features and quality from the baseline series in this line as well. Luggage is very lightweight for its size, wheels glide flawlessly, handle is firm and secure, double zipper locks ensure security, and the expansion feature guarantees you will be able to take home those extra things you bought while on vacation. Love this and will buy another!"
Cons: Some reviewers were not satisfied with the overall feel of the luggage and noted that it scuffs easily and the zippers are not smooth. There were a few mixed reviews regarding the weight of the luggage with some applauding it's light weight and others noting it as too heavy.
This well-known company offers low- to mid-range luggage options that can be purchased individually or in sets: carry-on, hardside, softside, check-in as well as duffel bags, garment bags, laptop bags and backpacks, and adventure backpacks. Standing by their quality craftsmanship, Swiss Gear offers a limited warranty from the date of purchase.
Features: Swiss Gear's Sion Luggage is expandable, with softside exterior, 360-degree multi-directional spinner wheels, a locking retractable push/pull handle, a built-in ID tag, and scuff-resistant polyester fabric.
Pros: Customers enjoy the size, weight, portability, and appearance of Swiss Gear's Sion Luggage.
"As a flight attendant, I travel everywhere. It is a perfect size it fits in the overhead bin space very durable, nice, smooth, roll, love it."
"This carry-on roller was exactly what I needed for multi-week trips. Was able to pack about a week's worth of clothes plus an extra pair of shoes, a rain jacket, and even a few souvenirs. Quality of material and zippers was as expected from Swiss Gear. The wheels were smooth traversing across an array of flooring materials (carpet, concrete, tile, glass, wood, rubber, etc.). This bag will easily last me 5 to 10 years traveling on multiple international trips per year. One might pay a lot more for luxury brand carry-on, but why? I highly recommend this carry-on if you need a quality bag at a reasonable price. Very satisfied with this purchase."
Cons: Some reviewers feel that the handle is not very sturdy, breaks easily, feels flimsy, and can get stuck easily.
Features: Swiss Gear's 7272 Energie Luggage is expandable; with a hardshell exterior; lightweight; has 8 360-degree, multi-directional spinner wheels; a TSA lock; a USB port (carry-on only); and a 10-year limited warranty.
Pros: Customers recommend based on the quality, portability, size, color selection, and maneuverability of Swiss Gear's 7272 Energie Luggage.
"This luggage is great for carry-on for airplanes. Well made and durable. Lightweight with a hard exterior. I loved the number lock on the zippers. The wheels glided super smooth through airport and city pavements."
"Love it! The wheels are the best I've ever had, smooth, tilt well when pulling behind, and strolls well nicely beside you. I love the dimensional look of this luggage, giving it a bit of a pop. The inside has ample storage and many pockets. The lock combination is easy to change and has held up well."
Cons: Reviewers noted that the handle is a little shorter than they'd like and the zippers break/get stuck easily.
An upmarket luggage brand with multiple collections to choose from. Find the best fit for your travel needs from TUMI's Alpha collection with best-in-class functionality perfect for business travel, 19 Degree collection-lightweight luggage crafted from recycled polycarbonate ideal for international travel, or Alpha Bravo's utilitarian-style luggage suited for any adventure all with limited warranties free with purchase through TUMI.
Features: TUMI's 19 Degree International Luggage is expandable, with 4 recessed, dual-spinner wheels, a hardshell exterior, superior durability and resilience, and is lightweight.
Pros: Customers love the quality, value, color options, functionality, and capacity of TUMI's 19 Degree International Luggage.
You can carry it on board, so you don't have to wait at the turntable and it won't run out. The wheels are quiet and smooth. I'm glad I bought it."
"Only luggage brand I will buy, they do get costly but worth it in the long run. Definitely a quality product."
Cons: Some reviewers found the carry-on to be too small. Other reviewers were not pleased with the color of the luggage. One reviewer reported the luggage tag snapped off.
A mid- to high-range luggage company with an assortment of collections to choose from; luggage pieces can be purchased individually or in sets. From their classic anti-scratch series to their innovative top-opening carry-ons, Hanke offers quality bags in a wide budget range.
Features: Hanke's Underseat Luggage can easily fit in the overhead compartment; has durable spinner wheels; upright 360-degree mobility; durable 5-strand reinforced explosion-proof YKK zipper; a hard case made of 3 layers of polycarbonate; is lightweight; has a scratch-resistant exterior; spacious interior compartments; a telescopic handle; and a TSA combination lock.
Pros: Customers recommend based on the quality, capacity, ease of rolling, size, style, and durability of Hanke's Underseat Luggage.
"So easy to roll and for its compact size, it fits a surprising amount of stuff! Fits under seat or in the overhead compartment, so convenient!"
"Well constructed with a quality finish with spinner wheels. Glides smoothly. Also features a telescopic handle, which I have been looking for. Lots of compartments for convenience and organization."
Cons: Negative reviews noted that the exterior of the luggage scratched easily and some lighter color options, like the beige, showed scuff marks after frequent use.
International Luggage FAQ
Q: What features should I look for in secure luggage for international travel?
A: When selecting luggage for international travel, prioritize features that enhance security and convenience. Look for luggage with TSA-approved locks, which are essential for U.S. travel. Durable zippers and tamper-proof materials add an extra layer of security. Also, consider options with RFID-blocking pockets to protect your digital information. For ease during transit, opt for luggage with smooth-rolling spinner wheels, multiple handles, and expandable compartments for added flexibility.
Q: How do I choose a luggage brand that balances quality and price?
A: Absolutely. For business travel, opt for luggage that is professional and functional. Look for suitcases with dedicated compartments for laptops, documents, and business attire. For leisure travel, versatility and durability are key. Consider hard-shell luggage for rough handling and soft-sided bags for flexibility and extra packing space. Adventure travelers should prioritize weather-resistant materials and ergonomic designs.
Q: What is the ideal weight for a check-in suitcase when traveling internationally?
A: The ideal weight for a check-in suitcase varies by airline, but a general guideline is to keep it under 50 pounds (23 kg) to avoid extra fees. Lightweight luggage is recommended, as it allows you to pack more without exceeding weight limits. Always check the specific airline's baggage policy before traveling.
Q: Can I carry smart luggage with built-in batteries on international flights?
A: Smart luggage with built-in batteries is allowed on most international flights, but the batteries must be removable. Batteries should be carried in your hand luggage and must comply with airline regulations regarding lithium batteries. Always check with your airline for specific rules.
Q: How can I make my luggage stand out so I can find it easily?
A: The choice between hard-shell and soft-shell suitcases depends on your travel needs. Hard-shell suitcases offer better protection against impacts and are generally more water-resistant, making them suitable for fragile items or rough handling. Soft-shell suitcases offer more flexibility and are often lighter and easier to fit into tight spaces. Consider the nature of your travel and what you'll be packing when making your choice.
Q: What are some eco-friendly luggage options for environmentally conscious travelers?
A: For eco-friendly luggage options, look for brands that use sustainable materials like recycled plastics or organic fabrics. Brands like Patagonia and Samsonite have eco-conscious lines featuring bags made from recycled materials. Additionally, choosing high-quality, durable luggage that lasts longer can also reduce environmental impact.
Conclusion
Choosing the right luggage is essential for a comfortable and stress-free travel experience. We hope this article has helped you find the best luggage for your international travel needs. Happy travels!
Expedite Your Passport Now!
Click to Call for Expedited Service!