Israel Entry Requirements - Required Travel Documents for Travel to Israel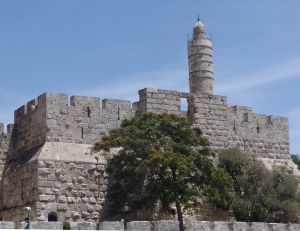 Entering Israel:
A passport valid for six months from date of entry is highly recommended. There is no minimum requirement but one's stay must not exceed the validity remaining on the passport. Also, airlines have been known to decline boarding if the passport has less than 6 months. A visa is not required for stays 90 days or less. Anyone with an official or diplomatic U.S. passport must obtain a visa before arriving. If you have been denied entry, experienced problems with your status during a previous trip, overstayed the duration on a previous visit, or otherwise violated the terms of your admission to Israel, you need to consult the Israeli Embassy or nearest Israeli Consulate before trying to go back. If you seek resident status, you have to get approval from Israeli authorities before you travel. A 10-year ban from travel to Israel may be imposed on anyone who has committed immigration violations.
Entering the Gaza Strip:
Citizens of the United States are discouraged from traveling to the Gaza Strip which is under the control of Hamas, a terrorist organization. American citizens who are already there are encouraged to leave immediately. The U.S. government does not permit its personnel to enter the Gaza Strip, making it difficult for Americans in the Gaza Strip to receive consular assistance.
Entering the West Bank:
While U.S. government personnel are allowed to travel to Bethlehem and Jericho, the Department of State urges U.S. citizens to be cautious when traveling to the West Bank at this time. Please contact the U.S. Consulate General in Jerusalem for additional assistance, if necessary. See the
Travel Warning for Israel, the West Bank and Gaza
for the latest information concerning travel to the West Bank.
Israel-Jordan Crossings:
International crossing points between Israel and Jordan are the Arava crossing (Wadi al-'Arabah) in the south, near Eilat; and the Jordan River crossing (Sheikh Hussein Bridge) in the north, near Beit Shean. American citizens do not need to get visas before entering Israel at either of these crossing points. However, they will have to pay fees that can change without notice.
Allenby Bridge (King Hussein Bridge):
Travelers who want to cross the Allenby Bridge between Jordan and the West Bank must obtain visas ahead of time. (Note: Palestinian Americans with residency status in the West Bank must enter Jordan via the Allenby Bridge.) Residents of the West Bank or Gaza seeking to enter the regions from across the Allenby Bridge should contact the Jordanian authorities for information concerning special clearance procedures for Palestinian ID holders before traveling to the bridge. Procedures for all three crossings into Jordan are subject to frequent changes. Visit the
Embassy of Israel web site
for the most current visa information. The United States Government seeks equal treatment and freedom to travel for all American citizens regardless of national origin or ethnicity. American citizens who encounter difficulties are encouraged to contact the
U.S. Embassy in Tel Aviv
or the
U.S. Consulate General in Jerusalem
.
Security Screening:
The Israeli Government may require security and police record checks for entry applicants. If suspected of Arab, Middle Eastern, or Muslim origin, missionary activity, or political activism visitors may encounter extended questioning from border officials. Requesting that Israeli officials refrain from stamping your passport is also cause for additional questioning or denial of entry.
Israeli-Americans:
Any U.S. citizens with dual nationality or claims to dual nationality will be considered Israeli citizens and subject to Israeli legal and immigration restrictions. Dual citizens must enter and leave the country with a valid Israeli passport, and may not enter Gaza or parts of the West Bank under Palestinian Authority control.
Palestinian-Americans:
U.S. citizens born in the West Bank or Gaza, with a Palestine Authority ID number, or with Palestinian parents or grandparents, may be barred from the Israel without a PA passport. Only the Allenby crossing from Jordan permits Palestinian-Americans to leave with only a PA identity card and exit permit as long as they obtain a visa for Jordan ahead of time. Regardless of U.S. citizenship, individuals with or eligible for a PA ID will be treated as a PA resident by Israeli officials. They may be required to enter and depart the West Bank via the Allenby Bridge unless they have special permission to use another route. Individuals should confirm their departure point upon arrival to avoid problems.