Ethiopia Visa Information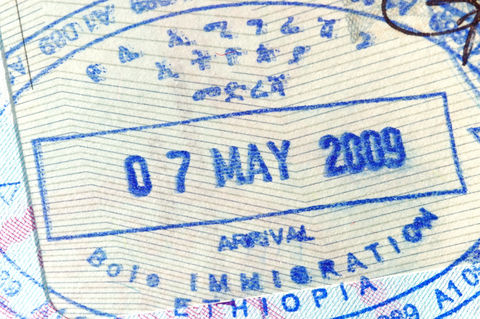 A visa is required of U.S. passport holders to enter Ethiopia. While visas on arrival are available at the Bole International Airport in Addis Ababa, travelers are advised to obtain an Ethiopia visa prior to travel. The general requirements in order to acquire an Ethiopia visa include an American passport valid for at least 6 months, recent passport-size photograph, copy of round trip ticket or itinerary, and a fully accomplished and signed Ethiopia visa application form. Applications are processed in person. You can apply yourself or authorize a third party to represent you. For convenience and quick processing, apply for Ethiopia visa expediting.
Visas are usually valid for 2 years but still depends on the discretion of the Consulate. Maximum stays, however, is fixed at 30 days. It is advised that applicants should just purchase non-refundable tickets and reservations upon approval of visa and passport. US citizens are also required to submit their yellow fever immunization certificate. This, together with their Ethiopia visa, shall be presented immediately upon arrival to Ethiopia. Visitors are also asked to declare how much dollar currency they possess to the customs authority at the airport. To obtain
Ethiopia tourist visa
, the original signed passport with 6 months of validity covering the duration of stay should be submitted to the Consulate. It must have at least one blank visa page for stamping. The visa application should be properly filled out and signed. Submit the form with the original signature together with a recent color passport-size photograph, front view with a light background. You must also secure a flight itinerary or copy of the airline tickets from the airline or travel agency. Tourist visas can be obtained from the Consulate Offices located in Los Angeles, CA and Washington, DC. Single entry or multiple entry tourist visa valid for 2 years costs $70. All requirements also apply for
Ethiopia business visa
. Additional travel documents include a letter from the employer or the sponsoring company, typewritten under the company's letterhead. The letter should introduce the applicant and in his/her position in the company. Furthermore, it should be explained in the letter the nature of work and the purpose of visit. The letter should also guarantee financial support for the applicant's travel throughout the duration of stay. If possible, contact information of the host company or organization must be stated in the letter accordingly. The letter should be signed both by the applicant and a company officer. Business visas cost $70. For holders of diplomatic passport, an Official Letter of Support from the US Department of State is required to apply for an Ethiopia visa. They must also provide a letter stating their travel plans signed by the travel agency under its official letterhead. This should confirm the round-trip travel booking of the applicant. Diplomatic visas can be obtained from Washington, DC and Los Angeles, CA Consulate Offices.
If you are a journalist, filmmaker or professional photographer and wish to travel to Ethiopia to report on a given situation or story, you will require a
Ethiopia journalist visa
. In addition to the standard requirements, you need a application letter detailing the purpose of the trip, proposed dates of travel, locations and some background information about the report or program, your personal information, a list of all equipment to be used during the trip (includin serial numbers) and other relavant supporting documents. If you intend to take films or photos from a plane or helicopter, permission must be sought in advance from the Civil Aviation Authority. This must also be stated in your application letter.
Click the link to
apply for your Ethiopia Visa online
.
Expedite Your Visa Now!