Egypt Visa Information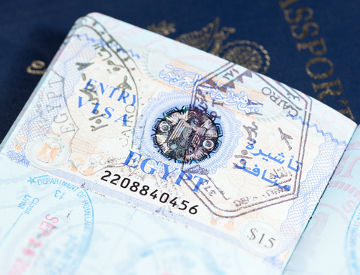 An
Egypt visa in a valid passport is a required document for entering the country. Applicants can apply for either single-entry or multiple-entry visas for the purpose of either tourism or business.
You can either apply for a visa to Egypt yourself or employ the services of a travel document expediter who can obtain the visa more quickly. If you prefer fast, guaranteed service, apply online to expedite your Egypt visa.
Egypt Visa Requirements
For an Egypt visa request, the Egypt Embassy and Consulates require the following:
A passport that is valid for at least 6 months, and a blank page to stamp the visa;
Two copies of the passport data page
Two 2" x 2", recent high definition personal passport photos on white background;
Completed Egypt visa application form plus photocopy;
Proof of travel to Egypt such as an itinerary;
Payment for visa fee (cash or money order only);
A self-addressed prepaid return envelope with postage (FedEx, US Express Mail or US Certified Mail);
Visas for Egypt are affixed in passports on the pages specifically marked for them. Some countries require that visa stamps be placed on those pages that do not contain any other stamps.
Egypt Visa Application Form
There is only one Egypt visa application form for every type of travel visa. The application is only two pages long and can be completed in only a few minutes. Information that is requested includes personal data such as full name, sex, date and place of birth, address and nationality. You are asked to provide your passport number and travel information including dates of travel, port of entry and traveling companions. You also need to list places you plan to visit and whether or not you have ever entered Egypt.
Click the link to open the Egypt Visa Application Form. The Egypt Visa Application is in .pdf format. It may appear very small on your screen depending on the resolution you use but it will print out at normal size. The quality of the application form is not very good so you may need to print using the highest quality your printer has.
Egypt Tourist Visa
An Egypt Tourist Visa is usually valid for a period not exceeding three months and granted on either single or multiple entry basis. You may also apply for an eVisa online.

Click here to expedite your Egypt tourist visa
Egypt Business Visa
Egypt Entry Visa is required for any foreigner arriving in Egypt for purposes other than tourism, e.g. business, work, study, etc. The possession of a valid Entry Visa is needed to complete the residence procedure in Egypt.
For Business visa applicants, you must include a letter from the Company stating the purpose of the trip, duration of stay, and who will be responsible for travel & accommodation expenses.
Egypt Visa Service Online
If you don't live in either the Washington D.C. or San Francisco area, you might want to contract a expedited visa courier service. They will verify your visa application before it is ever sent, thereby avoiding unnecessary delays or rejections. They will hand deliver your application to the consulate services and accompany each step guaranteeing timely and efficient processing of your Egypt visa.
Get an Egyptian Visa at Rush My Travel Visa!
Egypt Travel Resources