Ecuador Travel Requirements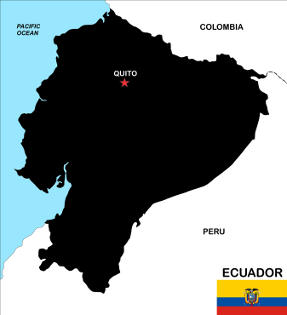 A
U.S. passport with remaining validity of at least six months beyond the intended date of departure is required
to enter and exit Ecuador. Tourists must also provide evidence of return or onward travel. U.S. citizens traveling on regular passports for tourism or business do not need an Ecuador visa for a stay of 90 days or less per calendar year.
Those planning a longer visit must obtain a visa in advance of arrival. Travelers who stay in Ecuador beyond the allowed entry time are charged a substantial fine and may be barred from re-entering Ecuador in the future. Payment of an airport exit tax is also required when departing Ecuador. Travelers are advised to carry a photocopy of the bio page of their passport, entry visa/stamp at all times as proof of legal status, identity and citizenship. U.S. citizens whose passports are lost or stolen in Ecuador must obtain a new passport at the
U.S. Embassy in Quito
or the
U.S. Consulate General in Guayaquil
and present it, together with a police report of the loss or theft, to the main immigration offices in those cities prior to arriving at the airport in order to obtain permission to depart. Ecuador's exit procedures mandate that minors (under the age of 18) who are citizens or residents of Ecuador and who are traveling alone, with one parent, or with a third party, must present a copy of their birth certificate and written authorization from the absent parent(s) or legal guardian. When a parent is deceased, a notarized copy of the death certificate is required in lieu of the written authorization. If documents are prepared in the United States, the authorization and the birth certificate must be
translated into Spanish
, notarized and authenticated by the Ecuadorian Embassy or an Ecuadorian Consulate in the United States. It is not uncommon for local authorities to insist that these documents be apostilled (authenticated). Documents must be apostilled by the same U.S. state that issued the document. If the documents are prepared in Ecuador, only notarization by an Ecuadorian notary is required. This paragraph does not apply to children who enter Ecuador with U.S. passports as tourists, unless they hold dual U.S./Ecuadorian citizenship. For further information regarding entry, exit, and customs requirements, travelers should contact the
Ecuadorian Embassy
at 2535 15th Street NW, Washington, DC 20009; or one of the Ecuadorian Consulates in Chicago; Houston; Jersey City; Los Angeles; Miami; New Orleans; New York; or San Francisco.
Expedite Your Passport Now!