Countries Where Visa Required for Entry
Currently, there are 41 countries that require American citizens get a visa stamped in a valid passport in order to enter them. Most of these are located in either Africa or the Middle East although there are a few Asian and South American countries on the list. Some of the most popular destinations where visas are required include China, Egypt, India, Russia, Thailand and Vietnam.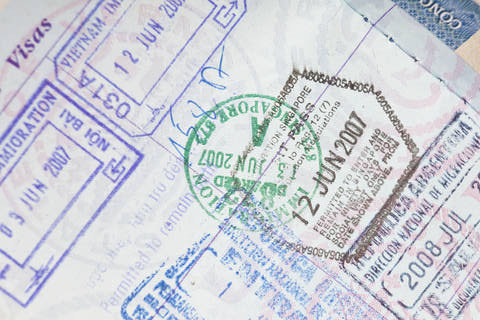 Nearly a third of the countries on the list issue visas upon arrival. Even so, travelers are encouraged to obtain visas prior to departure for the following reasons:
Many of the countries limit the ports of entry where visas are issued, sometimes to only one location.
Some locations can take as long as an hour or more to issue the visa and, oftentime, under great scrutiny.
You might be asked to present documents that you do not have.
Some visas issued upon arrival have a shorter validity period than those issued before arrival.
It is not uncommon for countries who issue visas upon arrival to shut down the program.
There are some countries such as the Philippines where the process of getting a visa upon arrival is usually done without any complications. The best way, however, to make sure you are issued a visa is to apply before you leave the United States. Countries on the list with an asterick issue visas upon arrival. Vietnam requires a written approval before they will issue the visa at a port of entry.
Afghanistan
Algeria
Angola
Australia (ETA)
Azerbaijan
Bahrain*
Bangladesh*
Belarus
Benin
Bhutan
Bolivia*
Brazil
Burkina Faso*
Burma (Myanmar) (eVisa)
Burundi*
Cambodia*
Cameroon
Cape Verde*
Central African Republic
Chad
China
Comoros*
Côte d'Ivoire (eVisa)
Cuba
Congo (Dem Rep)
Congo (Republic)
Djibouti*
Egypt*
Eritea
Ethiopia*
Gabon (eVisa)
Ghana
Guinea
Guinea-Bissau*
India (eVisa)
Iran
Iraq
Jordan*
Kenya (eVisa)
Kuwait*
Laos*
Lebanon*
Liberia
Libya
Madagascar*
Malawi*
Maldives*
Mali
Mauritania*
Mozambique
Nauru
Nepal*
Niger
Nigeria
North Korea
Oman*
Pakistan
Papua New Guinea*
Paraguay*
Qatar*
Russia
Rwanda*
Saudi Arabia
Sierra Leone
Somalia*
South Sudan
Sri Lanka (ETA)
Sudan
Suriname*
Syria
Tajikistan*
Tanzania*
Timor Leste*
Togo*
Tonga*
Turkey (eVisa)
Turkmenistan
Tuvalu*
Uganda*
United Arab Emirates*
Uzbekistan
Venezuela
Vietnam
Yemen
Zambia*
Zimbabwe*
Expedite Your Visa Now!