Colombia Entry Requirements - What Travel Documents Are Necessary for Travel to Colombia?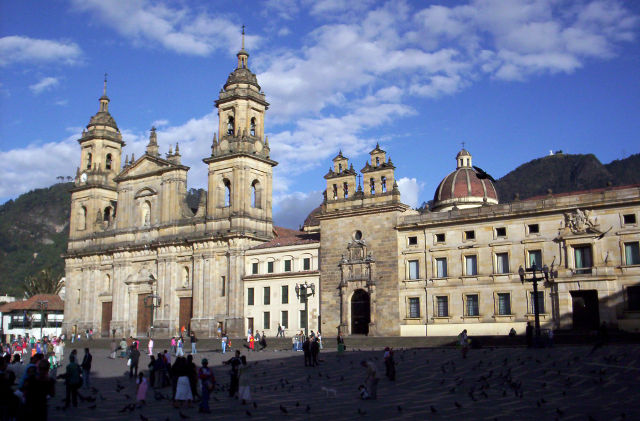 U.S. citizens without dual U.S./Colombian nationality must have a valid U.S. passport to enter and exit Colombia. Dual citizens must have passports for both nationalities: a Colombian passport to enter and depart Colombia, and a U.S. passport to return to the United States. Persons born in Colombia or of Colombian parentage may automatically be considered Colombian citizens and must have two passports.
U.S. tourists may remain in Colombia for
up to 90 days without a visa
. Proof of onward travel is sometimes required. Visitors arriving overland independently or by bus must cross at official border crossings or risk fines or incarceration. A Colombian immigration officer will determine each visitor's permitted length of stay, and fines are common for visitors who remain longer. Visitors are not permitted to leave Colombia until all fines have been paid. Visitors with visas for more than three months must register with Migracion Colombia within 15 days of their arrival. Travelers departing Colombia by airplane must pay a departure tax in cash, unless their airline included the departure tax in the fare. Exemption from this tax may be granted to visitors who take their documents to the Aeronautica Civil desk in the El Dorado international terminal immediately upon arrival and request for an exemption. For more current information on entry/exit and visa requirements, you may visit the
Colombian Embassy website
or at 1724 Massachusetts Ave, NW, Washington, DC 20036. Colombian consular offices are located in in Atlanta, Boston, Chicago, Houston, Los Angeles, Miami, Newark, New York, San Francisco, Orlando, and Puerto Rico.
Question: What do I need to do so my children 9 and 7 years of age can travel alone to visit their grandparents in Colombia?
I am a single dad (my wife passed away 7 months ago). I want my children to visit their maternal grandparents but I cannot travel myself. I have a friend who is a pilot with Jet Blue and flies the Orlando - Bogota (Colombia) route - where my sons would be going.
Do I need to have a letter authorizing them to travel alone? Please let me know what I need to do.
Answer: To prevent international child abduction, Colombia has implemented special exit procedures for Colombian children under 18 who depart the country alone, without both parents, or a without a legal guardian.
When exiting the country, a certified copy of the child's birth certificate, along with a written, signed, and notarized authorization from the absent parent(s) or legal guardian must be presented. The authorization must be notarized by a Colombian authority and explicitly grant permission for the child to travel alone, with one parent, or with a named third party. If a parent is deceased, a notarized copy of a death certificate is required. If one parent has sole custody of the child, that parent may present a custody decree instead of the other parent's written authorization. In cases where a Colombian citizen or dual national child has been adopted in a U.S. Court, the adoption decree must be legalized (Exequatur) by the Colombian Supreme Court.
Minor children who travel by air without an accompanying adult are referred to as "unaccompanied minors". You need to inform the airline that your children will be flying unaccompanied when you book the flights.
Jet Blue charges a fee per child for unaccompanied minors. This fee must be paid at the time you book the flights.
You must provide photo ID when dropping off your children for their flight and the person who picks them up in Bogota must also present photo ID.
Note, each airport has its own rules and regulations, also. You need to check with the Orlando and Bogota airports concerning this matter.
For more information about specific instructions about unaccompanied minors traveling on Jet Blue to Colombia, click the link below.
Jet Blue Instructions for Booking an Unaccompanied Minor
U.S. citizen children who travel outside the United States by air are required to present a valid passport. If you need to obtain a passport for your children, click the link below.
Expedite Your Passport Now!