Cambodia Visa Information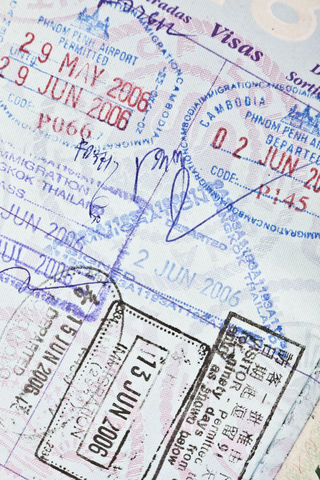 Application for a Cambodia visa can be made at the Embassy of Cambodia, a Cambodian Consulate, online via their e-visa service or through a expedited visa courier service prior to departure from the U.S. All you need is a valid passport and a passport-size photograph. U.S. citizens can also obtain a tourist visa to Cambodia upon arrival. A visa fee of $30 (tourist) or $35(business) should be paid directly to the Department of Immigration which is situated right across the Pochentong Airport in Phnompenh. Visas are also issued at Siemreap Airport in the Angkor Wat Region and other border crossings.
Those who prefer to get a visa before leaving the U.S. can visit the Embassy of Cambodia located at 4530 16th Street NW, Washington, DC 20011. Visa application requires you possess a
passport with at least 6-month validity
covering the date of entry to Cambodia. You can also apply through an expediting service for speed and/or convenience. Travelers who are unable to visit the embassy can apply online to
expedite visa for Cambodia
.
The Cambodia visa is valid up to 30 days from the date of issue. This must not be misconstrued with the date of entry. If visitors wish to extend their visa, it can also be arranged at the Immigration. Visas, however, may only be extended for up to 30 days. Cambodian immigration strictly implements overstaying fines on an expired visa. If the overstay is 30 days or less, there will be a $5 penalty per day. If overstay is longer than 30 days, the rate will be $6. It has to be noted that Cambodia visa is only given as single entry visa. If the travel requires two entries, the second entry should also be obtained upon arrival. US citizens who will be visiting or residing in Cambodia are encouraged to register with the US Embassy in the country located at No. 1 Street 96 (near Wat Phnom), Phnom Penh, Cambodia. They may also visit the State Department's travel registration website to do so and to obtain travel advisories in the Cambodian borders.
To obtain Cambodia tourist visa, applicants should submit their US passport valid for at least 6 months; a fully accomplished and signed visa application form; recent passport-size photograph; and a copy of the applicant's travel itinerary.
For a
Cambodia business visa
, passport requirement should be up to 6-month validity. Other documents needed for processing include the visa application form, recent passport-size photograph, travel itinerary and a business letter of financial responsibility typewritten on the company's official letterhead. The letter should be addressed to the Embassy of Cambodia, Visa Section, Washington, DC. It should explain in detail the purpose of visit and a guarantee of financial support for the applicant during the visit. The Embassy must also receive a letter of invitation from the host company or organization to be visited in Cambodia. Cambodia visa processing time is usually not less than 5 business days. Click the link to
apply for your Cambodian Visa online
.
Expedite Your Visa Now!