Brazil Tourist Visa Guide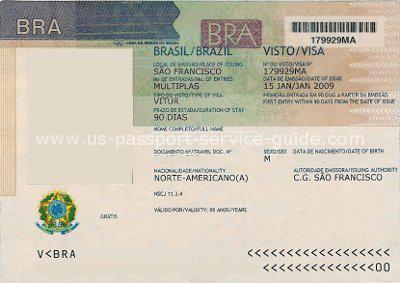 The Brazil tourist visa is for foreigners who enter the country for tourism, to visit friends or relatives, or to participate in seminars, meetings and amateur sports competitions. This type of visa allows you to stay up to 90 days within the country during the first 12 months following the issuance of the visa. There can be multiple entries during this period.
According to the Consulate General of Brazil in San Francisco, "Brazilian tourist visas are valid for multiple entries within the period of time shown on the visa stamp." If you are granted a visa, you must enter Brazil within 90 days of receiving the visa. If you decide to remain in Brazil beyond the 90-day limit, you can request a one-time extention of 90 days. However, your request should be made at nearest post of the Brazilian Federal Police Department at least 30 days before your time expires. Those with a Brazil tourist visa cannot engage in any paid activity. The time it takes to issue a tourist visa to Brazil depends on the consulate to which you are applying. Some consulates offer next-day processing while others take as much as 15 business days. The Brazil tourist visa fee is $160 for applications submitted at the counter of the embassy or a consulate. If you apply through a third party or by mail (when permitted) there is an additional fee of $20. If you submit the application personally, there is no handling fee applied. The Brazilian government requires this fee because it is the same value that the United States charges a Brazilian to acquire a U.S. visa due to the principal of reciprocity. Additional fees apply if you wish to expedite your application.
Click here to expedite your Brazilian visa
Expedite Your Passport Now!
Click to Call for Expedited Service!