Bhutan Entry Requirements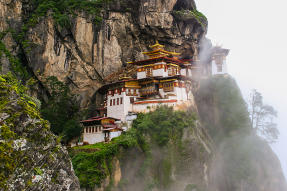 Independent travel is not permitted in Bhutan. Visitors are required to book travel through a registered tour operator in Bhutan. This may be done directly or through a travel agent abroad. You may check
Association of Bhutanese Tour Operators
for information on accredited tour operators.
Further information may be obtained through the
Bhutanese Department of Tourism
, PO Box 126, Thimphu, Bhutan. A non-negotiable daily tariff is set by the Bhutanese Department of Tourism, which includes all accommodations, all meals, transportation, services of licensed guides and porters, and cultural programs. The rate is the same for both cultural tours and treks. Travelers should contact the Department of Tourism for the latest daily tariff. A
passport valid for at least 6 months and visa are required
for entry into and exit from Bhutan. Visa and clearance applications are available from selected travel agencies; visas are granted for the scheduled travel period. Most visitors, including those on official U.S. government business, should obtain visas prior to entering the country. Upon arrival, a visa stamp will be affixed on your passport after payment of USD $40. You would also need to present two passport photos. For additional and current entry/exit information, please contact the
Tourism Council of Bhutan
.
Bhutan Travel Resources
Expedite Your Passport Now!