The 10 Best Beaches in Brazil
One of Brazil's high points in certainly its natural beauty. The Brazilian coast has a little over 7.000 km² in extension and international fame for having the prettiest beaches in the world. In Brazil it's possible to find a variety of beaches, gorgeous and with very specific characteristics. Some draw more attention than others and that's why we made the following list with the most beautiful beaches in Brazil:
Copacabana Beach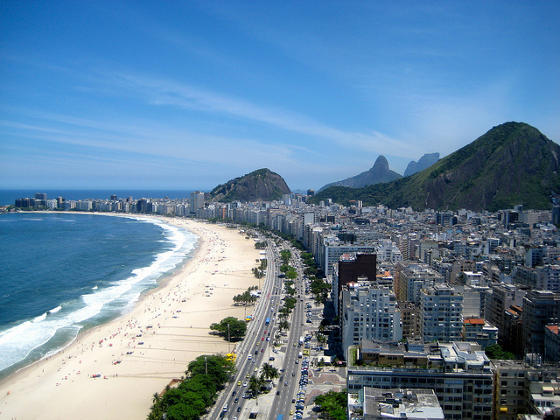 Located in Rio de Janeiro, Copacabana Beach probably does need more introductions. It's considered one of the most famous beaches in the world, where it's possible to find a mixture of history, glamour and buzz.
Antigos e Angiguinhos Beach
The beach is located in the city of Paraty, Rio de Janeiro. It's access is only possible by going up and through a hill and can only be done by foot, because the approximation of cars in the location is prohibited. When arriving, you can find two beautiful beaches very charming and deserted separated by a path of rocks. It's visuals is composed of mountains and white, fluffy sand.
Rosa Beach
Located in the city of Imbituba in Santa Catarina. Rosa Beach is known for its natural beauty where environmental protection is put to practice in a very efficient way. There it's possible to see Right Whales.
Frances Beach
Located in Alagoas, Frances Beach is known for its division. The left corner of the beach is the most trendy, where you can find many restaurants and bars. In the right corner is more wild and aimed at surf, due to it's strong waves.
Pipa Beach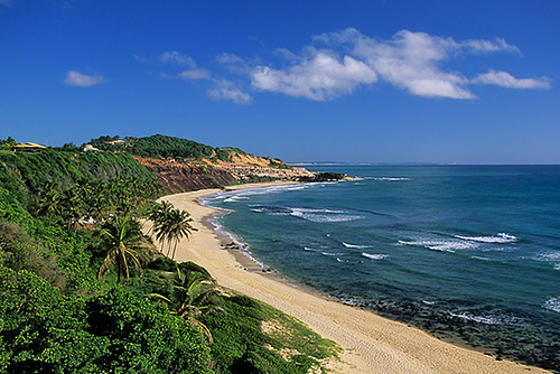 © Gisa ~ CCBY-SA
Located in just 85 km from Natal, Pipa Beach is known for its parties. It's one of the beaches with the most tourists. Pipa is known as an international point of surf and flirting. It's a very well organized place, where growth and development hasn't taken away the natural characteristics of the place. In Pipa there's many options for both day and night.
Jericoacoara Beach
Jericoacoara Beach is located in the state of Ceará and is part of the National Park of Jericoacoara, in the city of Jijoca. The scenery of the beach counts with big cliffs and rivers of crystalline water between its sand dunes. All of these stunning and wild visuals were preserved thanks to the fact of Jericoacoara being transformed into an area of environmental protection in 1984. There isn't any defined road to the beach. Its access is only possible if guided by a local person. The sand dunes, when moving, end up covering up any road trail in the place.
Espelho Beach
Known for the transparency of its waters, Espelho Beach is located in an area of environmental protection in the south coast of Bahia, between Caraiva and Trancoso. Its environment is composed of a piece of the Atlantic Forest, still preserved, mangues, cliffs and warm and crystalline waters. The entry of cars is prohibited in the location, which helps a lot with its preservation.
Forte Beach
Situated 50 km to Salvador, in the city of Mata de Sào João, Forte Beach is one of the destinations most sought after by tourists. Its access is easier by taking the Estrada do Coco. Besides its natural beauty, Forte Beach also offers a bit of culture and history to its visitors. There you can find ruins of an old fort, known as Castelo Garcia d'Avila. It was built in the 17th century with the purpose of protecting the city of Salvador from the invasion by the French.
Porto de Galinhas Beach
Situated in the state of Pernambuco, Porto de Galinhas has been elected more than 10 times as the best beach in Brazil. It is known for its white sands and transparent, warm waters. When getting to know Porto de Galinhas, it's possible to take the famous jangada to the natural pools. The location serves as a home for an enormous ecosystem, with it's crystalline waters and reefs.
Sancho Beach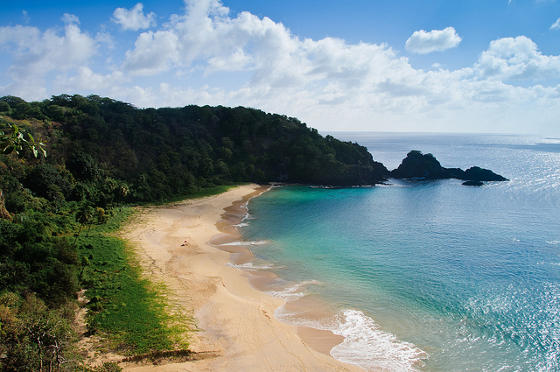 Considered the most beautiful beach of Fernando de Noronha. The access is only possible through the ocean, with a boat ride or going down the 30 iron steps nailed in open rift in the middle of a rock. After arriving to the beautiful strip of white sand, it's just a matter of enjoying the scene.
Click here to expedite your Brazilian visa
Brazil Travel Resources
Get reliable expedited Brazil visa service
Brazilian Portuguese - The Ultimate Course (Level 1)