Bangladesh Entry Requirements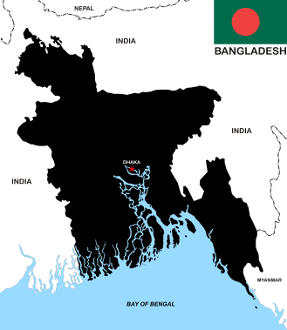 A passport with at least one blank visa page and six months validity beyond your intended stay, a visa and onward/return ticket are required to enter Bangladesh. Although airport visas (landing permits) are available to U.S. citizens upon arrival by air, the U.S. Embassy in Dhaka does not recommend this option for most categories of travelers as working hours may not coincide with flight arrival times and precise formalities can vary.
Securing your visa in advance is strongly recommended
.
Those in a hurry can employ the services of a registered expediting service courier in order to
get a visa to Bangladesh quickly
. Visas are typically issued with validity for the exact duration of your intended stay, which may be up to 30 days. A visa fee of USD $160 must be paid to the embassy or consulate. Passport sized photos for your visa may be taken at the airport. If you plan to travel extensively in the region, you need to apply for a multiple-entry visa before arrival in order to return to Dhaka. Future NGO workers in Bangladesh should ask for updated information from their sponsor to ensure that they obtain the correct visa. Changing your immigration status after entering Bangladesh can be difficult and time consuming. Long term visitors or foreign nationals who plan to enter Bangladesh to work must obtain clearances and permits prior to arrival. Increased financial penalties may result from overstaying visas. Visitors who overstay for more than 90 days may violate the Foreigners Act of 1946 and can be charged accordingly. Please check with the nearest
Bangladeshi Embassy
or Consulate before traveling, or visit the Bangadeshi Immigration Police web site at www.immi.gov.bd, which provides further details on rules relating to foreigner registrations. Expiring visas may be extended at the Directorate of Immigration and Passport, located at Sher-e-Bangla Nagar, Agargaon, Dhaka. They can be contacted at (880-2) 913-1891 and 913-4011. The fee for the new visa is US $160 plus taxes. Exit taxes are implemented to all passengers departing by air. The amount varies depending on the destination; exit taxes are most expensive when you are headed to the United States. Children under two years of age and passengers transiting through Bangladesh under 72 hours are exempt from this rule. Those who are departing Bangladesh via land travel must secure a road permit from the Director General of Immigration and Passports in Dhaka. Travelers are not allowed to exit Bangladesh with more than 5000 Bangladesh Taka (BDT). Any amount in excess may need to be surrendered to customs officials. Foreign travelers must have at least USD $500 in cash or on a credit card and may carry up to USD $5000 into the country. You cannot leave with more USD than you initially declared.
Bangladesh Travel Resources
Expedited Bangladesh visa courier services
Instant Immersion Level 1 - Bengali [Download]
Bangladesh, 2nd (Bradt Travel Guide)
Bangladesh 1:750,000 Travel Map (Travel Reference Map)
Expedite Your Passport Now!