Bangladesh Entry Requirements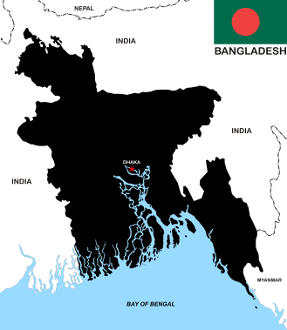 Bangladesh requires U.S. citizens entering the country to have a valid passport with at least 6 months of validity remaining past the date of entry and at least two blank pages. Travelers must also be able to present a return or onward travel ticket at time of entry.
Visitors to Bangladesh must also have the appropriate visa. Although airport visas (landing permits) are available to U.S. citizens upon arrival by air, the U.S. Embassy in Dhaka does not recommend this option. Securing your visa in advance is strongly recommended.
Those in a hurry can employ the services of a registered expediting service courier in order to get a visa to Bangladesh quickly.
Visa Requirements in Bangladesh
Bangladesh Visas are typically issued with validity for the exact duration of your intended stay - which may be up to 30 days. A visa fee of USD $160 must be paid to the embassy or consulate. Visas must be presented at both entry and exit of the country. Passport sized photos for your visa may be taken at the airport.
If you plan to travel extensively in the region, you need to apply for a multiple-entry visa before arrival in order to return to Dhaka. Future NGO workers in Bangladesh should ask for updated information from their sponsor to ensure that they obtain the correct visa. Changing your immigration status after entering Bangladesh can be difficult and time consuming.
Potential Issues
Visa on arrival
The U.S. Department of State recommends obtaining your Bangladesh visa well in advance of your travels. The visa on arrival services offered at Bangladeshi ports of entry have become increasingly inconsistent. In some cases, there is no staff on hand (particularly common when arriving at particularly early or late hours). In other cases, officials have refused entry to U.S. citizens who met all the defined requirements.
Overstaying a visa
Bangladesh imposes strict penalties for remaining in the country longer than your visa allows. Similarly, the process to extend a stay or otherwise revise an issued visa is often time-consuming and expensive.
The fees and penalties for overstaying a visa are as follows:
1 to 15 days past expiration - 200 Bangladeshi taka per day + 160 U.S. dollars (or equivalent in Bangladeshi taka) processing fee
16 to 30 days past expiration - 500 Bangladeshi taka per day + 160 U.S. dollars (or equivalent in Bangladeshi taka) processing fee
31 days or more past expiration - Adjudication at immigration office
These policies are outlined and updated on the Bangladeshi Immigration Police website.
Long term visitors
Foreign nationals who plan to enter Bangladesh to work must obtain clearances and permits prior to arrival. Visitors who overstay for more than 90 days may violate the Foreigners Act of 1946 and can be charged accordingly. Please check with the nearest Bangladeshi Embassy or Consulate before traveling, or visit the Bangladeshi Immigration Police which provides further details on rules relating to foreigner registrations.
Lost or expired Bangladesh visas
A Bangladesh visa must be in a valid passport.
In Bangladesh, visas must be presented at both ports of entry and exit. This means if you were to lose your travel documents during your stay in the county, you will need a replacement as soon as possible to avoid overstaying your approved visit.
Expiring visas may be extended at the Directorate of Immigration and Passport, located at Sher-e-Bangla Nagar, Agargaon, Dhaka. They can be contacted at (880-2) 913-1891 and 913-4011. The fee for the new visa is US $160 plus taxes.
Exit taxes
Exit taxes are implemented to all passengers departing by air. The amount varies depending on the destination; exit taxes are most expensive when you are headed to the United States. Children under two years of age and passengers transiting through Bangladesh under 72 hours are exempt from this rule.
Those who are departing Bangladesh via land travel must secure a road permit from the Director General of Immigration and Passports in Dhaka. This includes a cash deposit based on the value of your vehicle.
Currency regulations
Travelers are not allowed to exit Bangladesh with more than 5000 Bangladesh taka (BDT). Any amount in excess may need to be surrendered to customs officials. Foreign travelers must have at least USD $500 in cash or on a credit card and may carry up to USD $5000 into the country. You cannot leave with more USD than you initially declared.
Note: Bangladeshi taka will not be exchanged for U.S. dollars anywhere in the country unless you can produce your ticket or documentation for travel outside of the country.
Click here to expedite your Bangladesh visa.
Expedite Your Passport Now!