Form DS-4085: Application to Add Visa Pages to a Passport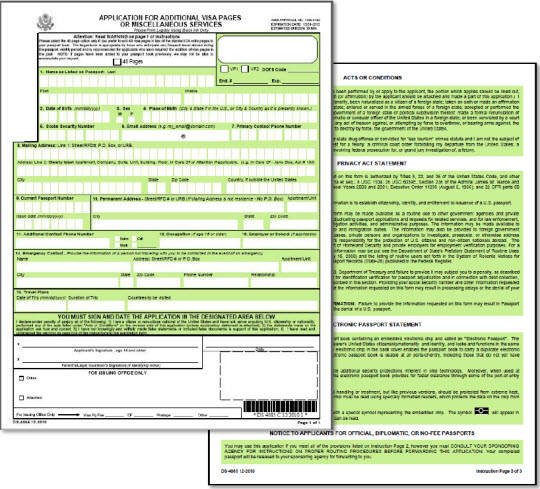 IMPORTANT:
Effective January 1, 2016, The U.S. Department of State no longer issues additional visa pages. This service has been discontinued to enhance the security of U.S. Passports and to adhere to international passport standards. Applicants in need of additional pages in their valid passports must apply for a passport renewal by mail or, in the case of a passport issued to a minor, obtain a new passport. Frequent travelers can apply for 52-page passports instead of the regular 24 pages for no additional cost.
Application Form DS-4085
should be submitted when applying to add visa pages to a valid passport. You should only submit the application form if your passport has between 2 and 4 visa pages remaining in a currently valid United States passport. If you only have a year or two of validity, you might consider
applying for a passport renewal
.
How to Submit Form DS-4085:
The instructions are straight-forward and easy to understand. There are three steps to the process.
STEP 1: Complete and Print Form
Follow the instructions below to download the passport application form DS-4085:
Right click on the link below.
Select "Save Target As..."
Choose the folder where you want to save the form.
Click on "Save"
Click the link to open the form in PDF format:
Form DS-4085: Application to Add Visa Pages to a Passport(PDF)
. The first section of Form DS-4084 provides space for personal information such as the name listed on your passport, date of birth, place of birth, sex, social security number, email address, primary contact phone number and mailing address. Below this is a place for your current passport number and issue date. Then, you input your current address and an additonal contact phone number, occupation and employer. This is followed by a place for emergency contact information and travel plans. Finally, there is a place to sign the application.
STEP 2: Sign and Date the Form
The place to sign the application form is at the very bottom of page one. Right above is a place to check whether or not you are submitting the form in connection with an
application for a new passport
.
STEP 3: Submit Completed Form DS-4085 and U.S. Passport
You should mail the completed form and currently valid passport to the address on the application along with the
current fee
. You are encouraged to use a traceable delivery method.
How long does it take to process Form DS-4085?
Standard processing time is estimated to take between 4 and 6 weeks.
Expedited processing
takes up to 3 weeks to complete. If you need have the visa pages added more quickly, you either have to visit a
regional passport agency
or, if this is not possible, request the assistance of an
express passport expediter
,
Click for expedited passport courier service in 24 to 48 hours!
.
Expedite Your Passport Now!
Click to Call for Expedited Service!