Visiting Istanbul Turkey: Historical & Culture Tourist Attractions in Istanbul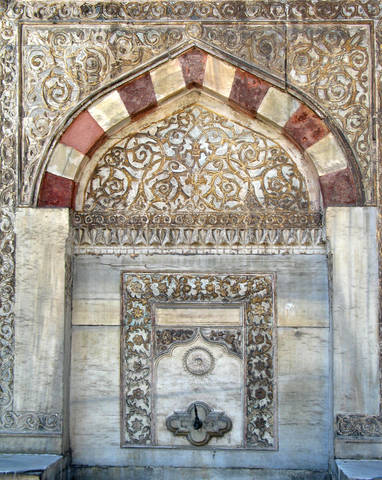 Turkey has so many wonderful destinations to explore but by far the most popular destination for international tourists is Istanbul, the country's largest city. Over 8 million tourists come to Istanbul every year and it's easy to see why: Istanbul is an exceptional city, unique and like no other in the world, and whether you enjoy the cityscape or not, this is a city that has to be experienced at least once in your life! But why is Istanbul such a magical city? Maybe it̢۪s the fabulous variety that you can experience here. The city will appeal if you enjoy ancient history, but this isn't the only reason why people come; Istanbul has a very modern side too that actually surprises many visitors. Away from the historic peninsula there's a vibrant, modern and cosmopolitan face to this city that includes tall, modern buildings and the largest shopping mall in Europe. Despite Istanbul's vast size and population there are still places that you can get away from the hustle and bustle too, cruising down the Bosphorus, or by taking the ferry to the Princes' Islands.
Historic Istanbul
Many of Istanbul's visitors will come first and foremost to experience the historical side of the city, with the rest being a wonderful and unexpected bonus! Try to imagine Istanbul in the year 660BC when the city was first established as Byzantium by ancient Greeks. Other civilizations came and went too, but most significant were the Romans and then the Ottomans, the latter of whom came in 1453 and had the largest influence on the area of the city now known as the Sultanahmet (or historic) peninsula. For history lovers this is where you will concentrate most of your time because it's home to many of the defining images of Istanbul: Aya Sofya, the Blue Mosque, Topkapi Palace, and the Grand Bazaar, are all located here, and there are remnants of Roman times too.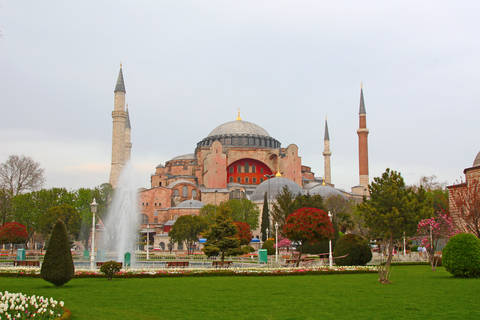 Aya Sofya (also known as Hagia Sophia) offers more than 1,400 years of history. It served as a cathedral and was the largest in the world for almost 1,000 years, then as a mosque, and now as a museum. Its vast size is awe inspiring especially considering it was built in just five years, between the years 532 and 537. Just across a beautiful square of greenery and fountains is another vast landmark of Istanbul, the Blue Mosque. Officially named the Sultan Ahmet Mosque it is around 400 years old and is still used today as one of 3,000 working mosques in the city. Non-Muslims are allowed to enter the mosque outside of prayer times, provided you dress appropriately, and a tour of the building and huge inner courtyard is highly recommended. Topkapi Palace sits on the tip of this historic peninsula and like the other two major landmarks in this part of Istanbul, the palace is vast too! It was built from 1459 and served as the home of the Ottoman sultans for an amazing 400 years. Today it is preserved as an important piece of history and its hundreds of rooms and courtyards can be toured. Though there are numerous other attractions in the historic heart of Istanbul, the Grand Bazaar is the most popular. It is set a little up the hill from the three landmarks mentioned above, and can be reached on foot or by using the tram. The Grand Bazaar really presents the best opportunity to step back in time with its 61 covered "streets" and thousands of stores, it hasn't changed much at all since it was first built over 500 years ago. Whether you want to shop for souvenirs, designer clothes and accessories, Turkish rugs, porcelain, or anything else for that matter, you can find them all here, in one of the largest and oldest covered markets in the world!
Enjoying the Bosphorus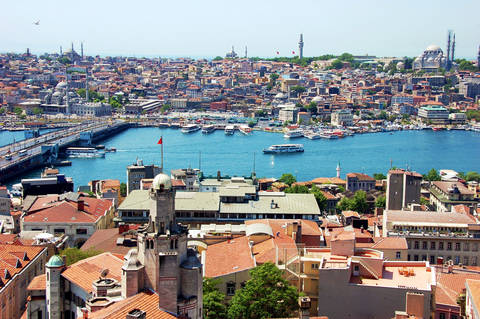 The Bosphorus, also known as the Istanbul Strait, helps create Istanbul's magical setting and forms the divide between Europe and Asia. There are two impressive bridges spanning this divide and ferries dart back and forth between the continents. The ferries are a very reasonable form of travel and can be used to go up and down the Bosphorus too, to a certain extent, or there are specific boat cruise companies who provide tours with live commentaries. Ferries also operate to the Princes' Islands and if you want to enjoy an escape from the city for a day, this is the place to come. Situated in the Sea of Marmara, life here heralds back to days gone by; there are no motor vehicles, only horse and carts to get you around, so this really is a peaceful place if you can try to ignore the fact that hundreds of tourists like yourself have come to relax and enjoy the peace and quiet too!
Written by Claire Bolgil
Popular Turkey Tours
Plan ahead and get the best deals on bestselling tours in Turkey.
More Turkey Travel Information
Turkey Travel Resources
Learn to Speak and Understand Turkish
Expedite Your Passport Now!
Click to Call for Expedited Service!