Unique Kiev Attractions
by Vladyslav Borusovych
(Kiev)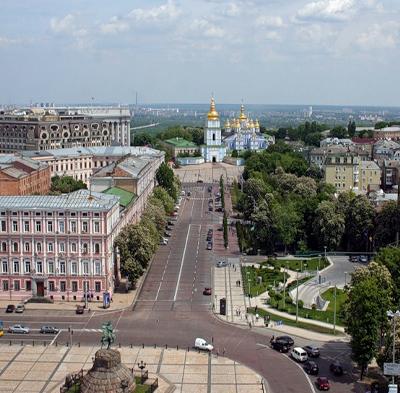 View of Kiev from Sophia Bell Tower
If you are going to visit Kiev - whether it is for leisure or business, seeing main Kiev sights is a must. Of course like any other big and old city, Kiev has popular and common things to see and some unique places to visit.


Main Kiev sights you can find in any travel guide about the city or read on the program of any Kiev tour include Saint Sophia Cathedral (built in 11th century), the Pechersk Lavra cave monastery - religious complex that was founded in 11th century and other churches built till know.
Another popular attraction is a statue of "Mother Motherland" - a heritage from Soviet Union times. Andrew's Church, Michel's Golden Domed Monastery, St Volodymyr Cathedral - Kiev is very rich in churches. But aside from the main Kiev sights, let me tell you about my favorite places that aren't listed in common Kiev guides.
Kiev Museum of Micro Miniatures:
Museum of micro miniatures is situated in the territory of Kiev Pechersk Lavra and is easy to find. In the museum's collection are presented works of only one artist- Nicholai Syadritsky - but what an artist! This man had a unique gift - he could create an extremely small beautiful things. Here are some museum expositions:
* the smallest electric motor (1/20 mm3) - this device is almost 20 times smaller than a poppy seed
* rose in the hair. Within the
hair along it's length there is a drilled cavity. This cavity is polished to transparency. Inside is inserted a rose leaf that is 0.05 mm thick.
* Caravan of camels in the golden needle's eye.
* on the glass leaf of chrysanthemum of the size 2x5 mm is engraved a piece of a polonaise of Oginski
* on half of the poppy seed is located a windmill made of 203 gold details.
Kiev's Toilet History Museum:
There are just a few museum of toilet's history in the Europe and one of them is situated in Kiev. You think it's funny? Yes, it's funny and it's pretty educational. Well, pardon me, but is it not vital to know the history of a thing that you use every day? Museum shows the history of "toilet development", it has a collection of different toilet seats, "toilet humor" and so on.
Climb up the St. Sophia Cathedral Bell tower in Kiev. The Saint Sophia Cathedral was mentioned in the beginning of this article as one of the most popular Kiev attractions. At the entrance to the territory where the cathedral stands is a bell tower built in the 18th century. Even today that Kiev is widely being built up by modern high-rise buildings, if you climb the St. Sophia Bell tower, you'll get one of the best views on Kiev.
More Ukraine Travel Information