Ukraine Travel Guide: Things to Do & Places to Go
If you plan to travel to Ukraine, the information below will help you make the most of your trip. You will discover facts about the people, culture, climate, food, dress, holidays, top things to do and popular places to visit of this fascinating country.
Things to Do | Places to Visit | Ukraine Maps | Travel Resources
Get to Know Ukraine
Ukraine became one of the founding states of the Soviet empire in 1922. Prior to that, control of the Slavic country went through many hands, from Kievan Rus' to the Austro-Hungarian complex. It became independent on July 16, 1990. Ukraine is situated on the very North side of the Black Sea.
The Ukrainian People
Approximately three quarters of the residents of the Ukraine are ethnic Ukrainians. The remaining quarter of the population is made up of ethnic Russians, Jews, Poles, Armenians, Crimean Tartars, and others.
One of the main reasons for the diverse makeup of the demographics in the Ukraine is the spike in immigration that occurred in the first few years following the declaration of independence. Most of the immigrants arrived from the other former Soviet republics.
A Temperate Climate
Along the southern coast, the climate has a temperate, Mediterranean flavor. The winter only brings cool, not cold, weather to this region. Further inland, heading north, the winters become steadily colder.
Average annual temperatures in the north range from 41.9 to 44.6 degrees. In the south, it comes in at 51.8 to 55.5 degrees. Rainfall is highest in the north and west and lowest in the east and southeast. For instance, western Ukraine typically averages 47.2 inches while 15.7 inches is the norm in the southeast.
Holidays
Ukrainians are fond of their holidays. Many are religious such as Orthodox Easter which occurs two weeks after the Catholic Easter. On Easter evening, people gather in the local church to spend the entire night, enjoying Easter cake and bottles of wine.
Other holidays continue the communist past. May Day is widely celebrated but its meaning is shifting from a workers theme to a nature theme. International Women's Day is the first holiday in the spring, falling on March 8. It had its inception in the Soviet Union and the purpose was to make women's salaries and working conditions equal to their male counterparts.
Ukrainian Currency
The Hryvnia, has been the official currency in the Ukraine since September 2, 1996. The rate of exchange can be expected to be around 1 Hryvnia to $0.20 U.S. You can exchange currencies at most banks in the country as well as other authorized points.
There are bills for 1, 2, 5, 10, 20, 50 and 100 Hryvnias and coins for 1, 2 ,5 10, 25, and 50 kopiyka. One kopiyks is worth 1/100 of a Hryvnia, similar to the American cent.
Food to Enjoy
Many meals in the Ukraine begin with a steaming bowl of Borshch, which is basically a vegetable soup. It's difficult to categorize, though, because each region has its own favorite version. Some sources count over thirty recipes!
Breads are an important part of Ukrainian cuisine. More than just a staple, it is also common to dress it up and serve it for celebrations, such as Easter.
The main course can be almost anything you want; It might be Pyrohy (baked or fried dumplings), Pechenya (veal, beef, pork, or lamb roast), or wild game when it's available.
Dress - Everyday and Ceremonial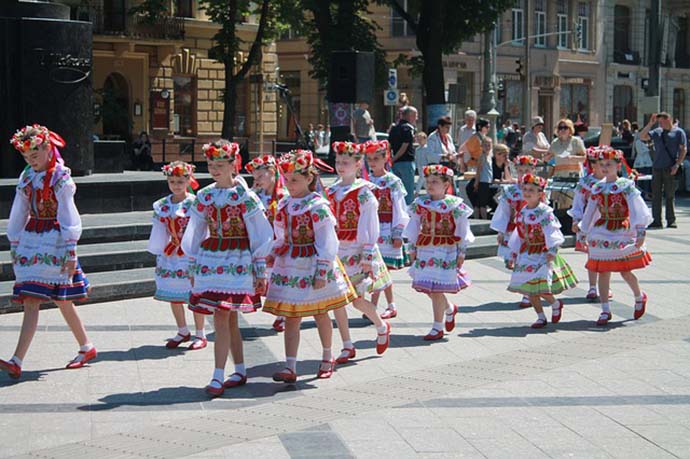 For everyday circumstances, Ukrainian dress mirrors European dress. But for special circumstances, folk costumes are worn. For women, this means long skirts worn with blouses, head wraps or scarves, and sashes. All of these are embroidered with time-honored folk motifs. Bright red is the most popular color used in folk dress.
Transportation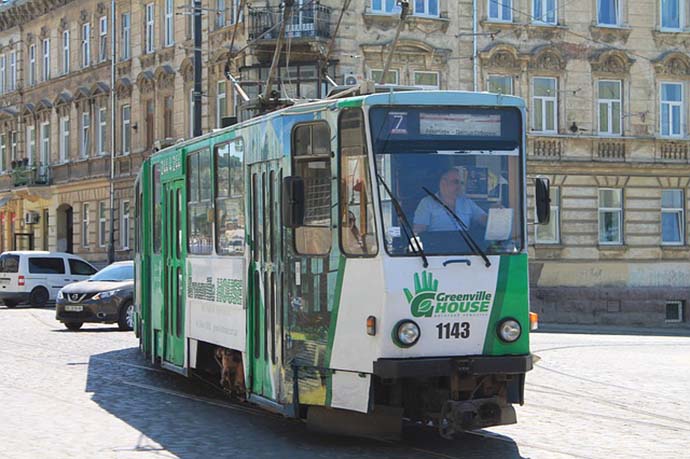 Travel in the Ukraine is very accessible. All the major cities have airports, and the roadway system is highly developed to facilitate travel by rental car. Train travel is an enjoyable way to get around the country. Kiev's Railway Ticket Office can provide a ticket but the lines are long. It's preferable to use a ticket agency.
Most major cities have an efficient bus system and some operate trams. Of course, Uber, Lyft and other ridesharing services are available, also.
Necessary Travel Documents
The entry requirements to Ukraine vary depending on the purpose of your trip. Tourist visas are not needed for entry for citizens of the United States, the European Union, Switzerland and Liechtenstein. The caveat is that the visit can only be for a maximum of ninety days. Of course, that is far more days than most travelers stay. A valid travel passport is required in all cases. Visas are required for diplomatic travel, education, or employment.
If you want to take a trip to Eastern Europe, then one of the best places for you to go to is
Ukraine
. Whereas Russia is the biggest in terms of the land area, Ukraine is, on the other hand, the richest in terms of what it has to offer. Ukraine is the second largest country in Eastern Europe, and its cultural heritage is probably the best it can offer to you as a foreign visitor.
1. Libraries
You will find an extensive list of libraries in Ukraine dedicated to a variety of concentrations. For one, there is the Ukrainian Academy of Science, the biggest in the country, so be sure to visit this library if you want to get to know more about the culture of Ukrainians. There are many other libraries in Ukraine, ranging from topics of religion, politics and works of fiction.
2. Historical Museums
The rich history of Ukraine has spawned a lot of museums. One notable museum is the Historical Museum of Ukraine where you can get a glimpse of Ukraine's history just by a tour of the museum. Other famous museums include the Museum of Historical Treasures and Museum of Ukrainian Art.
3. Churches
Another good thing about Ukraine is its magnificent and beautiful churches. These churches are inspired by different architectural styles. Two world-famous churches are in here - the Church of Saint Andrew and Cathedral of Saint George, both of which are found in Kyiv.
4. The City Capital, Kyiv
The most interesting city you must visit if you are in Ukraine is the country's capital - Kyiv. Because most of the structures and buildings in the area were destructed during the World War II, a vast regeneration of the place was done throughout the past, recent years. Thus, Kyiv will come off as a very modern place probably similar to your hometown.
5. Waters in Ukraine
A lot of bodies of water can be found in Ukraine. The most abundant of which are rivers. In Ukraine are found some of the largest river bodies in Europe, and this will prove to be a great experience if you are looking for a bonding experience with your family.
6. Natural Reserves and Wildlife
Another thing Ukraine is proud of is its natural reserves and wildlife refugees. Ukraine is home to a number of endangered species, which is why it has taken the important move to protect its wildlife. You ought to visit the zoos and reserves in the place to get a glimpse of animals you can only see in this country.
7. Literature
You should never leave Ukraine without having a taste of their native literature. The thing about Ukraine's literature is that it manifests directly the history of the country. Its literary topics include poems, Christian verses, and political novels and books dealing with social realism. You should read or buy a book in Ukraine while you're at it.
8. Theaters
Ukrainian culture has procreated a lot of original works in the arts and letters. In theater, the same can be said for no less. The theaters in Ukraine hold concerts and ballet performances which have been deemed as world class by critics and fans alike.
9. Art Exhibits
Again another proof of the rich cultural ancestry of Ukraine is its exhibits. These exhibits showcase the works of their artists for over hundreds of years ago. Usually, the themes are either secular or non-secular, which makes it perfectly enjoyable for you, whether or not you are a religious person.
10. Christian Places
Many places in Ukraine are known for its being religious in nature. Usually, this religion has something to do with Christianity. The peacefulness of the place also allows for you to be in perfect reverie, as the country is not often visited by tourists.
Donetsk | Kiev | Odessa | Kamyanets-Podilsky | Kharkov | Vinnitsa | Zhitomir | Carpathian Mountains
The Ukraine often doesn't get all the publicity it deserves. Many people just think of it as one of those satellite states of the former Soviet Union before the collapse. But its history is much richer than that. Following is a list of cities and other destionations that should be on the list anyone to plans to travel to Ukraine.
Donetsk is a city in eastern Ukraine on the Kalmius River. Administratively, it is a center of Donetsk Oblast, while historically it is the unofficial capital and largest city of the Donets Basin region, or Donbass. The city's name is often simplified to Donetsk.
Donetsk has over 1.5 million inhabitants and is the fourth-largest city in Ukraine. Donetsk and the surrounding territories are heavily urbanized and agglomerated into conurbation. The workforce is heavily involved with heavy industry, especially coal mining, but the city is very green and lightly-polluted for being a major industrial city. Donetsk has one of the highest standards of living in the region.
While the majority of people in central and western Ukraine speak Ukrainian, most residents of Donbas are Russian-speaking Ukrainians and native Russians. The Russian language is dominant in Donbas. Ukrainians are 56.9% of Donetsk region and Russians are 38.2%.
Donetsk was founded in 1869 when the Welsh businessperson built a metallurgical plant and several coal mines near a Cossack settlement Alexandrovka. The town initially was given the name Yuzovka. By the beginning of the 20th century Yuzovka had approximately 50,000 inhabitants, and attained the status of a city in 1917. In 1924 the city's name was changed to Stalino after Joseph Stalin. The Nazi invasion during World War II almost completely destroyed the city, which was mostly rebuilt on a large scale at the war's end. During Nikita Khrushchev's second wave of desalinization immediately after the 22nd Communist Party Congress in November 1961, all Soviet cities named after Stalin were renamed. Stalino's name was changed to Donetsk, after the Donets River, a tributary of the Don.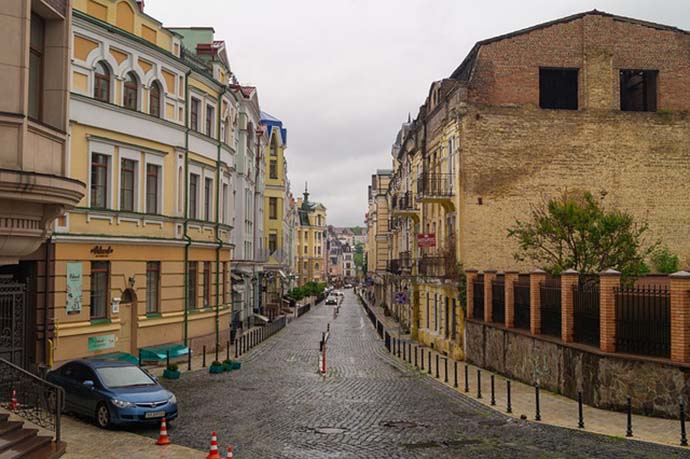 Did you know that during the eleventh century, Kyiv found itself the largest city in all of Europe? It featured more than four hundred places of worship, and was populated by fifty thousand citizens. At the same time, London's population was twenty thousand. So what destinations will awe you?
Kyiv is the capital of the Ukraine which makes it a likely spot to begin your vacation. It was occupied by Kievan Rus regime during the eleventh and twelfth centuries. Kyiv was a focus of trade between the Mediterranean and the Baltic. It wasn't to last.
Kyiv, and with it Kievan Rus' power, were decimated in 1240 by the Mongol hordes and the Kievan Rus lands were eventually carved up into the principalities of Muscovy, Galicia, Russia, Volynia, Poland, and Lithuania.
Kiev History
The legend says that there was a prince family of three brothers named Kiy, Schek and Khoryv and a sister Lybid. Kiy ruled a powerful Slavic tribe and was looking for a place to settle a new home for his people. When they came to the beautiful hills upon Dnepr river and saw wonderful panorama of blue river and seven hills covered with chestnut trees, they liked that place very much and decided to settle there. They established a city and gave it the name Kiev in honour of their oldest brother Kiy more than 1500 years ago. Prince Kiy and his family lived on one hill, Schek settled on another hill which got the mane Schekavitsa, and Khoryv settled on the third hill called Khorevitsa.
Since 882 Kiev became the capital on ancient powerful state called Kievan Rus. In 998 Kiev Prince Vladimir introduced Christianity in Kievan Rus by baptising Kiev population in Dnepr river. In 1240 the city was demolished by mongol-tatars who invaded Kievan Rus, and later it was rebuilt. Since 1362 Kiev and major part of Ukraine belonged to Lithuania and Poland and in 1654 it became part of Russian Empire and then USSR.
In 1991 Ukrainian people voted for independence of Ukraine and Kiev became its capital. Since that time it is the center of Ukraine's political, economic and cultural life.
In November 2004 Kiev was the central place of Orange Revolution when hundreds of thousands of Ukrainian people protested against election falsification in the streets and later elected another ruling party and the President of Ukraine.
Climate:
The climate in Kiev is moderate continental with mild winter and warm summer. The average Kiev temperature in January is 6 degrees below zero Celsius and the average in June is 20 degrees above zero Celsius. The lowest temperature in winter is 25 degrees below zero Celsius and the highest temperature in summer is 32 degrees Celsius.
Based on this, what should one wear when visiting the city? If you come to Kiev in summer, it would be nice to take a summer jacket, jeans and T-shirts, sandals or sneakers and probably shorts or dress in the case of heat. For spring or autumn it is better to take a few warm things and a jacket. For the winter you will need a winter coat, a few sweaters, a scarf, gloves and cap.
If you go inside a church or cathedral, women have to cover their head with a shawl, while men need to take off their hats.
Popular Kiev Sights
Here is a list of some of the most popular places to visit on your Kiev sightseeint tour.
Golden Gate of Kiev - the ancient gate to Kiev, which is now located in its very center, it is made of wood and stone with a small golden dome above
St Michael Cathedral - newly rebuilt cathedral with beautiful blue walls, ornament and large golden domes
St Vladimir Cathedral - cathedral in Kiev center where official orthodox religious ceremonies take place
St Andrew Church and Andrew Descent (Andreevskiy Spusk) - a popular place with tourists with numerous souvenir booths, old brick descent, art galleries and museums
Kiev Cave Monastery (Lavra) - the ancient monastery where you can see the caves where monks lived in ancient times, several churches and the largest Bell tower in Kiev
Russian Art Museum and Ukrainian Art Museum - art connoisseurs will get much pleasure seeing masterpieces of world art in Kiev museums
St Sofia Cathedral - one of the most beautiful Kiev cathedrals with Bell Tower and chestnut trees around the cathedral
Kiev Opera and Ballet Theater - an enjoyable experience of listening to live classical music and watching dances
Pirogovo ethnic village - an opportunity to see old village houses, windmills and household appliances of different Ukrainian regions
War Museum - you can see there numerous tanks and war airplanes and the gigantic metal statue of woman symbolizing Homeland
Kiev Botanic Garden - in spring and summer you can see there beautiful trees and blossoming flowers
Mariinsky Palace - a majestic palace where official government ceremonies take place, it is surrounded by green park with panorama of Dnepr and its left bank
Independence Square - the very central part of Kiev, from which the distances to other cities are calculated, it has a large underground shopping center, central Post office, banks and restaurants
Khreschatik Street - main street in Kiev where people can walk on the highway on Saturday and Sunday
Vladimir Mount - a park on the mount with large statue symbolizing Prince Vladimir with cross when he introduced Christianity and baptized Slavic people.
Eating Out in Kiev
To try delicious Ukrainian cuisine we recommend the following Kiev restaurants:
Pervak restaurant - a medium-price restaurant located in 2, Rognedinskaya St. You can taste borsch and vareniks, small pies and various meat and fish dishes. The dinner will cost you about $30-50 per person depending on the food and drinks you choose.
Taras restaurant - located in Shevchenko park near major Kiev Museums, close to Kiev University. You can order various pancakes as well as national cuisine dishes. The dinner will cost you $35-55.
USSR restaurant - located near Kiev War Museum and Kiev Lavra Monastery in 42/1 Sichnevogo Povstannya St. and decorated with USSR symbolics. The dinner will cost you $35-55.
Puzata Khata (Big Bellied House) fast food restaurant which combines original interior in peasant house style, tasty Ukrainian food, vast choice of dishes and low prices. It is located in very center, 1/2a Basseinaya St., in the beginning of Khreschatik. Here you can try traditional Ukrainian pampushky, Chicken Kiev, different salads and main courses. On the first floor you can also choose one numerous cakes and even order fresh made juice. The dinner cost is $3-10 per person.
Zdorovenky Buly (Good Health to You) That's a very popular fast food restaurant located near Khreschatik metro station which probably has the largest choice of different foods: salad bar, pancakes, varenyky, pizzas, soups, tasty desserts. Its comfortable rooms are decorated in various styles: Chinese, Indian, Egyptian and Greek. It also has Tea bar with cakes where one can sit and talk. Dinner: $3-10 per person.
Souvenirs
You can buy various souvenirs on Andrew Descent (Andreevskiy Spusk) such as embroidered towels, matrioshkas, wooden painted plates and eggs, glass souvenirs, small dolls in national clothing, paintings and clothing. There is also a souvenir section in Kiev central magazine (Tsum), located in Khreschatik St and a souvenir shop near St Sofia Cathedral.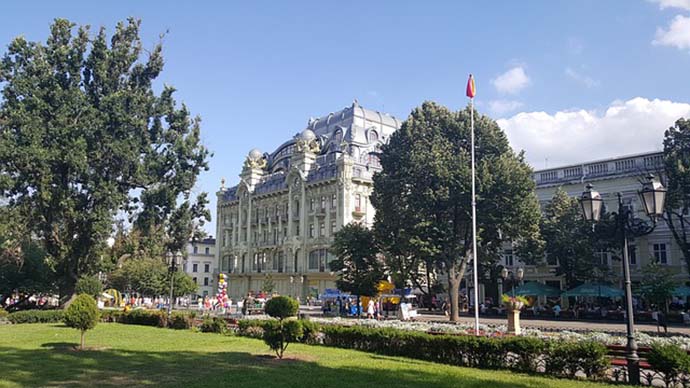 Odessa is the third largest city in all of the Ukraine and renowned to resort-goers for its warm sea water and pastel buildings. Odessa is actually a planned city. F. Devollan designed the city late in the 18th century. Then his plan was executed by numerous architects in the years that followed.
Money was funneled into Odessa by mansion-building merchants, who were drawn to the area by the lucrative grain trade. During the Soviet communist domination, the port served as a naval base. Today it continues in that role, but serves the Ukrainian navy.
It is widely enjoyed for seaside vacations, and visits to the Tolstoy Palace and the Odessa Numismatics Museum. This incredible museum traces history via coins and other relics.
The Odessa Opera
Are you a connoisseur of good cultural attractions? The rich heritage of Odessa can be experienced by a night at The Odessa Opera Theater. Enjoy one of 30 or so different operas and bask in the luxuriously ornamented theater of Baroque architectural style.
The existence of the theater in the city of Odessa began from the first days of the city's foundation. The Opera & Ballet Theater is entitled to be called the elder among a great number of cultural institutions. Odessa strived for the right of building the theater in 1804, and in 1809 it was already built. On the10th of February 1810 the first performance took place - the Russian troupe by Fortunatov staged a one -act opera by Fralih "A New Family" and a vaudeville "A Consolating Widow". Unfortunately, in 1873 the old building was burnt. And it was burnt completely. The restoration was out of the question. It was a tragedy, which was relented by one circumstance - nobody suffered from it. It was suggested to draw up a draft of a new city theatre to Vienna architects F. Felner Y. Helmer. Eleven years have passed since laying of the first brick into the foundation of the new theater building. And the theater opening took place on the 1st of October 1887. The building of Odessa Opera and Ballet House was fulfilled in the style of Vienna "baroque", which was the main in the European art from the end of the XVIth up to the middle of the XVIIIth century.
There is a sculptural group over the front, portraying one of the muses - a patron of art- Melpomena. She is sitting in a chariot, harnessed by four furious panthers which were subdued by her. A bit lower there are sculptural groups from ancient mythology. At the bottom, near the central entrance, on the high pedestals, two sculptural groups are set up, personifying Comedy and Tragedy: on the left - a fragment from the tragedy by Euripi "Ippolit", on the right - an episode from the comedy by Aristophanes: "The Birds".
Along the pediment of the building in the bays of the upper circle the busts of the brilliant Russian art & literature creators. Pushkin, Glinka, Griboyedov, Gogol are placed. The most beautiful part of the building is its hall. Its architecture is maintained in "rococo" style.
It is luxuriously decorated by various molded ornaments with the fine gilt. The ceiling is of a special interest. Four pictures by Lefler in the form of a locket (medallion) are in its bases. The scenes from the works are Shakespeare: "Hamlet", "A Dream in the Summer Night", "The Winter Fairytale" & "As You like It", is depicted on them. A big chandelier in the center of the ceiling strikes by its drake of tracery details. There are many different stucco moldings in the hall and in all the circles.
The modeling in the circles is fulfilled with a special grace. Side lobbies and along staircases, leading to the boxes. All kinds of lampions, candelabrums and bronze ornamented inlays are originally and inventively made. Perhaps, in any of the theaters, there is none so tastefully-made curtains, outlined by the prominent theatrical painter - Golovin. The area of the stage is 500 Esq. The unique acoustics allows to deliver even a whisper from the stage to any part of the hall.
The Theater itself is interesting not only by its architecture, but by its rich creative biography. The great merit in the development of musical culture in the south of our country belongs, to this theater. P.Tchaikovsky, N.Rimsky-Korsakov, S.Rachmaninoff, Ezhen Izai, Pablo Sarasate and others performed their works. There appeared on the stage are the actors, who glorified the home art/ the great singers: Fyodor Chaliapin, Solomiya Grushelnitskaya, Antonina Nezhdanova, Leonid Sobinov, Tito Ruffo, Batistini, Jeraldoni sang here, Anna Pavlova, the first world ballet-dancer, had been dancing here. In 1926 the theater was awarded the title of "Academic".
The theater ballet group consists of 50 people. Among them such Honored ballet dances of Ukraine as Andrey Musorin and Yelenaa Kamenskih - the participants of the Farewell Tour of Rudolf Nuriyev, and others. "Jizelle", "Sleeping Beauty", "Nut-Cracker", "Don Quihote", "Chopiniana", "Un Ballo in Maschera", "Hunchback Horse", "Carmen-Suite" are in the repertoire of the theatre. The ballet dancers were touring in Canada, Japan, Vietnam, Ceylon, China, Hungary, Bulgaria, Finland, South Korea, Italy, Spain and Portugal - with Maya Plisetskaya and in Indonesia, Switzerland, Sweden and other countries.
The opera singer's troupe consists of 40 people. They are National artists of Ukraine - Lyudmila Shirina, Anatoliy Boyko, Anatoliy Kapustin and Vladimir Tarasov, the Honored artists of Ukraine: Anisimova Tatyana, Irina Berlizova and Nataja Yutesh, Pavel Yermolenko, Laureates of International Contests. Viktor Mityushkin, Shalva Mukeria, Natlja Shvchenko, Ruslan Zinevich and others.
More or less 30 operas, such as "Carmen", "Aida", "Il Trovatore", "La Traviata", "Cavaleria Rusticana", "I Pagliacci", "Iolanta", "Madam Butterfly", Rigoletto", and others are in the repertoire of the theater. The theater opera singers were appearing on the stages of Spain, Italy, France, Finland, Japan, Hungary, Bulgaria, Romania, Belgium, Greece and the individual opera soloists - practically in all the countries of the world.
A Maze of Catacombs
Enjoy mystery and adventure? Exploring the ancient catacombs in the city of Odessa Ukraine is one way to find both. Get an in-depth look at the maze of catacombs by Marina Zitser, a native of Odessa.
When your daughter stops wearing ponytails in her hair and isn't taking her favorite doll to 'bath time', you have to admit: she grew up. What does it mean to you? It means that you should expect a few changes, and not all of them for the best. One of these changes being your annual family vacation. If you have seen bored teenagers watching TV in the hotel and being on Facebook without leaving their rooms for hours in some of the best all-inclusive resorts in the world with beautiful pools, food to die for, ocean that intoxicate you more than any wine, you probably know what I am talking about. These strange individuals, who begged you for attention several years ago, now need something else, something different, something that would make their hearts beat a little faster and body temperatures take a sharp turn upward.
Let's leave these teens glued to their TVs and think for a moment. Do you have any ideas on how to make your family vacation a bit more interesting and surprising than soaking in the pool, watching baskets being weaved, one strand at a time, and learning how to Hula dance in a Polynesian Cultural Center? I have something for you, but before that let's journey back in time to Odessa, one of the most beautiful cities in Ukraine.
Most of the city's 19th century houses were built of sandstone mined nearby. This created a very complicated labyrinth of underground tunnels beneath Odessa, known as "catacombs". These catacombs are an estimated 2,500 kilometers of labyrinths stretching out under the city and the surrounding area of Odessa. Odessa's catacombs are much younger than the catacombs in Paris or Rome, but exceed either in length quite extensively. In the present only 1700 km of Odessa's catacombs are studied. The average height of a tunnel is 1.5 - 3.5 m, and a width of 2 - 4.5 m. The depth can reach 50 m below sea level. Because of these catacombs that span underneath the entire city and beyond, Odessa does not have a subway system. Catacombs were used and broadened by local criminals. They were also used as a refuge for slave traders, who smuggled stolen women out of the Odessa port to the slave markets of Constantinople. Later during World War II, the catacombs became a home for thousands of partisan rebels. There are no forests or hills around Odessa, so during the war the only place where Ukrainian partisan rebels could hide was in these catacombs. The partisans used the tunnels as a base for attacking the occupying Nazi troops. There were five partisan groups and 45 other groups, a total of 6,000 people that operated in these tunnels.
The manned opening to these tunnels is located on the outskirts of the city. The entrance is beautiful, with giant stairs cascading down from ground level. Soon the tunnels become very narrow. The small yellow light bulbs every 50 ft are now lighting the way for those who want to experience the life of the Odessa underground. It is hard to imagine that 60 years ago hundreds of people, including women and children, lived there for two and half years, hiding, barricading the entrances, sneaking food and water from the surface. Even now, once in a while, people find something that belongs to history: weapons, hollow places inside tunnels that have been used as bedrooms or rooms to store stolen goods.
As any mysterious place, catacombs have their own legends. One of them is about an extremely rich man who was traveling on the Titanic. He was saved by one of the ships and taken to Odessa. In honor of his rescuers he made a model of the Titanic out of pure gold. This little golden treasure has been hidden in Odessa's catacombs. Hundreds of people have tried to find this treasure using secret maps, but up to this day nothing has been found. Many people still believe in the story and who knows, maybe some of us will find this golden ship one day in the dark tunnels of the Odessa catacombs.
Another story tells us about a god that lives in these catacombs. He protects the treasures. If somebody decides to carry the findings outside, he or she will be punished by the ravenous god, and will never be able to return from the coldness and darkness of the catacombs.
The darkness and mysteries surround this place. It inspires people, cures them from boredom and loneliness, and gives them a way of reevaluating their own problems that now look so small and insignificant when you are underground so far away from other human beings and the sunlight. However, today the catacombs have a more cheerful impression. The inventive residents of Odessa have adapted them for paintball games and rock festivals. Underground gods do not mind if you try new things. After all, they do need some company.
Ok, now our travel back in time is over. Let's go back to our bored teenagers that we left in our hotel rooms. Tell them about the catacombs, and who knows, maybe a trip to Odessa will inspire them to try something new. And after you are back from the underground the idea of spending couple of lazy days on the Odessa beaches will sound quite attractive!
Check out the Odessa Ukraine Catacombs Tour.
Kamyanets-Podilsky is a one-of-a kind city; it's a rocky island jutting out of a tight loop in the Smotrich River in a canyon. Until recently, the age of the city was just a matter of speculation. But it has now been established that it was built by the Dacians during the Roman-Dacian wars. This puts its establishment as early as the eleventh century!
Over the years, various invaders occupied the city because its location and construction made it an easy to defend natural stronghold. Some of these were Lithuanian feudal lords, Poles, and Turks.
Rather than multiple attractions that other destinations boast of, the entire fortress is the attraction. Take time to explore it.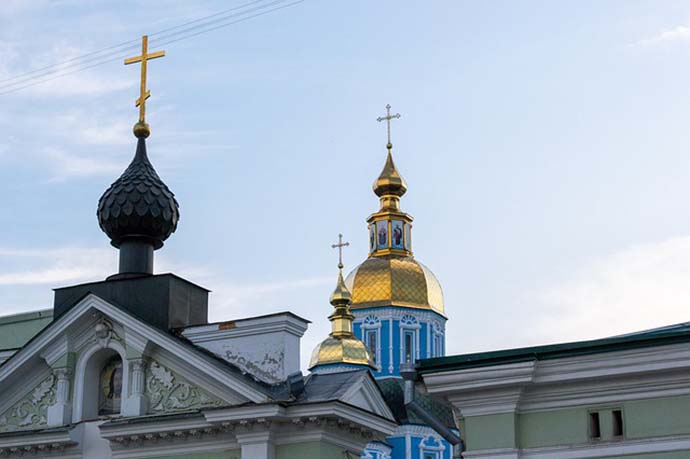 Kharkov, also known as Kharkiv, is the second largest city in Ukraine. It has a population of nearly 1.5 million. The city is located in the northeast of the country. People living in Kharkiv are known as Kharkivites.
Kharkov is one of the main industrial, cultural and educational centers of Ukraine. Its industry and research specialize on arms production and machinery. There are hundreds of industrial companies in the city. Among them are world famous giants Morozov Design Bureau and Malyshev Tank Factory (Zavod Malysheva, a leader in tank production since the 1930s), Hartron (aerospace and nuclear electronics) and Turboatom (turbines producer).
There is an underground rapid-transit system with 35 km of track and 28 stations. Another landmark of Kharkiv is its Freedom Square (Ploshcha Svobody), which is the second largest city square in Europe, and the 4th largest square in the world.
Geography
Kharkov rests at the confluence of the Kharkiv, Lopan, and Udy Rivers, where they flow into the Seversky Donets watershed.
History
Archeological evidence discovered in the area of present-day Kharkov indicates that a local population has existed in that area since the 2nd millennium b.c.e. Cultural artifacts date back to the Bronze Age, as well as those of later Scythian and Sarmatian settlers. There is also evidence that the Chernyakhov culture flourished in the area from the 2nd to the 6th century.
Founded in the middle of 17th century, the city has had a university since 1805. During the early years of the Soviet Union, Kharkiv was the capital of the Ukrainian Soviet Socialist Republic (from 1917 to 1934). In the early 1930s, the Ukrainian famine (Holodomor) drove many people off the land into the cities, to Kharkiv in particular, in search of food. Some of them died and were secretly buried in one of the city's cemeteries. During April and May 1940 about 3800 Polish prisoners of Starobelsk camp were killed in the Kharkiv NKVD building, later buried in Pyatikhatky forest (part of the Katyn massacre).
During World War II Kharkov was the site of several military engagements. The city was captured by Nazi Germany and its military allies, recaptured by the Red Army, captured again twice by the Nazis and then finally liberated on August 23, 1943. Seventy percent of the city was destroyed and tens of thousands of the inhabitants were killed. It is mentioned that Kharkiv was the most populated city in the Soviet Union occupied by Nazis, since in the years preceding World War II Kiev was the smaller of the two by population. Between December of 1941 thru January of 1942, an estimated 30,000 people were killed by the nazis (mostly Jewish). They were laid to rest in one of the largest mass graves that is known as Drubitsky Yar.
Attractions
Of the many attractions of the Kharkov city are the: Gosprom building, Memorial Complex, Freedom Square, Taras Shevchenko Monument, Mirror Stream, Uspensky Cathedral, Militia Museum, Pokriv Cathedral, T. Shevchenko Gardens, Kharkiv's funicular (shut down due to accident), Blagovishensky (Blessed News) Cathedral, Children's narrow-gauge railroad, Building on Sumskaya Street #6, and many more.
Sport
Kharkov is one of Ukraine's largest cities and as in the whole country sports are taken seriously. The most popular sport is football. City has two clubs playing in the Ukrainian Premier League.
Apartment Accommodations
Ten years ago nobody knew about such country as Ukraine, now many foreign people come here. Some of them come here for business, others in search of their pretty Russian and Ukrainian brides, others are members of charity and educational organizations, but whatever the reasons for their visits are they all need the place to stay. As we all know - the demand increases the offer. If ten years ago the only place where a foreigner could safely stay was Kharkov hotel Mir, now there are many new Kharkov hotels and many Kharkiv apartments for rent.
If you decide to come to Kharkov in hot season such are holiday seasons - December, January, February, and also September, October, make sure to your accommodation in Kharkov at least two weeks prior to your visit. In general it is better to book your travel beforehand, as Ukraine is becoming more and more popular destinations for air travel companies, and flights to Kharkov may be quite difficult to book, if you do it the last moment.
Every year more and more apartments in the downtown of Kharkov are given for rent. All the apartments for rent have good furniture, redecorations of Euro standards, modern electrical appliances, so they are convenient and relatively not expensive for your stay. You may find an accommodation for rent that will satisfy your demands either economy class 1 room apartment or luxury 3 room apartment with king size bed, dish washing machine, satellite TV and Internet.
Who knows what the reason for such popularity is, maybe it is unforgettable beauty of Ukrainian brides, maybe possibilities for making quick money, maybe just friendliness of Ukrainian people, but anyway Ukraine is becoming very popular.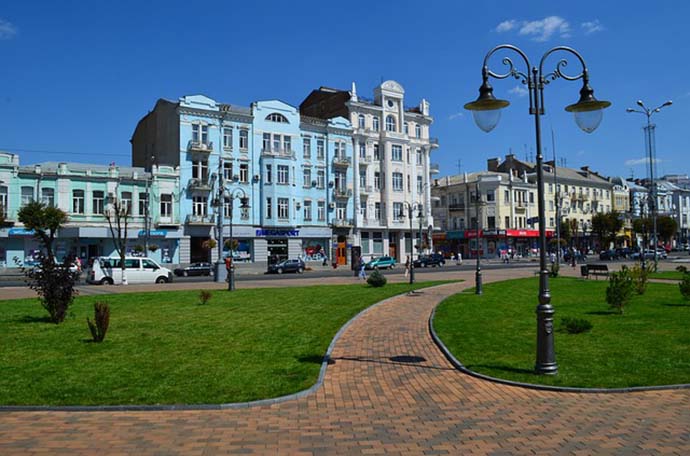 Vinnitsa as a small settlement was founded on the picturesque banks of the Southern Bug River in 1363 by Lithuanian Prince Olgert.
But numerous archaeological excavations have proved that Slavic tribes lived in this area as far back as deep antiquity. The history of this land is closely connected with the names of Bohdan Khmelnitsky, Ivan Bogun, Maxim Krivonos, Yustim Karmalyuk and many other heroes of Ukrainian people. Since the Middle Ages and XVII-XLX centuries, pieces of a tall brick town wall, several churches and cathedrals, as well as many private residences have remained, which are used for different purposes.
Many of travelers enjoy visiting the museum of the classic of Ukrainian literature Michailo Kotsubinskiy (1864-1913). The small white washed house where he lived with his family is in the center of Vinnitsa.
There is one more place in our town which is known all over the world - Hitler's Headquarters. It is situated between Vinnitsa and the village of Strizhavka.
During the Great Patriotic War, many soldiers and officers were captured and imprisoned in special camps. There were engineers, builders and good workers among them. They were picked out and taken to Vinnitsa to build a huge underground structure for Hitler and his staff. Many thousands of people were shot after the headquarters was built. Al the entrances were concreted, mined and hidden. At the end of World War 2 this place was heavily bombarded, and still nobody really knows what is inside.
Now Vinnitsa is one of the 25 regions of Ukraine. It is situated in the central part of Ukraine. The total area of Vinnitsa region is about 16 thousand sq. miles, the population of city is about half a million people.
The main rivers are the Southern Bug and the Dniester. We also have nearly 50 small rivers and 2300 lakes. The natural resources are the following: deposits of granite, lime stone, clay, sand and mineral spring water in several places. Our rivers and lakes are full of fish: carps, pikes, perches, catfishes.
The climate of Vinnitsa region is moderately humid. The usual temperature in summer is 22°C, in winter - 6°C. The bathing season lasts from June to August and many citizens go picnicking in open air on weekends. Sometimes, you can come across a wolf or an elk.
It is quite obvious that Vinnitsa is the main industrial, transport, agricultural, cultural, and educational center of the region. The enterprises of Vinnitsa and industrial centers such as Kalynivka, Zhmerinka, Gaisin, Bershad etc can produce chemicals, motors and instruments, radio and TV lamps, building details, furniture, and food products.
Vinnitsa is known as agricultural center because the fertile soil of the region is favorable for vegetables in and fruit trees. The main crop is sugar beet. Sugar beets raising and sugar industry are widely spread.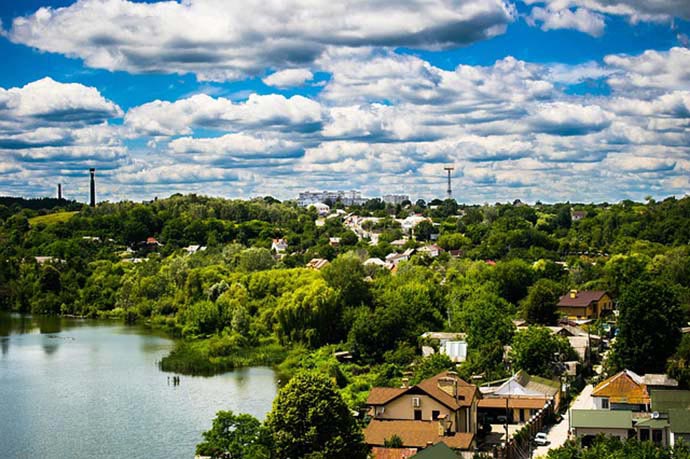 Zhytomyr (also known as Zhitomir) city is the capital of Zhitomir region, central Ukraine, on the Teteriv River, a tributary of the Dnieper. It is a road and rail junction in an agricultural area. Industries include lumber milling, food processing, granite quarrying, metalworking, and the manufacture of musical instruments. An old city on the trade route from Scandinavia to Constantinople, Zhitomir was known in 1240. It was part of Kievan Rus and later passed to Lithuania (1320) and Poland (1569). Awarded to Russia in the second partition of Poland (1793), it became an important provincial and trade center before the Bolshevik Revolution.
Zhitomir region is located in the central part of the East European plain, north of right bank Ukraine. Its area is 4.9% of the territory of Ukraine. The Zhitomir oblast's area is one of the largest in Ukraine, fifth among all oblasts. The oblast borders on the Republic of Belarus in the north, Khmelnitsky and Rivne oblasts in the west, Vinnitsa oblast in the south and Kyiv oblast in the east. In its current borders, the oblast was created in 1937. Now the oblast comprises 23 administrative districts, 9 cities and towns. 56% of the oblast's population is urban. 85% of the population is Ukrainians.
The region's potential of minerals and raw materials is represented by 278 deposits with 20 kinds of minerals. The mining industry here is extracting titanium ores, Dinas quarzites, and building and facing stones.
The region embodies one fifth of the country's reserve of rubble and crushed stone processed by a number of powerful companies. Decorative and facing stones - labradorite, granite, and gabbro - are found in unlimited quantities. Development of the deposit of easily polished marble with a marvelous pattern and extraction of semiprecious stones - beryl, topaz, quartz - are under way. Piezoelectric quartz crystal, a widely used component of any electronic device, is also available in this area.
There are also deposits of high quality pyrophyllite. The oblast is interested in mobilizing investments and finding partners for pyrophyllite extraction and development. Among other deposits requiring funding by investors, there is a unique quartzite deposit. It contains about 84% of the country's quartzite reserves. These raw materials are used for lining blast furnaces and preparation of ferroalloys.
A combination of such factors as economic and geographical location, soil and climatic conditions, availability of minerals, raw materials, forestry and water resources creates favorable conditions for the development of agriculture and industry.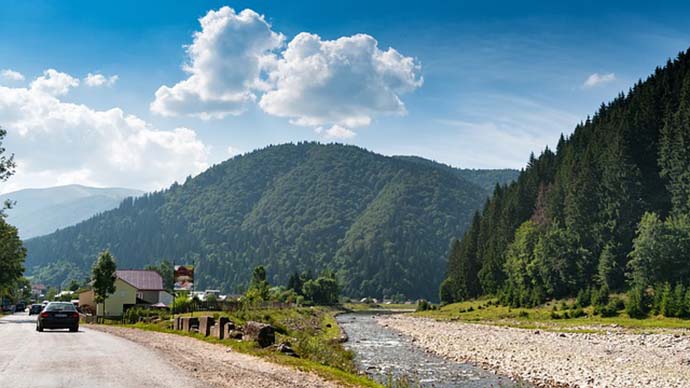 The Ukrainian Carpathians feature lovely, gentle peaks that climb as high as Mt. Hoverla's awesome 6760 feet. The inspiring view offers a combination of green forests and rugged stone.
The mountain's largest resorts can be found in Dragobrat, Slavsko, Tysovets, and Bukovel. At any one of them you can enjoy being pampered in the evening while enjoying outdoor activities during the day.
The Carpathian Mountains are the vacation spot for the outdoor activity type of tourist. Whether you prefer cycling, hiking, mountain climbing, rafting, or horseback riding, this is the place for you.
Selection of Ukraine maps for travel or research. Road, political, printable and digitle satellite maps of Ukraine.
Click the link for expedited Ukraine Visa processing.
Ukraine Travel Resources