Travel Passport Planner Toolbar
The Travel Passport Planner Toolbar was created by U.S. Passport Service Guide to provide our visitors with easy access to the best resources for planning an international trip. What do you get with the toolbar? Besides a handy search tool and a feed of the latest travel news, there are four categories of the most useful resources for planning your journey abroad. Click the "Free Download" button to get your toolbar.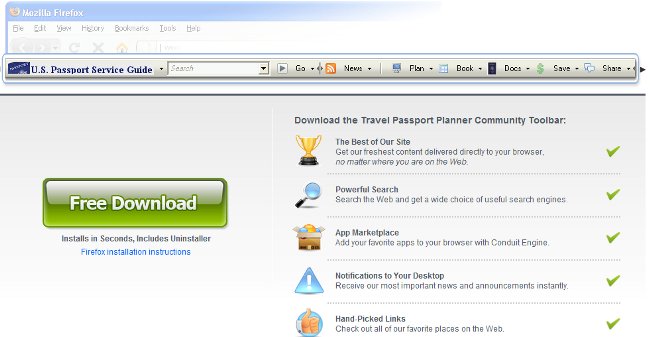 The travel planning resources in the "Plan" list include ten of the best websites for information about any destination around the world These are definite "must visit" sites for any traveler. Other resources on the list will provide information about time, weather and important holidays for the destinations you plan to visit. Resources for planning a safe and healthy trip are also included. Next, the "Book" resource list will give you quick access to the best travel booking agents in each category. Easily book airfare and accommodations, car rental or cruises at hugely discounted rates. There are also sites for booking the hottest tourist attractions around the world. The "Docs" list provides resources for obtaining vital travel documents for any international trip. There are links to the different types of passport services and visa information for top destinations. The "Save" list has a few resources that will teach you the tips and techniques of seasoned travelers for drastically reducing your travel expenses. You will learn how to cut hundreds, if not thousands, off the cost of travel. Finally, the Travel Passport Planner Toolbar includes four ways that you can share your travel experiences. Sharing is a great way to keep the experience vivid in your memory and to help others who plan to visit the same destinations you have been to. You can save both time and money by installing the Travel Passport Planner toolbar today. It only takes a few seconds and you can uninstall anytime you wish.
Click to get the Travel Passport Planner Toolbar!
Expedite Your Passport Now!
Click to Call for Expedited Service!