Travco Passport Expediting Service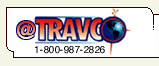 Travco
has been processing passports, travel visas and tourist cards since 1994. Located in New York, Travco works with the regional passport agency to expedite passports for American citizens in one day.
Expedited Passport Services
First Time US Passport Application (16 Years & over)
United States Passport Renewal
Lost United States Passport Application
Change of Name
Second Passport
Passport Expediting Fees
$350.00 for 24-hour processing
$250.00 for 48-hour processing
$150.00 for 3 to 5 days processing
Visa Processing Fees
$100 for regular processing

$150 for rush processing (if consulate allows)
Other Services
For clients located in New York City, Travco offers hand-delivery and pick-up of the passport, visa, and tourist card documentation. Additionally, Travco offers a door-to-door package delivery service for New York City residents.
Tourist Cards
Forms of Payment
Check
Credit card (Visa, Mastercard)
Contact Information
Website: www.travco-inc.com
Address: Travco Passport & Visa Corp | 1441 Broadway | 5th Floor | New York NY 10018
Phone: 800-987-2826
Email: contact form
Our #1 recommendation goes to Fastport Passport Online Passport Services.
Click here to expedite your passport as fast as the same day!
Top 5 Questions About Expedited Passport Couriers
Expedite Your Passport Now!