Toronto in a Day: My Cheat Sheet!
by Guylaine Spencer
(Ontario Canada)
I live about an hour outside of Toronto and it's one of my favourite day trip destinations. When friends and family come to visit, they often want to know about things to do in Toronto, where they should eat, etc. So in addition to all the information I have on my web site Ontario Travel Secrets, I've compiled a short "cheat sheet" for loved ones. Now I'm sharing it with you.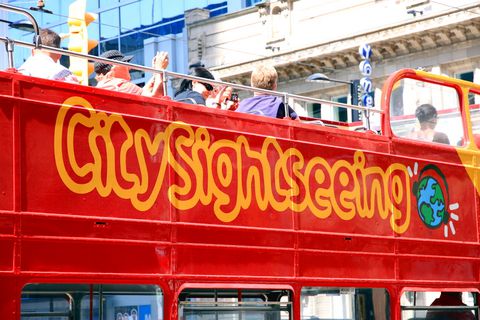 Click to Get the Toronto City Pass: Most FAMOUS Attractions at One AMAZING Price
If you want to see the highlights of Toronto in just one day, I'd suggest you take a bus tour first as early in the morning as possible. This is usually what I do when I visit a new city. There are a handful of tour companies, such as City SightSeeing, Sightseeing Toronto and Toronto Tours offering what are typically 2-hour tours. Some of them throw in a 45-minute or one-hour boat cruise of Toronto harbour as part of the price, so be sure to compare the companies. offers. Save your boat cruise till later in the evening.
These sightseeing tours drive past and sometimes stop briefly for photo ops at the usual major Toronto attractions: Union Station, CN Tower, Hockey Hall of Fame, Dundas Square, Yorkville shopping district, Casa Loma, the Distillery District, Harbourfront, Art Gallery of Ontario, Royal Ontario Museum, Entertainment district, City Hall, Kensington market, University of Toronto, etc. Some of the tours allow you to hop on and hop off. The problem with doing this on a day trip, though, is that you may waste time waiting for the next bus. So I'd advise you to stay on for the whole loop.
After your tour, you will probably be looking for lunch, and don't worry, Toronto is a huge city with lots of variety in dining. There's something for every budget and from every ethnic cuisine. You should probably pick your lunch spot based on the location of your next activity for the day. And what will that be?

Royal Ontario Museum

at Night
Well, if you're into arts and culture, Toronto has several world-class museums and art galleries. The Art Gallery of Ontario and The Royal Ontario Museum are the biggies. You can probably count on spending at least two hours at each site. Back to that lunch: to save time, you could eat right at these museums; they both offer a choice of restaurants, one budget and one higher-end.
Are you a sports fan? Then you'll probably want to tour the Hockey Hall of Fame, or tour Rogers Centre where the Blue Jays play. Are you a beer fan too? While you're at the Rogers Centre, scoot over to Steam Whistle Brewing for a tour and taste of the local pilsner.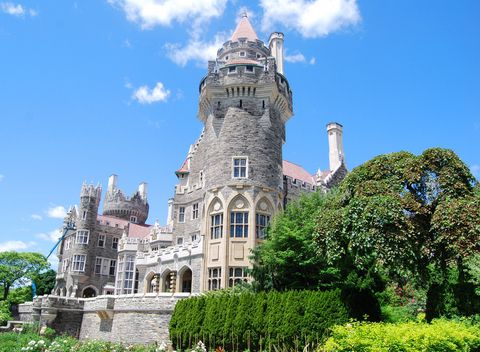 Casa Loma
If you're a history buff, hmmm... The Royal Ontario Museum is a great start! But there's also that wonderful historic Casa Loma, or Fort York. If you do choose Casa Loma, try to squeeze in Spadina House too; it's right next door.
If it's summer, in the evening, head down to the waterfront. You can have dinner there (Il Fornello is my favorite... it's a great wood-oven pizza place with a fantastic view of the water, but there are several other dining choices too). Then take that boat ride (you still have the ticket from the bus tour this morning don't you?). Wander around the waterfront, check out the art galleries and boutiques at Queen's Quay, and see if there's a free concert or festival happening.
If it's fall or winter, I'd book ahead and get tickets for a block-buster musical or, if you're so inclined, purchase seats for the symphony or opera.
Ok this short "cheat sheet" is running longer than I intended. For more suggestions, head over to my web site and check out my page on
tourist attractions in Toronto
.
Guylaine Spencer is the publisher of
Ontario Travel Secrets
, an insider's guide to the major attractions and little-known treasures of Ontario Canada.
Click to Get the Toronto City Pass: Most FAMOUS Attractions at One AMAZING Price
Requesting express service at post offices and other facilities that accept application forms from U.S. citizens.
Where processing centers are located. How to schedule an appointment. What documents to take with you.
How to pick a legitimate courier service company to assist in getting your passport quickly.
Guide to help you decide if standard or fast track processing is the best option for your situation.
Learn to expedite passport renewals as quickly as the same day. Where and how to renew passport in a hurry.
Watch step-by-step instructional passport videos of how to renew a passport in 3 steps.
Use the online Passport Photo Wizard tool to make your own passport photos in minutes. Save money and time.
List of the most important travel documents and information about how and where to get them.
Cool ways to make your money stretch farther on travel expenses so that you can go more often and stay longer.