Get Brazil Visa Fast | Handcrafts from Brazil
| Call Brazil from 1.8 ¢/min!
Top 7 Brazil Attractions
Attracted by the white sandy beaches of Rio de Janeiro, over 5 million tourists visit Brazil annually. To see all of the wonders of Brazil would take many years. Since you probably only have a couple of weeks or so, here is a list of the top 7 Brazil attractions.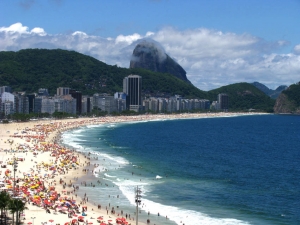 Copacabana Beach
City: Rio de Janeiro
Copacabana is famous world-wide. It used to be a small fishing village, but now is built up with skyscrapers, fancy restaurants, and upscale hotels. The stunning Brazilian beach is bounded on both sides by historic forts, one built in 1914 and one in 1779. The FIFA Beach Soccer World Cup is hosted at Copacabana Beach during most recent years. It was also the site of the largest concert in history. Rod Stewart performed there on New Year's Eve, 1994 to a crowd of 3.5 million.
Christ the Redeemer Statue
City: Rio de Janeiro
One of the seven New Wonders of the Modern World, the massive Christ the Redeemer Statue sits atop Corcovado Mountain. You can ride a miniature train from the Cosme Vehlo District to the base of the statue. The train ride itself is a scenic trek through the Atlantic Forest. From the statue, you see a breathtaking panorama view of all of Rio de Janeiro.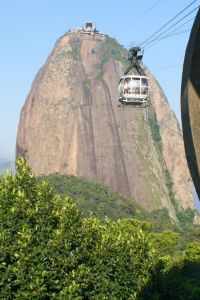 Sugar Loaf Mountain
City: Rio de Janeiro
Sugar Loaf Mountain offers another stunning view of Rio de Janeiro and all of Copacabana Beach. To reach the peak, you must ride a cable car. Halfway to the peak, you can stop at the Morro da Urca and eat at a restaurant.
Lençóis Maranhenses National Park
State: Maranhão
This spectacular national park is a series of sparkling white sand dunes. They become flooded during the first part of the year, and many beautiful lagoons are formed. You can see these lagoons from June to September, when they start evaporating.

Iguaçu Falls
State: Paraná
Located in Southern Brazil, Iguaçu Falls is a nearly two-mile-long series of waterfalls that stand 24 stories high. Iguassu Falls is in full force during the rainy season (December through February). If you would like to visit during the warmest weather, the best months are from April through July. A good compromise is to visit in March, August, or September.
Humpback Whale Spotting
State: Bahia
From July through November, you can see humpback whales off the coast of Bahia. They are seeking warmer waters for mating season. Some of these whales can weigh up to 40 tons. Whale watching tours are plentiful. While you are in the region, you can also go diving among some of the most beautiful coral reefs in the world.
Pantanal Wildlife Center
State: Mato Grosso do Sul
Pantanal Wildlife Center is located in western Brazil and is one of the most fantastic wildlife-viewing areas in the world. Bird-watchers will be especially delighted. You can possibly view jaguars at close range. Monkees, giant otters, large lizards, crocodiles, and dozens of other majestic animals can be seen while on a boat tour. Tapiers, the largest land animals in South America (600 pounds!) can be observed from a wilderness tower. Avariety of tours are offered here, up to seven days in length.
While the 7 best Brazil attractions listed above do not include many of the incredible sights to see, they are definitely some of the best. Whether you visit one or all of them, these attractions are sure to create a desire in you to return to see more of Brazil.
Expedite Your Passport Now! Click to Call for Expedited Service!