SkyWalk over Auckland, Harness Included
by Omega Car Rentals
(Auckland, New Zealand)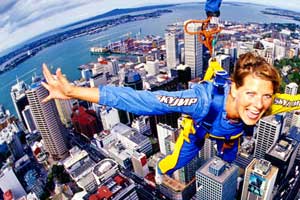 People Down Under see life a little differently. They live in a different hemisphere, their seasons are the reverse of most of the Western world's and they are closer to Antarctica than to Europe. When you study the heritage of places like Australia and New Zealand, you get a sense of the adventure that those places inspired. Both countries have had their share of gritty settlers who chose (or were sent) to live in a wilder place than London or Dublin, for instance. They exchanged gritty urban life for the wide open spaces.
That spirit of daring carries over into the tourism industry Down Under even today. As a result, visitors to New Zealand, for instance, can choose any number of activities that will provoke a generous shot of adrenaline rather than calm the nerves.
One of the most unique opportunities for visitors to Auckland, New Zealand, is the chance to actually walk around the tallest free-standing structure in the Southern Hemisphere, the famous Sky Tower. Other cities have their noted needles that point majestically into the sky, such as Seattle or Dubai, but the difference at Sky Tower is that tourists (and brave locals) can step outside of the structure and prance around.
Sky Tower reaches so high into the sky that the winds can be quite brisk. Up, up into the atmosphere it rises, 328 meters (1,076 feet) tall. Other similarly soaring structures allow you to look down on the surrounding city while the wind whips your face, such as the Empire State Building in New York City or the Eiffel Tower in Paris, but Sky Tower differs in that no balconies or rails hedge in
the gawkers.
When you see a picture of the SkyWalk, it looks like a special event filmed for an action movie, but just about any adult can strap on a harness, attach a rope to the rail above the platform and tiptoe or gallop around the tower's widest point at 192 meters above the city (nearly 600 feet!). It's as if a foolhardy carnival ride operator decided to dangle people outside of the Washington Monument. Watch your step—the 1.2-meter wide ledge does not leave much room for error.
People crazy or bold enough to walk around the Sky Tower's perimeter at such a height usually have the guts to look down, and what a feast for the eyes they enjoy. Not only do they get to savor Auckland's sleek skyline, they enjoy a great view of the harbors and nearby islands that make Auckland a truly unique metropolis.
The SkyWalk is so high up that if you have your picture taken, you might be able to convince your friends back home that you actually went skydiving while in New Zealand. If you do make that claim, you might struggle to find an answer when you are asked why you did not attach a parachute during your adventure. There's no need to alter the truth, tell your buddy about the SkyWalk—it's even more amazing. You hopped around freely at nearly 200 meters and lived to tell the tale!
This article is by Omega Rental Cars, a
New Zealand Car Rental company
. If you are staying in Auckland, their
car rental Auckland
depot is a great place to get a car.
---
Plan ahead and sign up for the
best Auckland tours
.
How to get an emergency passport renewal in the U.S. or abroad. Discover the steps to renew your passport the same day.
Learn to expedite passport renewals as quickly as the same day. Where and how to renew passport in a hurry.
Use the online Passport Photo Wizard tool to make your own passport photos in minutes. Save money and time.
Watch step-by-step instructional passport videos of how to renew a passport in 3 steps.
Jet lag is almost certain if you travel across several time zones. Discover how to minimize the effects of jet lag for every age group and ensure a more rewarding family trip.