Scotland: A Trip Planning Guide for First-Time Visitors
by Gilbert Summers
(Scotland)
A Scottish vacation? So much variety in such a small country!


For the first-time visitor to Scotland, trip planning sometimes simply boils down to answering the question 'How much of Scotland can I see in the time-frame?'
Our answer is 'probably more than you think'. Take it as read that it's ultra-safe to drink the water here, ultra-safe to walk around at night and the weather isn't as bad as you've heard. Instead, let's focus on how even a short vacation can deliver a great experience of this small northern nation on the edge of Europe.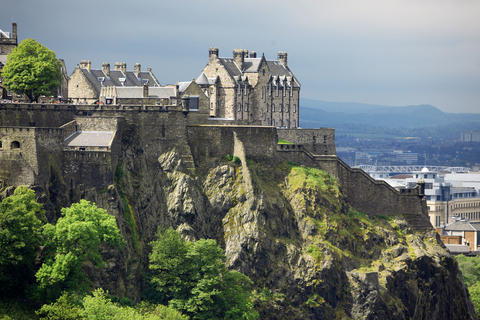 First practical suggestion: start off in
Edinburgh
because it's a visual treat – Edinburgh Castle on its craggy rock, the romantic skyline of the Royal Mile, the mini-mountain of Arthur's Seat looming above an old royal palace – it really does look like the postcards and it's easy to see on foot – though the city tour buses are good if time is really pressing.
From the ramparts of Edinburgh Castle look north and west, beyond the 18th-century New Town, and beyond the wide estuary of the River Forth. On the horizon there is a line of mountains. These are the real Highlands – another Scotland entirely. In fact, they are the hills around the Trossachs, an area of hills and lochs and rugged woods where tourism began – thanks partly to the Scottish writer Sir Water Scott who did for the Trossachs what Dan Brown did for Scotland's Roslin Chapel in 'The Da Vinci Code' nearly a couple of centuries later! (Scott's best-seller was a verse-narrative called 'The Lady of the Lake'.)
So, at the very least, from an Edinburgh base you can take a guided day tour there, or go with a hired car, just to sample some Highland landscapes and follow in the footsteps of generations of visitors.
But the real beauty of Scotland is that you can enjoy a diversity of landscape and culture within a fairly small area. Stirling with its own castle, Perth for its own well-to-do air by the River Tay, and St Andrews for its golf and seaside ambiance are all Scottish towns / cities worth discovering and all close to Edinburgh. (All have plenty of quality accommodations as well.)
But the list of travel options is only just beginning. Have a little adventure. Oban on the western seaboard is a great
journey by road or rail and, as an important ferry gateway, could tempt you out to the Scottish islands. The same applies to Fort William, below Ben Nevis, the highest mountain in Scotland - another gateway or route centre, giving you further touring options. The journey from Fort William the 40 or so miles to Mallaig (by rail in particular) is one of the great Scottish journeys - with rugged landscapes and romantic sea-views.
On the Fort William to Mallaig leg, amid the soaring hills, look out for the Glenfinnan Viaduct – the iconic, curving bridge that shot to fame thanks to a certain flying Ford Anglia in the Harry Potter movies. More to the point, when you arrive in the little port of Mallaig, you'll see the misty island of Skye filling the horizon. The ferries leave frequently (and take cars, if that's how you are travelling). So wouldn't it be so easy just to go 'over the sea to Skye' just like Bonnie Prince Charlie – to see the most spectacular mountains in Scotland?
A couple of days touring Skye and you return by the Skye Bridge to the mainland. This puts you within easy distance of plenty of other themes. Whisky distilleries of interest? Head east, through Inverness for the River Spey and little whisky town like Dufftown or Craigellachie. Love islands? Head north for the Viking heritage of Orkney. More wild scenery and mountains? Stay on the western seaboard. Head for Gairloch, Ullapool and beyond. But remember, though you'll feel as though you are on the edge of the world (but in a good way), the west coast port of Ullapool is only an hour by road from the bright little city lights of Inverness, and in turn only a morning or afternoon's journey from Edinburgh.
Scotland's strong card is the diversity of experiences it offers without massive distances and journey times. Sample a distillery, visit a garden, take in a Highland Games, fall into conversation with the locals during your pub lunch, get advice on the nearest cashmere store – it's a kind of Scotland serendipity. It's easy to get around - so be bold and plan your route!
*********
There is plenty of advice on itinerary planning on
www.must-see-scotland.com
, written by Gilbert Summers, a native Scot who has spent many years supplying information on Scotland to guidebook publishers and tourist boards
Requesting express service at post offices and other facilities that accept application forms from U.S. citizens.
Where processing centers are located. How to schedule an appointment. What documents to take with you.
How to pick a legitimate courier service company to assist in getting your passport quickly.
Guide to help you decide if standard or fast track processing is the best option for your situation.
Learn to expedite passport renewals as quickly as the same day. Where and how to renew passport in a hurry.
Watch step-by-step instructional passport videos of how to renew a passport in 3 steps.
Use the online Passport Photo Wizard tool to make your own passport photos in minutes. Save money and time.
List of the most important travel documents and information about how and where to get them.
Cool ways to make your money stretch farther on travel expenses so that you can go more often and stay longer.