San Ysidro Border Crossing - Traveling to Mexico as Hassle Free as Possible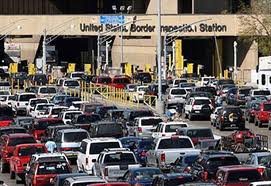 Mexico can be a great country to visit. There is a lot of history, culture and beauty that can be enjoyed. The tropical warm climate also makes it a great tourist spot year round. From white sandy beaches, to lively culture sand exotic foods, there is a lot for everyone to enjoy in Mexico. Mexico is especially popular for American tourists. Part of this is because although
Mexico
is so very different in history and culture from America, they are still in close proximity. A closer location when going on vacation means cheaper traveling expenses, so you can spend more on luxuries. It also means you will spend less time traveling and more time vacationing. This makes Mexico a great option for American tourists. You won't go very far at all, but you will still step into an entirely different culture.
In fact, Mexico is so close that many Americans choose to drive instead of fly. This can save money and hassles. Airports are becoming more and more tiresome. With security, difficult parking and hidden luggage fees; many people will be glad to skip the flying experience. Going by car also means that you will have your vehicle once you enter the foreign country. Taking a plane obviously means you will need to rent a vehicle once you arrive at your destination. The process of renting a car is difficult enough in your own country; will it really be an easier in a location where you are a foreigner? Going by car also means you can take a lot more luggage, without having to pay outrageous fees. Driving to Mexico does mean you will need to cross a border station. This is no more of a hassle than airport security, but you do want to be ready for it. You definitely need to know the
entry requirements to Mexico
. You won't need your passport to get into Mexico, but you will need it to get back so don't leave home without it! Entering by a land border gives you the option of using either a passport book or a passport card. If you were unaware of this requirement and need to get your travel document fast, you can
get a passport in 24-48 hours
. Be sure to read on
permitted and prohibited items for Mexico border crossings
. Some things you may not have thought would be a problem are strictly prohibited. For example, transporting foods between countries is often illegal, so be aware of this and check the other restrictions thoroughly. One good thing about border crossing stations is that you can choose which one you would like. You could go for the convenience of whichever is closest, but some are more efficient and well used than others. The San Ysidro Border Crossing is a good example. The San Ysidro Border Crossing is located between San Diego and Tijuana. Believe it or not, it is the most frequently used crossing of any land border in the entire world. This is a lot of what sets this border crossing apart from others. Everyday, the San Ysidro Border Crossing is witness to over 50,000 northbound vehicles. In order to accommodate these kinds of numbers, the San Ysidro Border officers are extremely well experienced and efficient. You want to feel safe and well protected when crossing the border into a foreign country. You also want the experience to be quick, clean, and uneventful. The estimated
San Ysidro border waiting time
varies from as little as 10 minutes for pedestrians to 30 minutes or more for vehicles in the standard lanes. You know what they say about first impressions? Well, a border crossing will be your first impression of a foreign country. You want your vacation to start off on a high note, not a low one. There couldn't be a worse way to start your vacation to Mexico than to visit a border station that is slow, ineffective, dirty or rude. Be sure to travel through a border station like San Ysidro so that the process will be as quick and clean as possible. Then you can get to the real fun. Be aware that returning to the United States may be a little different. Most
reviewers
mentioned quick wait times when entering Mexico while others wrote of waits of 3 hours or more when entering the United States. One of the most frequently cited tips was to get a
SENTRI travel program card
or a
passport card
, especially for those who plan to crose the border frequently. Check out
hundreds of popular tourist attractions in Mexico
.
Expedite Your Passport Now!