Passports and Visas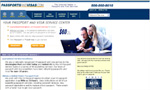 While Passports And Visas was once our most highly recommended passport expediting service, that is no longer the case. While they may be founding member of the National Association of Passport and Visa Services and were, several years back, recommended by the New York Times, numerous customers have filed complaints with the Better Business Bureau over this company. Our attempts to contact Passports and Visas through both phone calls and email has gone unattended. Though we left many voice mail messages, we received no response. It is for this reason that we initated the pursuit of finding a much better service. While we came across many good expediting services, the one that most impressed us was
Fastport Passport - Online Passport Service
. They have over 30 years experience in expediting passports and zero complaints with the BBB.
US Passport Services Offered
New US Passport
US Passport Renewal
Lost or Stolen US Passport
Child US Passport
Name Change
Mutilated US Passport
Second US Passport
Extend Validity »
Apply Online for Your Passport!
U.S. Passport Processing Fees
24 hours - $299.00 3 business days - $249.00 6 business days - $199.00 8 business days - $159.00
12 business days - $99.00 If you know which service you want to use,
click here
.
Travel Visa Processing
Yes
Visa Fees
Passports And Visas
fees for travel visa processing begin at only $99.
Online Tracking
Yes
Application Downloadable From Site
Yes
Payment Forms
Cash
Company check
Money Order
Credit Cards (Visa, Mastercard, American Express)
Guarantee
Money Back Guarantee:
Simply put, they guarantee to deliver your passport or visa to you in time for your trip - guaranteed!
Passports And Visas service includes assisting you in correcting any errors or problems with your application materials to prevent processing delays. If the government informs us of issues or problems that may jeopardize the return of your travel documents in time for your trip, we guarantee to notify you within 1 hour of having any problems relayed to us. In most cases, our experience in dealing with the Passport Agency and embassies allows us to resolve the impending issue and allow you to make your trip. If we do not return your passport or visa prior to your departure due to our error, then we will return all fees (ours and the governments) to you.

Kudos
Passports And Visas expedites US Passport and visa applications for individuals and travel agents located in the United States. Thousands of satisfied customers, USA Today, and AirTran have learned that their service offers easy step-by-step instructions, real-time online order status, and competitive pricing.
Contact
Web Site
Passports and Visas
Phone
Toll-Free 1-800-860-8610
Fax
305-264-5997
Mail
Passports and Visas.com
5775 Blue Lagoon Drive
Suite 100
Miami, FL 33126
E-mail
Customer Service:
customerservice@passportsandvisas.com General Information:
info@passportsandvisas.com Partnerships / Media Relations:
marketing@passportsandvisas.com
Click here to apply online for your passport
Expedite Your Passport Now!
More Information About PassportsandVisas.com
PassportsandVisas.com at BBB
Standing at Better Business Bureau.
Yahoo Local
Contact information and map at Yahoo.
www.passportsandvisas.com at Spyfu
Site design, title and description.
Click for expedited passport courier service in 24 to 48 hours!
.
Expedite Your Passport Now!